*PLAYA PEOPLE–MEET SAVANNAH: 
Savannah Browning
 of Playa Del Rey bought Christmas presents for a homeless family with the recent proceeds of her lemonade stand
*PLAYA –NEWS: KIFUNE TO SUTTER AFTER 34 YEARS IN MARINA DEL REY
A dramatic rent increase is forcing Washington Boulevard sushi restaurant Kifune to shut its doors for good, manager Keiji Tomita said. The special occasion destination known for its excellent cuisine, exuberant sushi chef and friendly owner Jay has been serving Marina del Rey locals for 34 years. Saturday (Nov. 23) was the restaurant's last night. "We're hoping to see our long time customers one more time," Tomita said.
*PLAYA – NEWS: MARINA DEL REY LIBRARY IS CLOSED FOR RENOVATIONS
Marina del Rey Library
 Is Closed for Renovations:  
The Lloyd Taber Marina del Rey Library
 closed on short notice Monday for months of renovation work, but patrons can still check out books and movies at a temporary location in the parking lot behind the library. A double-wide trailer will house a scaled-back collection of materials for reference and check-out, library manager 
Winona Phillabaum
 said. "We'll have four computers for public use, one copier and about half of our children's and adult book collections," she specified.
 The Marina del Rey Historical Society
 relocated model ships, nautical maps and archived materials. New paint, carpeting and furniture as well as an expanded children's section and improved Wi-Fi access are among the planned improvements when the library reopens in summer, Phillabaum said. The temporary library can be reached at (310) 821-3415.
*PLAYA – HISTORY: 
1961: Aerial view of Venice, Marina Del Rey & Playa Del Rey.
*PLAYA PEOPLE-MEET CANDY:  
Candy likes to dress up in Playa Vista.
*PLAYA – IN THE NEIGHBORHOOD:
A fire broke out at Il Piccolo Ritrovo on Wednesday night, November 27, shortly after 9:30 p.m. "The fire … burned itself out before crews arrived," Margaret Stewart with Los Angeles Fire Department reported. Stewart shared that the fire appears to have flashed (point when the contents of room that are preheated by smoldering fire and ignite at once), burning itself out in the one-story commercial building. No injuries were reported. According to an employee at Il Piccolo's sister location in Playa Vista, the Palisades location remains closed, with no estimate of when it will reopen.
*PLAYA-DID YOU KNOW?
Did you know that approximately 15,000 people read Playa Vista People per week —- from Playa Vista, Marina Del Rey, Playa Del Rey, and Westchester.
*PLAYA–CALENDAR:
Check out just some of the exciting events happening in the Playa area the next month.
•    Operation Jack Marathon
o    Thursday, December 26, 2019, 7:30 AM
o    Dockweiler Beach
o    12000 Vista Del Mar, Playa Del  Rey, 90293
•    Refuel and Refill
o    Saturday, December 28, 9 -11 AM
o    Alana's Coffee
o    12511 Venice Blvd. Los Angeles 90066
*PLAYA POP-UP: BIG BRANDS AND ART MEET AT THE PLAYA VISTA POP-UP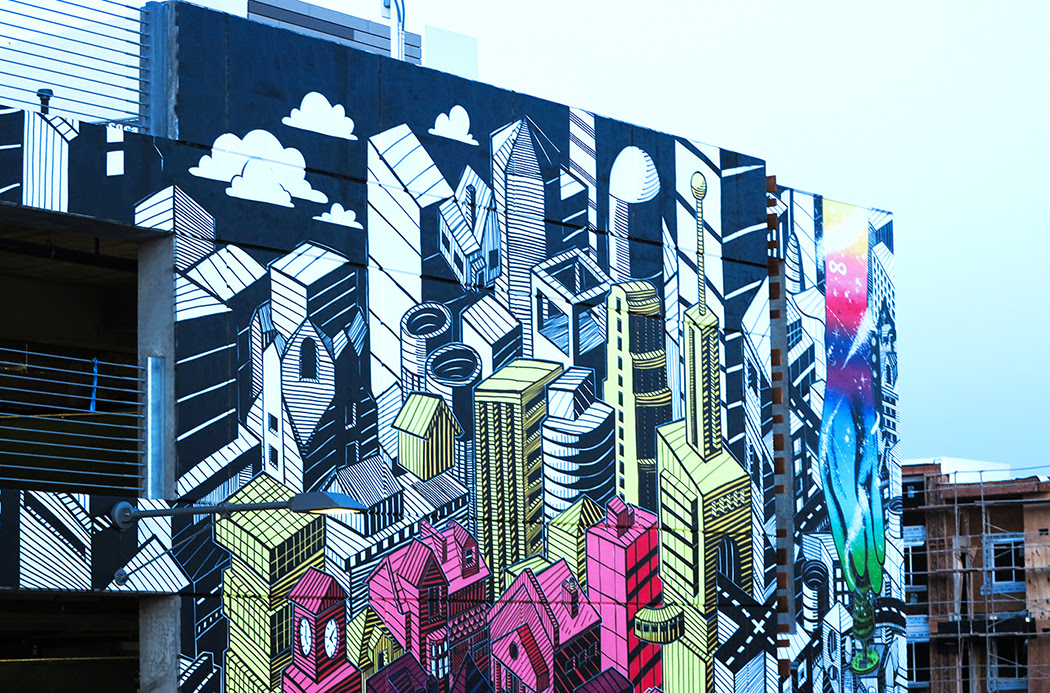 Playa Vista
 has apparently become the unofficial capital of pop-ups, those Instagrammable art exhibitions dedicated to a specific aspect of pop culture like ice cream, selfies or weed. Sneakertopia, an interactive ode to sneaker culture and street art, is one of the latest to er, pop up, taking over a former retail space in
 Playa Vista
.The organizers tapped artists from around the country including 
Adam Fu, Smoluk, Ben Fearnley, David Kaul, Jade Ramey, McFlyy, Mimi Yoon, Ricardo Gonzalez, Ron Bass and Sophie Mazzaro
 to create installations celebrating sneaker culture's impact on sports and entertainment. At Sneakertopia you can pose in a throne next to a larger-than-life purple and gold mural of LeBron, "ride" hoverboards a la "Back to the Future" and even purchase a pair of Kobe's old kicks — if you've got money to burn.
One highlight is artist and L.A. native Man One's multimedia homage to music festivals featuring hometown hero Nipsey Hussle alongside Rihanna representing for Puma, Kanye and his Air Yeezys and Run DMC and Beyonce rocking their Adidas. Other cameos in his work include illustrations of Snoop Dogg, Missy Elliott and Ariana Grande. Besides being one of Sneakertopia's featured artists, Man One is an internationally renowned graffiti artist. He's been on the scene since 1987 when demand for his work was non-existent. "I had to constantly convince people that I was an artist or a muralist, not just a vandal, which was how most of us were seen," he says. Now with major brands valuing artists and their work, he affirms that it's possible to be creative and make a living.
*PLAYA VISTA PEOPLE–Only Originals Allowed!:
*PLAYA–INTERVIEW:
Craig Porter:
Cafe Del Rey, General Manager
1. Where were you born?
 – I was born in the Paisley, Scotland about 10 miles south of South East of Glasgow. Paisley is best know as a milling town that produced some of the finest textiles  ​of the time.
2. Where do you work, and where did you go for your job training? – I am currently the General manager of Cafe del Rey, which resides in Marina del Rey. It was existed as Cafe del Rey for the Last 27 years.
3. How did you end up in Playa Vista?  – I actually live in Marvista about 4 miles north but I visit the restaurants, coffee shops, farmers market and Cinema in Playa Vista.
4. Where are your favorite places to go on weekends?  – When time allows my favorite place to go is the golf course.
5. Do you visit Playa Vista often? – Perhaps once a week or a couple of times a month, one my friends also works in Playa Vista
6. Any local traffic shortcuts that you would choose to share? – ​Ha!, I drive at odd hours so the main highway is normally fine. LA traffic doesnae bother me!!
7. Do you have family in Playa Vista? – I do not.
8. Are there any community events you go to in Playa Vista? – Not as of yet, but receiving Playa Vista People Online i'm sure I will get turned on to some events going on and tear myself away from the restaurant.
9. Do you like to go to the beach and if so which would be your personal favorite? –  Hophoddy Burger bar has some wonderful burgers, I reccomend the soul burger. I am a Coffee Bean and Tea leaf guy at heart but the Blue bottle coffee shop     deserves a shout out too.
10. What motivates you most to keep succeeding in your life? – Beautiful Sunshine, Folks out enjoying the farmers market and taking their kids to soccer, as I did for many years.
PLAYA – SPOTTED: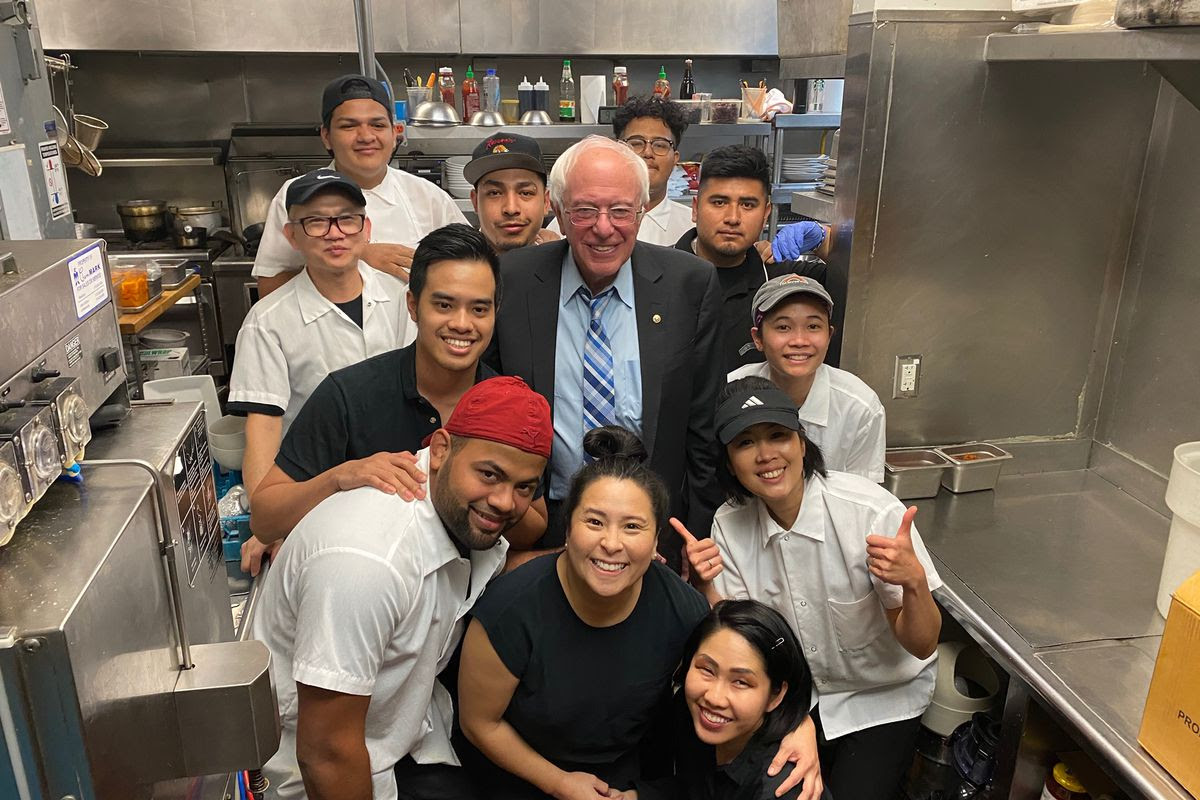 Presidential Candidate Bernie Sanders ate at Westchester's Ayara Thai on Thursday night. Senator Sanders was in town to participate in the Democratic Debate at Loyola Marymount University in Playa Vista. Sanders chose tom yum and pad Thai as a post-debate meal, and posed with staff members for pictures. "Bernie could have eaten anywhere but chose to support a local small business — an immigrant family-owned and operated restaurant to be exact," says owner/chef Vanda Asapahu. "Many candidates say that small businesses are the backbone of America, happy to report that Bernie does not just talk the talk, he definitely walks the walk."
*PLAYA POP-UP:
Wife and husband chef team 
Brooke Williamson and Nick Roberts
, co-chefs and co-owners of Los Angeles' westside restaurant group 
Company For Dinner
, welcome locals and visitors to the
 Playa Vista
 neighborhood for the inaugural "Holiday Party," a limited-time-only pop-up bar. Open through December 31 at 
runwayplayavista.com
, the experience is complete with a festive collection of tiki cocktails from Playa Provisions'  bar manager Taylor Hall; signature menu items from the couple's fast casual Hawaiian spot at 
Runway, Da Kikokiko,
 including poke bowls and musubi; and Sundays with Santa with family-friendly arts & crafts, snow cones, cotton candy, and visits from the jolly man himself. With extravagant decorations by 
Fun Fete LA
 , guests are transported to the North Pole as they enter the pop-up, surrounded by elves, presents, lights, snow, and tributes to classic holiday movies and music. Take a nip on a Tiki Nog with Mt. Gay Black Barrel Rum, milk, demerara, angostura bitters and nutmeg, or a Navidad Tropicale with Dobel Tequila, yellow chartreuse, pineapple, coconut and lime.
 PLAYA – RESTAURANTS:  
Xperience Restaurant Group ("XRG" or the "Company"), one of the largest operators of full-service Mexican restaurants based in California and an affiliate of Z Capital Group ("Z Capital"), announced the acquisition of casual and upscale-casual brands SOL Mexican Cocina and solita Tacos & Margaritas.  SOL Mexican Cocina was founded 10 years ago in Southern California and has grown to four locations in upscale areas of Newport Beach, Scottsdale, Playa Vista, and Denver. SOL's kitchens feature a unique spin on fresh, healthy, coastal Mexican food, lovingly made from scratch. Its sister brand, solita Tacos & Margaritas, was founded in 2014 as a slightly more casual take on SOL. Solita has two Southern California locations in Huntington Beach and Valencia and focuses on great Mexican food, dynamite margaritas, and embodying Southern California's laid-back lifestyle. With this transaction, XRG's portfolio, which consists of leading Mexican restaurant brands such as El Torito and Chevys Fresh Mex, has expanded the Company's total unit count to 62 corporate-managed units.

*PLAYA–BULLETIN BOARD:
1. ***ICT headquarters is located in a new office building just south of Jefferson Blvd. in 
Playa Vista
 about ten minutes from LAX: USC Institute for Creative Technologies ,12015 Waterfront Drive, Playa Vista, CA 90094-2536, (310) 574-5700 tel
2. ***Join us at The Resort for "Coach Serja's Jingle Jangle Workout" on Thursday, December 26th from 9am-9:50am. It'll be at the 2nd Floor Outdoor Area. Coach Serja will be leading an amazing total body workout with some jingling, jangling and of course some sweating. Visit the Resort website via Playa Link: https://playalink.playavista.com/
3. ***Package thieves –  It's the holidays. Why are you all shocked packages on your doorstep are being stolen Stop reporting your packages being stolen? You should be smarter this time of year. If you have a delivery arriving make sure you are home, send it to your office, a ups, FedEx or USPS facility, or send it to an amazon facility or locker.  —— Ant Nabors
4. ***Wanted: New, creative, photographer to test for P.R. firm clients and event. Send some photo samples and complete contact details. Must be available to Westside of L.A. – E-mail: Aurora411@TimeWire.net
5. ***Quite frankly, I've had enough of the whole Ed Orgeron love fest from my fellow so-called USC football fans. Indeed, he went 6-2 in his short stint as interim head coach. What all these people seem to have forgotten is those two loses were to Notre Dame and a blowout loss at home against UCLA. There wasn't one person calling for his hiring after losing 35-14 to the Bruins. His records over his first three years at LSU weren't exactly Hall of Fame making either. He finally catches lightning in a bottle with a transfer QB and a down year for Alabama and suddenly he's a coaching legend? Puh-leese! Enough already! —– Geno Apicella,  Marina del Rey
6. ***Do you have a message for your neighbors in Playa Vista? Post on the Playa Vista People Bulletin Board for FREE. Send your 50-word message to us at:  Aurora411@TimeWire.net
7. ****The Resort at Playa Vista – Fitness Center – 1st Annual Post Thanksgiving Workout + Pie Eating Contest.  Coach Rob and Serj put them through some anaerobic training and a strength circuit afterwards. The main event (Pie Eating Contest) was won by Trevor Clark!  Hope to see you there Thanksgiving 2020.
Playa Vista People Edited By: Aurora DeRose  
Playa Vista People Disclaimer: 1.) Playa Vista People accepts no liability for the content of this email, or for the consequences of any actions taken on the basis of the information provided. Playa Vista People is not associated with any commercial or political organization and is transmitted via the web for the sole benefit of its subscribers. 2.) Unfortunately, computer viruses can be transmitted via email. The recipient should check this mail and any attachments for the presence of viruses.