*PLAYA PEOPLE–MEET CHRIS:
Manager at 
Panini Kabob Grill:
https://paninikabobgrill.com/
*PLAYA NEWS: Get your Kicks at a Westchester Pop-up Celebrating Sneaker Culture:
A Jonas Never mural and a 20-foot-long skateboard greet visitors to Sneakertopia, an homage to all the ways art, music and commerce interact with sneaker culture. The temporary exhibition opened Oct. 25 and will run through the end of 2019. Sneakertopia, a 15,000-square-foot celebration of sneaker culture, has taken up residence at the HHLA complex in Westchester where it will remain through at least the end of 2019. Getting in the door isn't inexpensive (timed entrance tickets are $38 for adults, $23 for kids), and actually finding the door can be a bit challenging (it's in a former department store space in what used to be the Promenade at Howard Hughes just off the 405 Freeway).
*PLAYA NEWS: Marina's Café Del Rey has a New Chef, a New Menu and a New Look:
Café Del Rey has been a Westside staple serving California cuisine than 27 years. The restaurant, known for its stellar sweeping Marina views, has recently hired a new chef, 
JOB CARDER
; changed up the menu and undergone a major re-design. The restaurant's updated atmosphere includes a relaxing nautical color palette of white, green and trey-blue with amber circular leather booths. Also new is the huge high ceiling fireside lounge and bar housing a beautiful tiled dark oak bar, plush couches and a big fireplace. New Executive Chef Carder has brought a fresh take to the mostly seafood menu. Standout appetizers include the hamachi tuna crudo with leek puree, pickled cauliflower, mushrooms, radish, pea and popcorn shoots and borage blossoms with a yuzu vinaigrette; tartare with a beautiful egg presentation; a lovely bouillabaisse with mussels, clams, prawns, potatoes, turnips and carrots in a clam cream broth; a delicious branzino with haricots verts, almonds and pickled red currants in an Amaretto-butter sauce; braised lamb with pappardelle pasta, wild mushrooms and peas and a standout Australian Wagyu New York Strip Steak with a bee pollen and green peppercorn crust. Sides include garlic herb mashed potatoes, truffle fries, carrots, asparagus, bacon glazed Brussels Sprouts and lobster mac and cheese.
*PLAYA–REAL ESTATE: Former William Morris Endeavor CEO Seeks $9.95 Million for Oceanfront Home:
WALTER ZIFKIN
, former chief executive of talent agency William Morris Endeavor, is searching for a buyer on the beach. His oceanfront home in Marina del Rey has hit the market for $9.95 million, records show. Found a few miles from LAX, the architectural abode has a few ties to the airport. Zifkin once served on the L.A. Board of Airport Commissioners, and the house's architect, 
TED TOKIO TANAKA
, is responsible for erecting the multicolored pylons that surround the hub. Tanaka custom-built the home in 1985, filling the four-story floor plan with shades of white and blue to mirror the sand and ocean right outside. Five bedrooms, 5.5 bathrooms and a handful of minimalist living spaces are featured in 6,200 square feet.
*PLAYA–UPDATE: Metro Installs Bike Share Hubs in Del Rey:
We are one step closer to building a convenient and connected network of Metro Bike stations that will provide more access to alternative transportation options for short trips around the neighborhood. Thanks to LADOT Official for installing three new Metro Bike share stations along Culver Boulevard – at Centinela Boulevard, McConnell Avenue, and Inglewood Boulevard in Del Rey. Metro Bike Share is a great way to get around the neighborhood, connect to the Metro Expo/Bundy station, and avoid traffic.
*PLAYA–UPDATE: LMU Specific Plan Update:
Loyola Marymount University has begun conducting outreach with neighbors and community groups across Westchester to discuss their proposed updated LMU Master Plan. Recently, the university filed an application with the city of Los Angeles to amend its specific plan, commonly referred to as the LMU Master Plan. The amendment proposes to reallocate square footage between different uses on campus to allow LMU to construct a new sports arena for competitive events. LMU intends to renovate and maintain the existing Gersten Pavilion as a practice facility with modern athletic services instead of tearing it down as previously planned. The upgraded Gersten Pavilion will provide needed services for its student-athletes, including health and recovery areas, locker rooms, and an academic center. The university's future sports arena would be built in the interior part of campus. No other part of the Master Plan would change under this amendment. Late in the month, LMU held its first community meeting to discuss the Master Plan and there will be another meeting on Saturday, November 16 at 10 AM at 1 LMU Drive, ECC 1847 in University Hall. Please contact 
community@lmu.edu
 or call 310.338.2759 if you have questions about the Master Plan amendment.
*PLAYA – CALENDAR:
Check out just some of the exciting events happening in the 
Playa
 area in the next month: •    
Hama Sushi 40th Anniversary
o    Saturday, November 9, 2019, 3:00 – 9:00 PM o    Hama Sushi o    213 Winward Ave. (to Main Street) Venice, 90921 •    
Mar Vista Town Hall: Public Safety
o    Wednesday, November 13, 2019, 6:30 PM o    Daniel Webster Middle School Auditorium o    11330 Graham Pl., Mar Vista, 90064 •    
Little Women: The Broadway Musical
o    Playing from November 15 – December 21, 2019 o    Westchester Playhouse o    8301 Hindry Avenue, Westchester, 90045 •   
 Nothin' But Sand Beach Cleanup
o    Saturday, November 16, 10:00 AM -12:00 PM o    Dockweiler Beach o    12000 Vista Del Mar, Playa del Rey, 90293 •    
Heroes of Hope – Race for Brain Tumor Research
o    Sunday, November 17, 2019, 6:00 AM 1:00PM o    12000 Vista del Mar, Playa del Rey, 90923 •    
Holiday Shopping Boutique
o    Sunday, November 17, 2019, 11:00AM – 3:00PM o    Westchester Lutheran Church and School o    7831 South Sepulveda Boulevard, Los Angeles, 90045 •    
Afia's Thanksgiving Chefs Table
o    Thursday, November 28, 2019, 6:30 – 8:30 PM o    Playa del Rey •    
Thanksgiving in Venice Beach
o    Thursday, November 28, 2019, 7:00 -10:00 AM o    Venice Muscle Beach o    1800 Ocean Front Walk, Venice, 90921 •    
Mar Vista Music and Art Walk
o    Saturday, November 30, 4:00 – 10:00 PM o    Venice Boulevard ( Lyceum Ave to Inglewood Blvd.) o    Mar Vista, 90066
*PLAYA–MEMORY:
The former Kojima Productions 
Playa
 studio, seen here in late 2018. In its first year, Kojima Productions LA consisted of a small group working out of Konami's U.S. headquarters in El Segundo, eight miles from its eventual home in 
Playa Vista
. Under Sekine's leadership, the team planned out its future. It learned how to use the Fox Engine that Kojima Productions had been building in Tokyo. It built out the Howard Hughes office in bright colors and sunken lounge areas. It set up a flat office hierarchy. And it started work on its first project: Metal Gear Online.
*PLAYA VISTA PEOPLE–Only Originals Allowed!:
*PLAYA–INTERVIEW: Christina Davis, LAX Coastal Chamber:
1. 
Where were you born?
 I was born in Inglewood, CA and grew up in Westchester, CA. 2. 
Where did you go for education?
 I attended local schools in Westchester which included Visitation and Westchester High School. I also attended El Camino College and took courses at Otis. My career path has kept me very local. 3. 
How did you end up in Los Angeles?
 I am a 4th generation Angeleno. 4. 
Where are your favorite places to go on weekends?
 I love being with my family on the weekends. We often go to the park for soccer/volleyball games and if we're lucky we'll sneak away to Disneyland for a day. 5.
 Do you visit Playa Vista often?
 Yes! 
Playa Vista
 is part of our Chamber's service area and I love visiting our 
Playa Vista
 businesses. 
Playa Vista
 is truly a special place filled with special people. It has been a tremendous addition to our Chamber's service area. 6. 
Any local traffic shortcuts that you would choose to share?
 I don't think there are any secrets anymore! Every where you turn there seems to be traffic. 7. 
How do you like working for LAX Coastal?
 My job is awesome! On December 4, I will celebrate 15 years with the Chamber. It is a job that I never knew I wanted. In this role, I get to engage with the community that I love and support our local businesses. We have an amazing team of professionals that work and volunteer for the Chamber. I am so honored to call many of these individuals my friends. Contact Christina: 
christina@laxcoastal.com 
*PLAYA–THE REAL DEAL by Sara G.:
1. ***Excellent Matzo Ball soup at 
Stark's
 in Marina Del Rey but $6.00 for bread and butter seems excessive. 2. ***Though the burgers at 
Hop Doddy
 are first rate, the service is seldom fast or friendly.
*PLAYA–BULLETIN BOARD:
1. ***Turkey coming for Thanksgiving at 
Urban Plates
. Spend time with your family, not your kitchen. Farm to table kitchen. – 
www.UrbanPlates.com
2. ***What's wrong with idiot realtors at 
Keller Williams Silicon Beach
 who don't return calls? — 
DR. CHARLES KLEIN
, Marina Del Rey 3. ***Need some new outfits for the upcoming holiday season? Shop at 
Mellore
 to to add some pieces to your fall and winter wardrobe. HOURS: Mon – Fri: 11:00 am – 8:00 pm – Sat: 10:00 am – 8:00 pm- Sun: 11:00 am – 7:00 pm. Phone: (310) 862-9330 4. ***Wanted: New, creative, photographer to test for P.R. firm clients and event. Send some photo samples and complete contact details. Must be available to Westside of L.A. – E-mail: 
Aurora411@TimeWire.net
5. ***I live in the 
Ventana Apartment
 complex, and my car was broken into and ransacked last night. Please be on the lookout for any suspicious activity, even in gated parking garages! Stay safe and aware (and lock your cars)! I have reported this information to the police. — 
BRIDGET ALTMAN
6. ***Do you have a message for your neighbors in 
Playa Vista
? Post on the 
Playa Vista People
 Bulletin Board for FREE. Send your 50-word message to us at:  
Aurora411@TimeWire.net
*PLAYA PEOPLE–MEET SIERRA: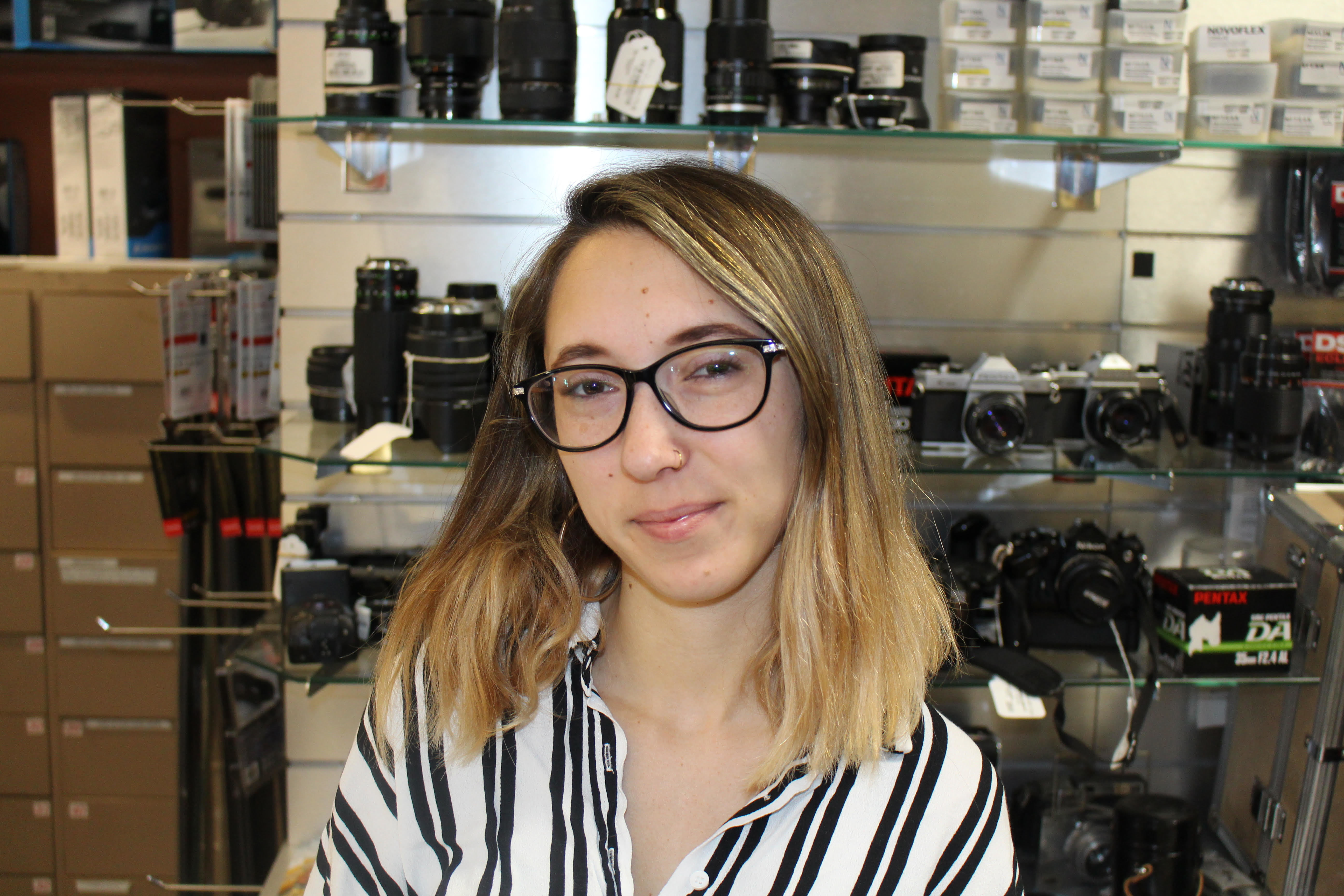 From 
Samy's Camera 
in Culver City:
https://www.samys.com/
*ARE YOU SERIOUS ABOUT A CAREER IN ENTERTAINMENT, MEDIA, PUBLISHING OR P.R?:
An entry-level chance in a lifetime, in a lifetime of chance. Incredible knowledge and opportunity for someone SERIOUS about working in entertainment, media, publishing or P.R. Hands-on personal mentor-ship by someone who has represented some of the biggest stars in the world —– **58 Academy Award winners ***34 Grammy Awards winners ***43 The New York Times best-sellers ***3 U.S. Presidents. "Our prominent P.R. / Branding firm with 35 years in the media business is searching for an executive assistant to lead our team. A great life-changing opportunity to learn and grow in the dynamic world of media. 
www.MichaelLevineMedia.com
Must be smart, very reliable and hungry to learn. Requirements include excellent writing skills (spelling, grammar), organization, and resourcefulness. Must be available to meet on the Westside of L.A. for three (3) weekly meetings, with the rest of the work completed remotely. Salary is $2,500.00 a month. Will begin training in November. Anticipated start date of full responsibilities is December 1st. Job Type: Full-time but flexible hours. Salary: $2,500.00 /month *YOU MUST WRITE A COVER LETTER TO BE CONSIDERED." Send your resume (no attachment) with complete contact details including phone # to:  —– 
Aurora411@TimeWire.net