*PLAYA PEOPLE – MEET ZOEY: WOULD YOU RATHER…

· Would you rather go into the past and meet your ancestors or go into the future and meet your great-great grandchildren? THE FUTURE. WHAT IS DONE IS DONE.

· Would you rather have more time or more money? LOTS MORE MONEY.

· Would you rather have a rewind button or a pause button on your life? REWIND. THIS WORLD SUCKS.

· Would you rather be able to talk with the animals or speak all foreign languages? I LOVE ALL ANIMALS AND HATE MOST PEOPLE.

· Would you rather win the lottery or live twice as long? A LOTTERY WORTH A MILLION DOLLARS

· Would you feel worse if no one showed up to your wedding or to your funeral? I AM NEVER GOING TO BE STUPID ENOUGH TO MARRY.

· Would you rather be without internet for a week, or without your phone? INTERNET.

· Would you rather meet George Washington or the current President? WASHINGTON. BIDEN IS SENILE.

· Would you rather lose your vision or your hearing? HEARING.

*PLAYA – NEWS: WELCOME TO THE NEW WILD WEST SUSPECT WITH CLOWN MASK ACCUSED OF STEALING PACKAGES OFF PORCHES
A suspect with a clown mask, replica gun and jewelry was accused of stealing packages off of front porches and was arrested Monday, Culver City police said. A resident called 911 to report someone stealing packages off front porches near the area of Northgate Street and Overland Avenue about 6:30 p.m. Monday, police said. Officers located and detained the suspect. He had stolen packages, a replica handgun was hidden in his waistband, drug paraphernalia, a clown mask and miscellaneous jewelry, police said. His name was not immediately released. Police offered tips to help prevent package thefts, including adding motion-activated lights around front porch areas, installing a front door security camera and doorbell and networking with neighbors. People are also urged to call 911 to report these types of thefts.
*PLAYA – PEOPLE: MEET SYDNEY:
Sydney has been living in Playa Vista since February, 2017
*PLAYA – NEWS: SOCAL RE-OPENINGS, GET INFO ON MUSEUMS, AQUARIUMS, THEME PARKS, THEATERS
Annenberg PetSpace
– Playa Vista
After several months of pandemic-related closures, a number of regional cultural destinations, theme parks, aquariums, and other spots are gearing up for reopening, or have already welcomed guests back. The announcements began soon after Los Angeles County entered the less-restrictive Red Tier on March 15, permitting visitors inside a number of places, including museums and aquariums, at a limited capacity.
Important: Do keep in mind that every place on the list below has new safety protocols in place, which could include advance timed tickets. Knowing what to expect and prepare for ahead of time is a solid plan. Reading up on masks, social distancing, and other safety guidelines at each site, before purchasing tickets, is strongly recommended.
Annenberg PetSpace in Playa Vista again began raising the woof on March 31. There's a "specialized hour-long experience" called the PetSpace Experience that includes a visit to the brand-new Critter Corner and a nifty peek behind the scenes. You'll need to book in advance; start that process here.

*PLAYA PEOPLE – MEET ASH:
Ash likes hangin' out at night in Culver City.
*PLAYA – NEWS: COMING BACK TO LIFE – BEFORE AND AFTER SCENES FROM THE CINEMARK IN PLAYA VISTA
A birthday movie outing: Aidan, 4, collects candy options to go with a hot dog as his dad, Daniel Curtis of Torrance, holds popcorn and water on reopening day, March 15, at the Cinemark Playa Vista and XD movie theater. Their movie choice: "Tom and Jerry."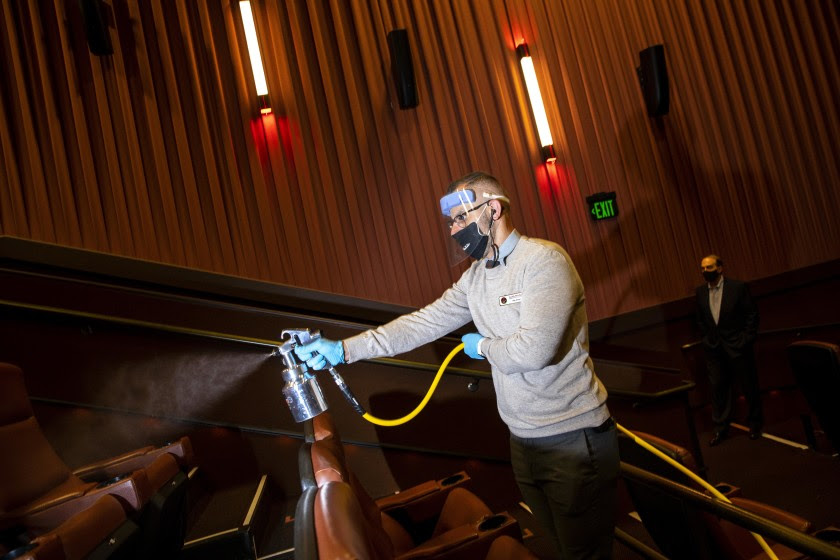 Atta Areqat, general manager at the Cinemark Playa Vista and XD movie theater, demonstrates how the staff will sanitize every morning before opening.
*PLAYA – NEWS: MAN ARRESTED AFTER ROBBING CULVER CITY RESTAURANT AT GUNPOINT

Culver City police recently arrested a man suspected of robbing a Culver City restaurant at gunpoint. According to the Culver City Police Department (CCPD), on March 29 around 2:10 p.m., an armed robbery occurred at a restaurant located at, 3970 Sepulveda Boulevard. Google Maps shows that this is the address of The Taste Kitchen, a Thai restaurant.
"The suspect entered the business, approached an employee at the register, and demanded money while simulating a handgun under his shirt. In fear for his life, the employee handed the suspect the register money," the CCPD said.
Police say the the suspect then exited the store with the money and ran away northbound on Sepulveda Boulevard and out of sight. Culver City Police Department Detectives investigated this crime and were able to identify the suspect, a 23-year-old male resident of Los Angeles. On March 31, 2021, the suspect was detained by a neighboring agency. Culver City Police Department Detectives responded and took custody of the suspect and transported him to the Culver City Jail. Detectives will be presenting the case to the Los Angeles County District Attorney's Office for filing consideration.
*PLAYA – PLATINUM AWARD:
"BEST PIZZA IN PLAYA VISTA"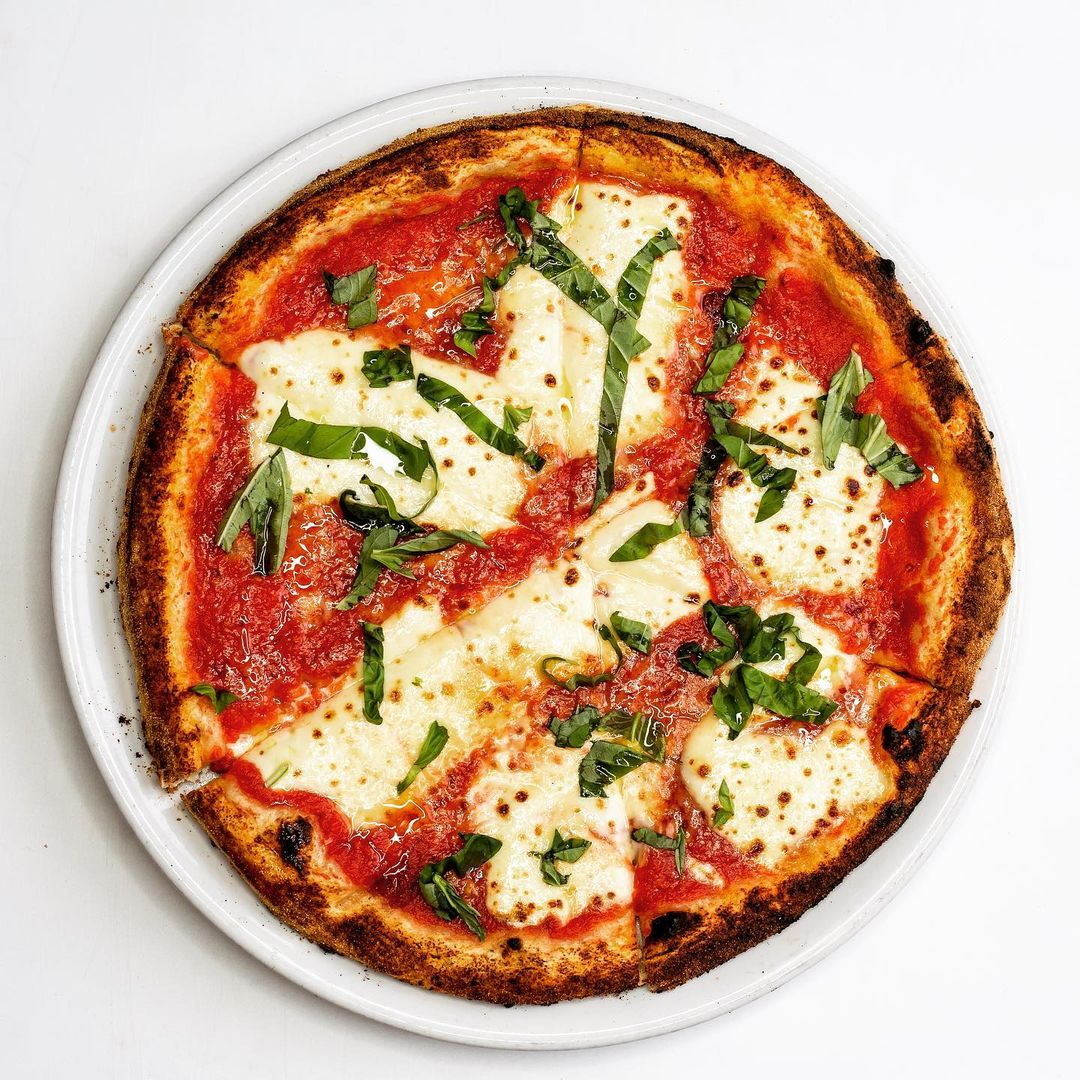 Health & safety: 
· Mask required 
· Temperature check required 
· Staff wear masks 
· Staff get temperature checks 
· Staff required to disinfect surfaces between visits

RITROVO PLAYA VISTA
6020 Seabluff,
Dr Playa Vista 90094 Sun-Thu: 11:30am – 9:00pm
Fri-Sat: 11:30am – 9:30pm

Follow Us
Insta
FacebookMenu: places.singleplatform.com
Order: postmates.com, slicelife.com, grubhub.com, ubereats.com
Phone: (424) 289-9327
 
*PLAYA — IN THE NEIGHBORHOOD: SONY EMPLOYEES TO BEGIN RETURNING TO CULVER CITY LOT JUNE 1
Sony Pictures Chairman Tony Vinciquerra,
– Culver City
Sony Pictures Entertainment has announced that it is planning to have employees return the Culver City lot in June. In a memo to staff on Monday, Sony Pictures Chairman Tony Vinciquerra said the phased reopening of the studio offices will begin on June 1, with a goal of having the lot "up to speed" by Labor Day. "As COVID-19 cases continue to decline and the number of vaccinations increase each day, we are starting to see very encouraging signs of recovery," Vinciquerra said. "With many state and local restrictions being reduced, allowing more businesses to reopen, we can now start moving into the next phases of our Return-to-Office planning." "In preparation for this next phase, we are putting in place additional safety measures including an enhanced cleaning regimen, upgraded air conditioning filters, UV lighting inside air conditioning equipment where possible, and increased outside air circulation," he said in the memo.
The chairman said Sony has plans for a phased reopening and different health protocols. "The progress we are seeing worldwide in managing the virus's spread and life slowly inching back to normal is some of the most exciting news we have seen throughout this difficult year," said Vinciquerra in the letter. "There is every reason to feel optimistic about the direction things are now headed. That said, please continue to be safe and adhere to CDC guidance and safety protocols." Sony follows Warner Bros and the Walt Disney Co, both of which plan to have employees gradually returning starting in mid-summer. According to Variety, the Disney Co is gradually bringing back staff with a phased reopening after July 4, while Fox Corp has deferred its reopening date in April to no earlier than Sept. 7


*PLAYA – PARKS:


Playa Vista Dog Park,
-Playa Vista
With Spring in full bloom, make sure to check out some of the beautiful parks that your neighborhood as to offer! Neighborhood parks, sports fields, and regional hiking parks, are in and adjacent to Playa Vista. ·        Playa Vista Dog Park
·        Playa Vista Sports Park
·        Fountain Park At Playa Vista
·        Playa Vista Central Park
·        Ballona Creek bicycle path
·        Ballona Discovery Park
·        Concert Park
·        Steve Soboroff Court Park is a basketball and playground facility next door to the LAClippers training facility
·        Randy Johnson Park is located on Bluff Creek Drive
·        Central Park includes a bandshell and athletic facilities


*PLAYA VISTA PEOPLE:
Rhonda loves showing off her nails in Marina del Dey.


*PLAYA – EATS: CULVER CITY EATERY DONATED ALL SALES FOR A DAY TO CHARITY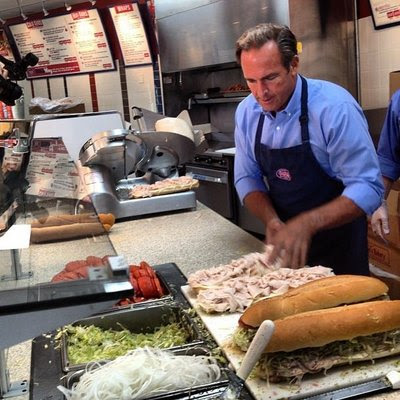 Jersey Mike's Subs,
– Culver City
The Culver City Jersey Mike's Subs store is among 209 Los Angeles area locations who donated 100 percent of sales to Cancer For College last Wednesday. Cancer For College provides need-based college scholarships and educational experiences to cancer survivors since 1993, it said on its website. The effort is part of the sandwich franchise chain's Month of Giving, which has raised $32 million for local charities since 2011. Jersey Mike's hopes to shatter its own record and raise more than $8 million this year, it said in a news release.
Jersey Mike's has been taking donations all month for selected charities. "All sales from all locations" were donated on Wednesday, the company said. Owners even donated their money to the cause so that every dollar that flowed in on Wednesday went go to charity. Restaurant owners pick the charities and identify organizations "that support local neighborhoods and build a stronger community," the company said.
Here's a list of participating locations in and near Culver City:
4114 Sepulveda Blvd., Culver City
1447 Lincoln Blvd., Santa Monica
4020 Lincoln Blvd. Ste. A, Marina Del Rey
1831 S. La Cienega Blvd. Suite A, Los Angeles
279 South Beverly Dr., Beverly Hills
1020 Glendon Ave., Los Angeles
Brentwood Place, 12003 Wilshire Blvd., Los Angeles
912 N Western Ave, San Pedro
5342 Rosecrans Ave. Gateway Center, Hawthorne
24631 Crenshaw Blvd. Suite M, Torrance
561 N Pacific Coast Hwy, Redondo Beach


*PLAYA – READER COMMENT:
"Over the last strange and difficult year, I've come to thoroughly enjoy your intriguing and inspiring Playa Vista People weekly digital publication. When I first started to receive it I wasn't sure what it was about. But as the pandemic unfolded it got me an opportunity to learn more about the people places and things in our dynamic community. It as if Playa Vista People has brought the experience of living here from black and white into full technicolor." —– Bart L., Playa Vista.
*PLAYA – BULLETIN BOARD:
1. ***The creepy man staring into home!!!! Last night at about 10 pm a roommate of mine said she heard a man in the backyard right outside her window. She screamed "hello" and no one responded. Not too far later she walked into the living room and the man's full face was pressed against the window staring into our living room. He was a white male and I am assuming he was pretty tall if he was able to reach his head to the window. The cops were called and they were not able to find anyone in the area. —- Hope Georgiou, Playa Vista

2. ***Hi, I'm Shahe.
Nice to meet you. I have been in the neighborhood since 1980. —- Shahe Adourian, Westchester
***The handshake is a gesture that is so culturally fundamental that something important will be lost if it disappears. —- Arthur L., Playa Vista.

3. *** For years, California legislators and judges have tried to reform the state's money bail system to reduce discrimination against the poor. On Thursday, four months after voters rejected such a reform, the California Supreme Court ruled that it is unconstitutional to require defendants to remain behind bars simply because they cannot afford bail. Translation: we are screwed! —– Sally K., Marina Del Rey.

4. *** We are brainwashed by our economic system until we end up in a tomb beneath a pyramid of time payments, mortgages, preposterous gadgetry, playthings that divert our attention from the sheer idiocy of the charade. —– Gallagher Q., Westchester.

5. ***My name is Lauren Hill and I'm a journalism student at Loyola Marymount University. At last night's Del Rey Neighborhood Green Council Meeting, the council discussed the possible rehoming of our peacock friend, Tivoli. (It sounds like some people call him Paul, some call him Romeo, but most call him Tivoli.). I'm writing a story about Tivoli and his possible rehoming, and if anyone would like to comment on Tivoli, a story about him, or how he impacted you or your family since he appeared, please email me at: lhill27@lion.lmu.edu. —- Lauren Hill, Westchester.

6. ***Tivoli Relocation. Hello neighbors, My name is Dylan Keville and I have been caring for Tivoli the peacock for a while now and this is what I have to say, Tivoli has brought so much joy to the neighborhood for the past year and I know many people are against him being Relocated but it is in the best interest for Tivoli, I was against him being relocated at first and then I started volunteering to help him cross the street since I have done this I realize how dangerous it is for him to be crossing Maxella every day. I've been helping him cross the street but what if someone can't help him cross one day, I have seen him almost get hit by a car at least 10 times just in one week, it is a miracle that he is survived the whole year in Marina Del Rey. —– Dylan Keville, Mar Vista.

7. ***At least one way of measuring the freedom of any society is the amount of comedy that is permitted. Thanks to the woke mob, we are screwed! —- Joni F., Marina Del Rey

8. ***My daughter (young adult) was out for her evening run and as she was waiting to cross a street a guy was passing her in his van and saw her and stopped his van right next to her. She was running on 77th, near Denrock, and crossing 77th onto Denrock when this happened. As she was running on Denrock near 80th, seconds later, he came up behind her in his van, got out of his van, RAN toward her, and at that point, my daughter started screaming/yelling. The guy sprinted away and got back in his van. —– Debra Huston, Westchester

9. ***This is to all my Playa Vista neighbors. This is an appeal to you. As you know doubt know we have a serious problem with the homeless/RVs/Cars on Jefferson from Lincoln working its way down to Culver. There is trash everyplace and fire pits. The outer trail around the Ballona Freshwater Marsh is dangerous in so many respects. Aside from that these people are coming inside the marsh without permission. There are debris and trash all along the water's edge. Clothing, beverage containers, and general trash. This is a serious hazard for the wildlife. A few weeks ago I came upon a man fishing. in the marsh. There is no fishing allowed. —– Lynzie Flynn, Playa Vista.

10. ***I love reading your P.V.P. Bulletin Board. Cool s—t! —– Lance H., Culver City

11. ***What does the Playa Vista PD's stance on the homeless population? The question is on the title: What does the Playa Vista PD's stance on the homeless population? Has anyone called them, asking to enforce the law equally for everyone and get those illegally parked RVs outta there? I've paid multiple parking tickets for parking a car overnight, even just a motorcycle (the latter was in S.F… god help anyone still living there :-D) —- Mike Kababov, Playa Vista.

12. ***I had a delicious dinner at Ritrovo Playa Vista and will definitely be back. The lamb was extraordinary as was the beet salad. —– Renee P., Playa Del Rey.

13. ***Facts are facts! For 20 years we've lavished attention and money on fighting human terrorism and forgot that the terrorism of nature is equally deadly, deserving equal preparation. —– Dr. Davis H., Marina Del Rey.

14. ***What wrong with people? In Playa Vista this morning, I saw two elderly ladies were slowly doddering along, minding their own business, when a millennial bike messenger (with earbuds, natch) sped by them on the sidewalk and nearly knocked them over. —– Juliette O., Playa Vista

15. ***To do a proper push-up, you must push down. —- Personal fitness trainer, Abbott W., Marina Del Rey.
Playa Vista People Disclaimer: 1.) Playa Vista People accepts no liability for the content of this email, or for the consequences of any actions taken on the basis of the information provided. Playa Vista People is not associated with any commercial or political organization and is transmitted via the web for the sole benefit of its subscribers. 2.) Unfortunately, computer viruses can be transmitted via email. The recipient should check this mail and any attachments for the presence of viruses.