*PLAYA PEOPLE – MEET CHUCKY: NOW YOU KNOW…
Chucky
has been working in
Playa Vista
since February 2018
Now You Know…
Does NOT wear underwear to work.
Has a large salt-water fish tank.
Thinks Democrats have become left-wing socialist radicals.
Hopes to write a novel someday.
Hates sushi.
Never uses shampoo.
Admires: Steve Jobs, President Reagan, and pianist George Winston.
Thinks most parents spoil their kids.
Favorite comedian: Chris Rock.
*PLAYA – NEWS: CULVER CITY COUPLE RESCUED IN SEQUOIA NATIONAL PARK: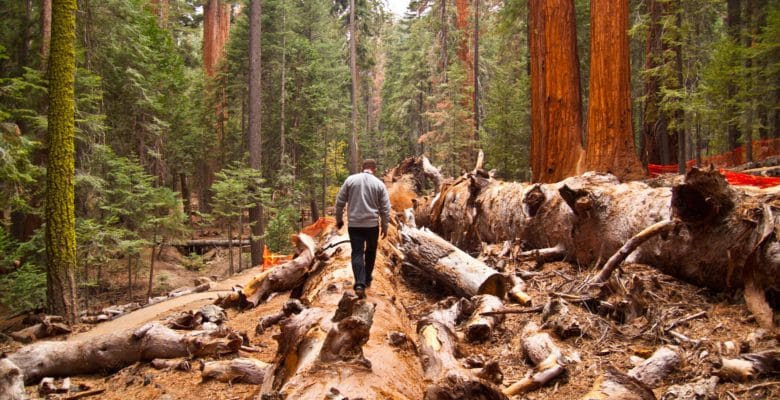 A couple from Culver City was rescued by Tulare County Search and Rescue Team Friday at Sequoia National Forest. Deputies say they received an emergency call at around 9:00 a.m. from a teenager saying his parents were stuck near Seven Teacups Trail. Authorities were able to find the couple and bring them to safety and say the couple was very dehydrated but in good condition. Sheriff Boudreaux says he wants to remind everyone how important it is to be familiar with an area you are traveling to, as well as being prepared in case you get stuck.

*PLAYA – NEWS: AIRBNB DUMPS MARINA DEL REY HOUSE PARTY
Airbnb purged at least one Marina Del Rey rental along with more than 50 Los Angeles County listings from its platforms following the company's worldwide ban on parties during the pandemic. The purge may be either temporary or permanent.
The sanctioned properties were the subject of complaints "or otherwise violated our policies on parties and events," according to a statement. They "have either been suspended or removed from the Airbnb platform."
Airbnb shook up the short-term rental world this month when it banned all parties and restricted rentals to no more than 16 guests a time regardless of the size of the property. The decision came at a time that short-term rentals are making headlines as the headquarters for irresponsible parties during the coronavirus pandemic. Broadcast footage from LA party houses packed with unmasked revelers triggered widespread condemnation this month from health experts and city leaders.
Airbnb, one of the world's largest short-term rental companies, said it could not release the addresses of the 50+ properties because it would violate the privacy of homeowners. But it said they are located in Burbank, Calabasas, Compton, Glendora, Hacienda Heights, La Canada Flintridge, Long Beach, Los Angeles, Malibu, Marina del Rey, Pasadena, West Hollywood, Whittier and unincorporated communities.
*PLAYA – NEWS: CULVER CITY COULD ADD EVEN MORE OUTDOOR DINING AMID PANDEMIC
Culver City Council will consider a temporary lane closure Monday, a move to continue expanding outdoor dining in the wake of the coronavirus. Restaurants in LA County are turning to outdoor dining during the pandemic as businesses continue to recover from the economic fallout of the pandemic.
The proposed temporary lane closure in Culver City would be along westbound Washington Boulevard between La Cienega Avenue and Adams Boulevard, in addition to a temporary street closure on Hargis Street between Washington Boulevard and the alleyway.
"These temporary closures would provide areas for expanded outdoor dining and services to support businesses during the COVID-19 pandemic," the city said in a statement. "The City Council will also be considering sponsoring temporary public parklets (small seating and green space areas) to support restaurant recovery in the City.
To view the proposed concept plan, check out the city's Economic Recovery website.
*PLAYA PEOPLE – MEET EVELYN: 
Evelyn is the proud owner of Petals 'N' Wax in Marina Del Rey.
*PLAYA – VIDEO: BAND SERENADES MARINA DEL REY FROM BOAT DURING "FLOATING CONCERT"
Marina del Rey hosted what is being dubbed the community's "first ever floating concert" Sunday, with the band "Anchor Party" performing on a boat cruising through the basins. Guests were invited to follow the floating stage on kayaks, paddleboards or dinghies, or wait for it to pass by their docked boat from 12 p.m. to 3 p.m.
The free event was meant to give residents live music while still maintaining physical distancing requirements amid the pandemic. Viewing spots included Fisherman's Village, Burton Chace Park and Marina "Mother's" Beach.
*PLAYA – YES OR NO QUESTIONS:
Q: Hearing young women say OMG over and over and over and over and over again, makes me want to puke.
– No
Q: Rap music sounds like music to slaughter cattle by.
– No
Q: Thinking about Janis Joplin as an old woman is a disturbing image.
– No
Q: Richard Nixon was a sexy President.
– No
Q: I hate when people bring their dog, dress in funny clothes to Home Depot.
– No
Q: Baked beans give me gas.
– Yes
Q: I would rather starve for a night than eat at the Olive Garden.
– No
Q: The homeless problem in Los Angeles is starting to remind me of a Twilight Zone episode.
– No
Q: I have smoked at least one cigarette in the last year.
– No
Q: Boob jobs are safe.
– Yes
www.ActivateYourLight.Love
lesa@activateyourlight.love
FB | @ActivateYourLight
IG | @ActivateYourLight
*PLAYA – CARS:
Vintage car spotted in Playa Vista. 1970 Dodge Challenger

*PLAYA READER POLL: PLAYA VISTA PEOPLE READERS GIVE POOR GRADE TO RUNWAY SECURITY GUARDS:
Several hundred Playa Vista People readers responded to a recent Reader Poll on the quality of the security guards at the Runway Shopping Center in Playa Vista with an average grade of "D".
Readers were asked to grade the overall performance of the security guards like a school teacher – A, B, C, D, or F.
"All I see if is the security guards watching YouTube video on their phone" said Sally Zain, a homeowner in Playa Vista and a frequent visitor to the Whole Food market at Runway.
"They are bored, distracted and constantly playing with their phones" comment Dr. Lance Church of Marina Del Rey.

*PLAYA — RESTAURANTS: LENZINI'S PIZZA
Lenzini's uses their special sauce and dough made daily to bring forth gooey pies with real California cheese. For those who are feeling hungry, you can get two medium two-topping pizzas for $23.99, two large two-topping pizzas for $27.99, or two large two-topping pizzas and two 2-liter sodas for $41.99. Orders over $30 before tax get $5 off regular items.
12740 Culver Blvd., Ste. B, Del Rey. | (310) 305-0305 | lenzinis.com
*PLAYA VISTA PEOPLE – Only Originals Allowed!:
*PLAYA – IN THE  NEIGHBORHOOD: ICONIC JERRY'S DELI RETURNS TO MARINA DEL REY WITH PATIO SEATING AND PASTRAMI SANDWICHES


Longtime Jerry's Deli fans will be relieved to know that the historic Jewish deli has returned to Marina del Rey, in a familiar space at that. Stark's, a sort of grown-up all day restaurant from Guy Starkman (whose father co-founded Jerry's Famous Deli in the late 1970s), has turned into Jerry's Patio Cafe & Bar in the expansive Marina del Rey space. With ample outdoor seating and a full bar, the reopened Jerry's has many of the same deli favorites like the pastrami sandwich, matzo ball soup, and potato latkes. The takeout-friendly menu also encompasses some lighter dishes like vegan tortilla soup, kasha and quinoa bowl, and an Impossible burger.
Ownership of the Jerry's Deli brand has transferred over to Jonathan Mitchell and his daughter Mandy Mitchell, who will also operate locations in Encino and Studio City, marking the end of Starkman's ownership of the restaurant chain, which once had outlets in Miami, Costa Mesa, Westwood, and West Hollywood. 
*PLAYA PEOPLE – MEET MACKEY:
Mackey has lived in Playa Vista since April 2017.
*PLAYA–BULLETIN BOARD:
1. ***"Insomnia is a global pandemic whose Typhoid Mary was Thomas Edison, forcing fake sunlight into hours when ancient biology demands shut-eye." —— Dr. Francis G., Marina Dey
2. ***My favorite line from Hamlet: When Polonius asks the prince what he is reading, Hamlet replies, "Words, words, words."—– Lindsey K., Westchester.
3. ***In Culver City, there are a pair of weeping willows in the churchyard, very often rapturously astream in the wind, but which, on a hot, calm day, hang there for a moment in a gust of sudden awful inanition, like the stillness between two beats of one's heart. —- Zane K., Culver City.
4. ***Going to a Doctor's office for the first time can feel like a visit to the DMV only worse where patients are always given the nettlesome task of filling out each of the forms in triplicate. —– Dr. Janis V., Playa Vista
5. ***You can reach 22,000 affluent readers in *Playa Vista *Marina Del Rey *Culver City *Playa Del Rey *Westchester by advertising in this www.PlayaVistaPeople.com . For information e-mail: PlayaVistaPeople@TimeWire.net
6. ***When I have to confess to others in L.A. that my Councilman is Mike Bonin, I nearly die of embarrassment! —– Sandra Lynn, Marina Del Rey.
7. ***Culver City Adult School. Physically closed by virtually open. Call 310-842-4300 Voice mail only. 24 hour response time.
8. ***Thank God for Marina Shell on Lincoln and Fiji. An honest mechanic. Amen. —– Sally O., Marina Del Rey.
9. ***Currently, our nation feels like a mansion of gloom from which I would like to take myself immediately on sojourn anywhere else. —– Devon W., Westchester.
10.***Skip the line. Express pickup for online orders from Urban Plates in Playa Vista. Order online at www.UrbanPlates.com
WANTED
: VIRTUAL (DIGITAL) INTERNSHIP FOR PROMINENT ENTERTAINMENT P.R. FIRM:
Prominent entertainment P.R. firm (representing *58 Academy Award winners *34 Grammy Award winners *43 New York Times best-sellers) seeks two virtual (digital) interns for summer 2020. Work from home. 20 flexible hours a week for 13 weeks. Must be smart, very reliable, resourceful, tech-savvy and hungry. Incredible opportunity to learn about the entertainment and media world.
*School Credit Available
Send resume (no attachment) and contact details including phone number: aurora411@timewire.net
Playa Vista People Edited By: Aurora DeRose  
Playa Vista People Disclaimer: 1.) Playa Vista People accepts no liability for the content of this email, or for the consequences of any actions taken on the basis of the information provided. Playa Vista People is not associated with any commercial or political organization and is transmitted via the web for the sole benefit of its subscribers. 2.) Unfortunately, computer viruses can be transmitted via email. The recipient should check this mail and any attachments for the presence of viruses.