*PLAYA PEOPLE–MEET ANDREA: 

 Andrea is the manager at Runway Optometry. She has been with them for 4 years.
12775 Millennium Dr. Playa Vista, CA 90094
(310) 582-5501
*PLAYA –NEWS: FACEBOOK AND VERIZON BRING VIDEO PRODUCTION IN-HOUSE IN PLAYA
"Would you guys consider going on a real-life mission together?" an off-screen interviewer asked
Mila Kunis
and
Kate McKinnon
. The pair were in a 
Facebook
studio promoting their movie 
The Spy Who Dumped Me.
Before they could answer, Kunis saw something that stole her attention. "Mary Traceman!" Kunis screamed. "Do you know her?" McKinnon asked. "Yes!" Then a moment later, "She's Mary Traceman! Mary Traceman, my friend from childhood. Guys, that is freaky! That is Mary, and we would go on a mission together." This could only happen at Facebook's in-house video studio in the
Playa Vista
neighborhood of Los Angeles, where celebs field questions from the internet's largest social graph. After Kunis saw that familiar name, the studio crew hunted down the long-lost friend, and what started as a standard movie promotion developed an unexpectedly sweet human connection.
Celeb visits are common at Facebook's Playa Vista office, but they don't come just to create opening weekend promos. Facebook reaches out to influencers of all types and invites them in to learn how to create successful content for Facebook Watch, Facebook Live, and Instagram. Its crew brings experience from the TV, advertising, and online video worlds and always has a few best practices to share.
"We primarily teach public figures, creators, any kind of media partner, how to put video on Facebook," explains Kelly Michelena, production partnerships lead for Facebook. "We're mainly focused on Live and Watch. A good example is if you are a creator you might say, 'Hey, how do I record an IGTV video or just an Instagram Story? I'm a little intimidated. It feels like you've just got a new feature that came out.' And instead of having one of Facebook's or Instagram's partner managers blandly explain something like that over the phone, they say, 'Why don't you come in? Come to Playa Vista. Come check out our studios. Why don't I just show you? Let's live it, let's experience it instead of just telling you over the phone.'"
*PLAYA – NEWS: HOW HOLOGRAMS ARE KEEPING MUSIC LEGENDS ALIVE IN MARINA
In preparation for his first American tour in a decade,
Ronnie James Dio
spent months sequestered in a modest office suite in
Marina del Rey
, in
Los Angeles
. The office was on the second floor of a strip mall, above a vape shop and a massage parlour. I visited at the end of May, only a couple of days before the opening date of the tour, and among Dio's team there was a tangible air of anticipation. Dio never became a household name, but he is considered one of the great heavy-metal vocalists of all time, up there with
Ozzy Osbourne
(whom he replaced in
Black Sabbath
) and metal-adjacent rockers such as
Axl Rose
and
Robert Plant
.
Beginning in the 1970s, Dio took a lead role in codifying a number of his genre's most ludicrous, yet utterly foundational, conventions. He sang of wolves and demons, toured with an animatronic dragon and supposedly introduced the splay-fingered "devil horns" headbanger's salute, which he claimed his Italian grandmother used to flash as an old-world method of warding off the malocchio and other forms of bad luck.
Opinion among the Dio faithful, nonetheless, was divided on the subject of his Dio Returns comeback tour, largely because Dio has been dead for almost 10 years. The Marina del Rey office suite was the site of a visual-effects company creating a Dio hologram. The hologram would tour with a living backing group consisting, in large part, of former Dio bandmates. The hologram itself has an uneasy pallor, a brighter shade than the humans onstage but at the same time insubstantial, like a ghost struggling to fully materialise. One crucial decision that had faced the animators was choosing the right age for their creation. Dio in his MTV-era prime tempted them, of course, but then wouldn't it be strange to watch him perform alongside band members who were roughed up by the ensuing years like the rest of us? Then again, Dio's actual age in 2019, were he alive, would be 77, which is not ideal for a heavy-metal frontman. The creative team ultimately settled on a spry middle-aged Dio, outfitting him in black leather pants, a studded leather wristband and a bell-sleeved white tunic embossed with a silver cross.
*PLAYA – NEWS: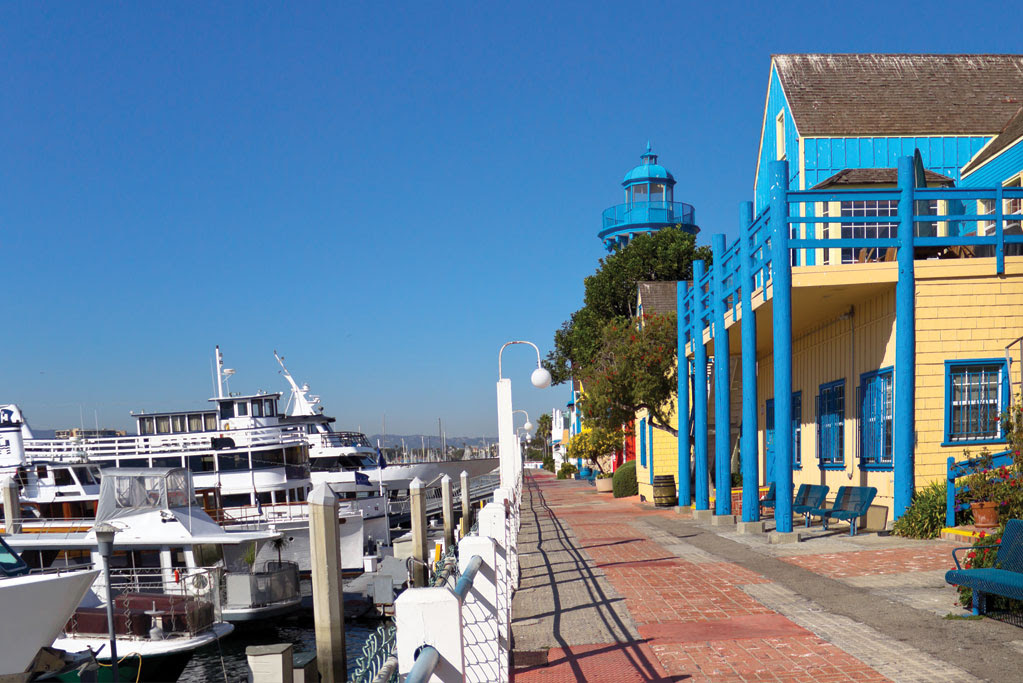 Shops, restaurants, charter operations and other tenants of
Fisherman's Village
begin the year paying a higher percentage of their returns to
Los Angeles County
, thanks to a vote of the
L.A. County Board of Supervisors
late last year.
In addition to monthly rent, tenancy leaseholders of Marina del Rey's landmark waterfront mall — currently in negotiations for a new master lease expected to facilitate extensive redevelopment — must also pay a percentage of gross monthly sales to the county, according to property managers Pacific Coast Management.
Office space tenants saw the biggest bump, to as high as 12%. Bicycle rentals and dry stack storage facilities went up to 10%, commercial boating rates went from 4.5% to 6%, and retail stores now pay 4% instead of 1.5%. "It's really gonna hurt. "We're struggling and I'm already getting squeezed," Mark Sentryz of Marina del Rey Parasailing said of the increase.
*PLAYA PEOPLE-MEET AURORA:
Aurora
loves getting her hair cut in
Playa Vista
.
*PLAYA–INTERVIEW:
Q: Greetings Wayne! You are the owner of?—Marina Shell Service.

Q: Where are you located?—On Lincoln and Fiji, 4770 Lincoln Blvd. Marina Del Rey, CA.

Q: And how long have you been there, sir?—47 years

Q: Now, you have a reputation of having the single largest, most successful gas station, and car service station in the area by far. You've had customers coming to you for generations. What is the secret to your success?—Repeat good service.

Q: And how do you, in today's environment, keep the quality high and the prices low? I understand that people have told me that you go to work 7 days a week, is that true?—Correct. It's because you can have complete control of what's happening 24 hours a day, 7 days a week. If you are a delinquent dealer you don't know what's happening.

Q: Now, you hear horror stories all the time about how auto mechanics and gas stations rip customers off. What advice do you have for people? Obviously, I know yours is excellent but how do I know the good from the bad?—You could read about them nowadays, you can ask neighbors, you can try different locations but you have to find one that you trust and put all of your trust in that mechanic, or manager, or whatever and they will take care of you. You can find a hundred different guys you can find you a hundred different answers about what is wrong with your car, but you have to find the one that is honest and when you do you have to stick with them. Whether it's me or the guy down the street.

Q: Now, you have had customers with you for decades, is that true? People you have worked with then their kids, then their kid's kids.—Yeah. Their fathers, then their grandfathers, the sons now, and the son's sons. I have people coming from Pacific Palisades, Santa Monica, and West LA.

Q: Now you told me that your father really began this gas station, this Shell oil station, is that true? Can you talk about that?—Yeah, we started in 1956 on Westwood and Olympic. We had that station for 25 years and left that one with my brother to run. My father and I came here in 1972. We took over this one and we work on the corner of Lincoln and Fiji.

Q: So, in 1972 you put up a gas station on Lincoln and Fiji. How was Marina Del Rey different in those days?—It was a little quieter. It wasn't so built like it is today, there wasn't quite the amount in terms of population and the Marina was all brand new and happening. It was a happening place. Now, it's kind of crazy and needs a facelift.

Q: Now, what doesn't need a facelift is this new community called Playa Vista. Tell me what you have witnessed in the birth and growth of Playa Vista.—I see a lot of young people over there. I see a lot of good families, cars, and I see that these people need to come and see me to experience the difference.

Q: Now, when they decide to stop by they are new. So many people coming to playa vista are new to the community and don't know anyone. When they come into your Shell station on Lincoln and Fiji, who should they ask for. You or Nick? —They should come in and introduce themselves to Robert, Nick, or John. Those are my top dogs and Nick is my son. Or they can ask for me, Wayne because I am there a lot of the days.

Q: The thing that they are going to get, which is so rare today, is straight honest talk. They are not going to get any jive. Now, you confessed to me that you made a strong decision in running your business that none of your mechanics work on commission. Is that true?—Correct. Everyone works on salary. John and I and Nick look at every invoice before you are sold a job. And when you pick up the car there is one of us to talk about it again.

Q: What happens when you have a mechanic on commission?—Well, they try to sell you the whole house. We are going to sell you what you need. We are going to give you a list of 1-10 things wrong with your car. 1-5 things we are going to tell you things to do now. The rest of the 5 you can get done down the road. You don't need it all today.

Q: Now, what about your customer service where Nick has told me you can drop your car off and you will drive them home?—That is true we have that service. Now, within the neighborhood. But we have even taken people up to West LA or Santa Monica, it's not a problem. So, Playa Vista, Playa Del Rey, Culver City, we have a driver including me that can take you home and pick you up.

Q: If people want to call in for a question, what's the best phone number for people to reach you?—Well we have 5 lines but you can call (310) 823-2330 and ask for Nick, John, or Robert.

Q: Wayne, where did you live?—I live in Westchester and I have been there for 45 years.

Q: Where do you go on weekends? Where you want to spend time with the family and hang out, what restaurants do you like, what places do you go to?—We kind of stick up on the hill in Westchester like at Alejo's, Truxton's, Paco's. We come down here to the Marina and go to Tony P's.
*PLAYA – SPOTTED:
*PLAYA—TELL US YOUR STORY:
Do you live or work in the inspiring
Playa Vista
area (
Playa Vista, Marina Del Rey, Culver City, Playa Del Rey, Westchester
) and have a story to tell?
Share with the new, dynamic weekly digital magazine www.PlayaVistaPeople and reach 15,000 of your incredibly inspiring and intriguing neighbors. Being part of Playa Vista rocket ship means in you are in a special place at a special time. Tell us your story.
E-mail: PlayaVistaPeople@TimeWire.net
*PLAYA-BUSINESS:
Relationship problems, difficult to manage anxiety and depression, and a lack of general control over life. These are all concerns that many individuals and couples face, often feeling trapped with little way out. The good news is experienced and powerful help is available, for those willing to take the step to turn to a professional skilled in these areas and beyond.
In that spirit, therapist in Playa Vista Erik Anderson and Erik Anderson Therapy has recently announced the grand opening of his new office and is accepting patients of all kinds. For those seeking single or couples therapy in West Los Angeles, Anderson is licensed in both Family and Marriage Therapy and employs feedback informed treatment, a method which indicates that client input can greatly improve the psychotherapy process.
The Erik Anderson Therapy
11949 Jefferson Boulevard, Culver City, CA, 90230
(323) 283-9207
*PLAYA VISTA PEOPLE–Only Originals Allowed!:
*PLAYA – PETS: 
Stanley outside of Starbucks on a sunny day. Stanely is a 3-year-old Sheepadoodle. Originally from New York City, and now lives in Playa Vista.
*PLAYA–BULLETIN BOARD:
1. ***More than 150 wines will be showcased at
Loyola Marymount University
's 39th Annual Wine Classic on Sunday, January 26th! Tickets are $95 through January 18th and the event supports student scholarships.
Details:
lmu.edu/wineclassic
2. ***The next LAX Coastal Chamber mixer will be on  Jan. 23, 5:30 – 7:30 PM | Networking @ Night —– at Cafe del Rey in Marina Del Rey. All are welcome.
2. ***SPACE NEEDED FOR SPECIAL NEEDS CHILDREN —
I am writing with the hope that you may have some suggestions on getting a space for support and activity opportunities for children with special needs. We truly need the space to be very little to no cost, as it is my hope to create opportunities for families that are financially attainable or free (maybe one of you have some unleased space that is going unused and you would be willing to temporarily support this cause). As a parent of a son with Autism and other challenges, I cannot emphasize enough the dire need for more opportunities for our children and adults to have access to simple things such as art classes, music, sports, Winter/Spring/Summer camps, work and vocational training, along with more inclusion and acceptance in our communities. If you are a parent of a child with challenges, you understand when I say I cannot simply access the same recreational activities and after school programs, most children of typical ability are able to enjoy, should their parents choose Please feel free to contact me through text, phone or email. With gratitude, Dollie Peterson 310-874-4384 – dlascheid@gmail.com
3. ***There is a growing cluster of RVs on Alla Road. This is around the corner from the park where our children play on Glencoe and Alla. Please call and complain. This can't be our new normal. —— Cris Cado, Del Rey
4. ***Join the Mystery Book Club at the PV Library for a fun-filled evening. ***January 28, 2020 – Police by Jo Nesbø.
5. ***Parking problems —  With all of the wailing, lamentation, teeth-gnashing, and hysteria about construction and parking how about a campaign to encourage people to only take up one space when they park. I live on Coolidge Avenue and it is shocking how many people consistently take up two spaces when they park on the street. It doesn't take a whole lot of effort to be courteous when you park your car, and it would do a lot to alleviate the shortage of parking. —— Scott Littell
6. ***Do you have a message for your neighbors in Playa Vista? Post on the Playa Vista People Bulletin Board for FREE. Send your 50-word message to us at:  Aurora411@TimeWire.net
7. ***HELP WANTED: AUTHOR SEEKS PART-TIME (FLEXIBLE HOURS) ENTRY LEVEL RESEARCHER:
Experienced author seeking smart, reliable, resourceful entry-level research assistant for part-time, flexible hours assignments. Must be available for occasional meetings on the Westside of L.A. Work mostly from home. A great opportunity for the right person. An extraordinary addition to your resume. Send resume (no attachment) with complete contact details including phone number. E-mail to: Aurora411@TimeWire.net
Playa Vista People Edited By: Aurora DeRose  
Playa Vista People Disclaimer: 1.) Playa Vista People accepts no liability for the content of this email, or for the consequences of any actions taken on the basis of the information provided. Playa Vista People is not associated with any commercial or political organization and is transmitted via the web for the sole benefit of its subscribers. 2.) Unfortunately, computer viruses can be transmitted via email. The recipient should check this mail and any attachments for the presence of viruses.