*PLAYA PEOPLE – MEET AMELIE:
Amelie Laurice, artist at Desert Moonrise. Amelie's consist landscapes are all original works. She has been making these designs for three years and is currently selling her work at the Playa Vista Farmer's Market, every Saturday, 9:30-2pm.
E-mail:Design@amelielaurice.com
IG:@desertmoonrise

DesertMoonRise.com
Amelia Laurice


*PLAYA – POINT OF VIEW: RESTAURANTS HAVE BECOME PANDEMIC SCAPEGOAT. MY LAST ONE IS STRUGGLING TO SURVIVE
 Playa Provisions, shown in 2014,
– Playa del Rey

By: Brooke Williamson (Playa Provisions, Playa Del Rey)
Before the pandemic, my husband and I managed a staff of more than 100 among our four restaurants. Now we're down to one location, in Playa del Rey. Decimating our staff was never part of our business plan. Since March, we've permanently closed Da Kikokiko in Playa Vista and the Tripel in Playa del Rey. We recently sold Hudson House in Redondo Beach, which left us with Playa Provisions and a part-time staff of 12 going into the holiday season. How did we get here? Restaurants are being treated as scapegoats — quick to be blamed for a spike in COVID-19 cases, without evidence. The most recent Los Angeles County outdoor dining shutdown, which went into effect Nov. 25, seemed like it was just another in a series of government restrictions that make zero scientific sense.

When L.A. County Superior Court Judge James Chalfant ordered Los Angeles County public health officials to present scientific evidence by Tuesday justifying the outdoor dining ban, I experienced a minor moment of relief and thought, "Could this be progress?" It felt like a potential step forward. Chalfant was speaking for many in my industry on Wednesday when he said, "You have to do a risk-benefit analysis for public health. You don't just talk about the risk of spreading disease. You have to talk about the benefit of keeping restaurants open." The next day our industry was dealt another setback when Gov. Gavin Newsom issued far-reaching statewide restrictions that included requiring restaurants to return to takeout service only for at least three weeks. We realize these are extraordinary times that require extraordinary measures, but, looking out my restaurant window, it just feels like my industry is being unfairly targeted.

Evidence shows the latest spike in COVID cases, specifically in Los Angeles County, is a direct result of indoor gatherings. Closing outdoor dining will likely drive people to gather privately indoors, which is potentially far more dangerous than eating outdoors at restaurants that take COVID-19 precautions and social distancing extremely seriously. At Playa Provisions, we haven't offered indoor seating since March, except for a couple of weeks in early summer when pandemic restrictions were eased. As part of an industry that's already held to higher health standards than most, Playa Provisions has passed four county health department inspections since the beginning of the pandemic, demonstrating success in adhering to constantly evolving COVID-19 health and safety protocols. With a full-service patio, and no indoor dining, we were back to averaging about 50% of our usual sales and 75% of our normal staffing for this time of the year (minus the usual holiday parties and catering). It didn't last. With the latest elimination of outdoor seating, our revenue has fallen to about 15% of the norm, causing us to furlough nearly 40 more employees. The outdoor heaters and additional weatherproof coverings we purchased to continue operating outdoors in cool weather now sit in our bar space turned storage unit.

The thousands of restaurant workers across Los Angeles who are losing their livelihoods are going from food-insecure to food-terrified. The average restaurant worker in Los Angeles earns about $16 an hour working 40 hours per week. If Playa Provisions is any indication, about 75%, if not more, have already lost that income. The rest will have their salaries cut roughly in half as their hours are pared back. When a restaurant closes, a domino effect occurs that affects farmers, liquor reps, delivery drivers, linen companies and so many others. We've already had to cut back or eliminate our cleaning crew, dishwashers, busboys, line cooks, hosts, service staff and managers. As an industry, restaurants regularly pay it forward by contributing to philanthropic causes. Giving back is how we define our successes. However, if we are to save an industry that has tried to pivot while taking one for the greater good, then we are going to need help. Unless the restaurant industry receives a financial bailout, we may be looking at the permanent closure of about 85% of independent restaurants, resulting in approximately 16 million people across the country losing their jobs.
*PLAYA – NEWS: FIGHT FOR BALLONA WETLANDS RAGES ON WITH PROTEST PLANNED TODAY

Molly Basler,  Activist and Los Angeles City Council,
– Playa Del Rey
 
The fight over some of the last remaining coastal wetlands — the Ballona Wetlands — and what comes next is pushing activists to continue demonstrations, with an upcoming holiday-themed protest planned for today. "All we want for Christmas is to save Ballona," said activist and Los Angeles City Council candidate Molly Basler. The meetup is scheduld for Thursday at 12:30 p.m. at Jefferson and Culver boulevards, with the event officially beginning at 1 p.m.
"We're hoping people will carpool," Basler said. "We'll have social distancing. Everyone wears masks." The Ballona Wetlands State Ecological Reserve is home to diverse plant and animal wildlife. The site has become a battleground for conservationists and other activists. Just where the battle lines will ultimately be drawn depends in large part on a decision by the California Department of Fish & Wildlife (DFW), which is expected to choose, possibly before year's end, from four alternatives for restoring one of the few remaining freshwater coastal wetlands in Los Angeles County. It's unclear what the decision is yet.
*PLAYA – NEWS: LOCAL FAVORITE MENDOCINO FARMS OPENING IN CULVER CITY
Kevin Miles, Chief Executive Officer, Mendocino Farms, Culver City

Mendocino Farms, the popular upscale fast-casual sandwich and salad spot, is expanding its presence in the Los Angeles market with the opening of a Culver City location at The Culver Steps mixed-use development on Wednesday, Dec. 9. Culver City residents can enjoy Mendocino Farms for contactless curbside pick-up and delivery beginning Wednesday, Dec. 9.

Why is this important? Its 16th Los Angeles location (and 36th overall), the Culver City opening highlights the brand's popularity and expansion in this growing market. Given the current COVID-19 climate changing eating out habits, this location offers a unique opportunity for guests to pick up a meal and enjoy in the greenspace available at The Culver Steps in addition to offering contactless curbside pick-up and delivery. The restaurant is celebrating its Culver City Grand Opening by:
Providing a free entrée with any menu purchase when locals sign up online for a My Mendo account (must select "Los Angeles-Culver City" as their favorite store) before opening day, Dec. 9.
Inviting local schools to host a Digital Give Back Day in which Mendocino Farms will donate 50% of proceeds back to the school (must host fundraiser before March 9, 2021 with Culver City location).
"Mendocino Farms has always felt right at home in Los Angeles, and we're excited to be opening our 16th location in the area. We look forward to tapping into the many amenities available at The Culver Steps, such as outdoor dining and convenient parking, to better serve our craveable sandwiches and salads to the L.A. community. Our team hopes to create and make this sense of gathering easily accessible whether dining in with us – as local mandates allow – or eating at home and the office."
– Kevin Miles, Chief Executive Officer, Mendocino Farms

What can I get? Guests can enjoy the menu, featuring seasonal Fall and Winter dishes such as the restaurant's 15th anniversary sandwich, the Black Tie Turkey Club – shaved, roasted turkey breast, nitrate-free Applewood smoked bacon, Havarti cheese, white truffle aioli, pickled red onions, and arugula on a garlic butter toasted brioche bun. Specials are accompanied by signature fan favorites like the Avocado and Quinoa Superfood Ensalad, made with chopped romaine, curly kale, quinoa and millet, housemade superfood krunchies, succotash with roasted corn, black beans and jicama, red onions, cilantro, cotija cheese, grape tomatoes, and avocado topped with chipotle vinaigrette.

How/where can I get it? Order online or through the Mendocino Farms App for pick-up or delivery. Delivery also available through third-party partners: Postmates, DoorDash, and UberEats. For guests who prefer to dine in once local mandates allow, the restaurant will also offer outdoor seating in the park-like plaza of The Culver Steps, while adhering to strict health and safety guidelines. Free underground parking is available for one hour. Mendocino Farms Culver City is located at 9300 Culver Blvd across from the Culver Studios. Go here for more info about the Culver City location.
*PLAYA – NEWS: CHRISTMAS TREE FARMS
2020 GUIDE


Shawn's Christmas Trees,
– Marina del Rey
It could still be possible to take your family on the hunt for the perfect Christmas tree this holiday season — and most importantly, to do it safely, even as the ongoing COVID-19 pandemic continues to worsen across the region.
Did you know that at least 25 million real Christmas trees are purchased each year across the U.S., and currently, 350 million are growing in all 50 states.? And despite these unprecedented times, the tree market is still up and running in 2020. Christmas tree lots and choose-and-cut farms nationwide are taking precautions as COVID-19 cases rise to ensure buyers can take home their perfect tree with minimal health and safety risk.
In fact, the National Christmas Tree Association has released a new guide including recommendations and best practices for Christmas tree providers to follow. Sellers are advised to frequently sanitize items such as hand saws and tree cart handles, as well as countertops, restrooms and other areas. Special signage and personal protective equipment for employees are also being encouraged.
If a real Christmas tree is on your wish list this year, here's a selection of great local farms within driving distance of Marina del Rey, Playa Vista, Playa del Rey, Mar Vista, Westchester, & Culver City.

*PLAYA PEOPLE – MEET KAI:



Kai has been living and working in Westchester since December 2019.
*PLAYA – IN THE NEIGHBORHOOD: FREE COFFEE FOR FRONT-LINE WORKERS AT STARBUCKS IN MARINA DEL REY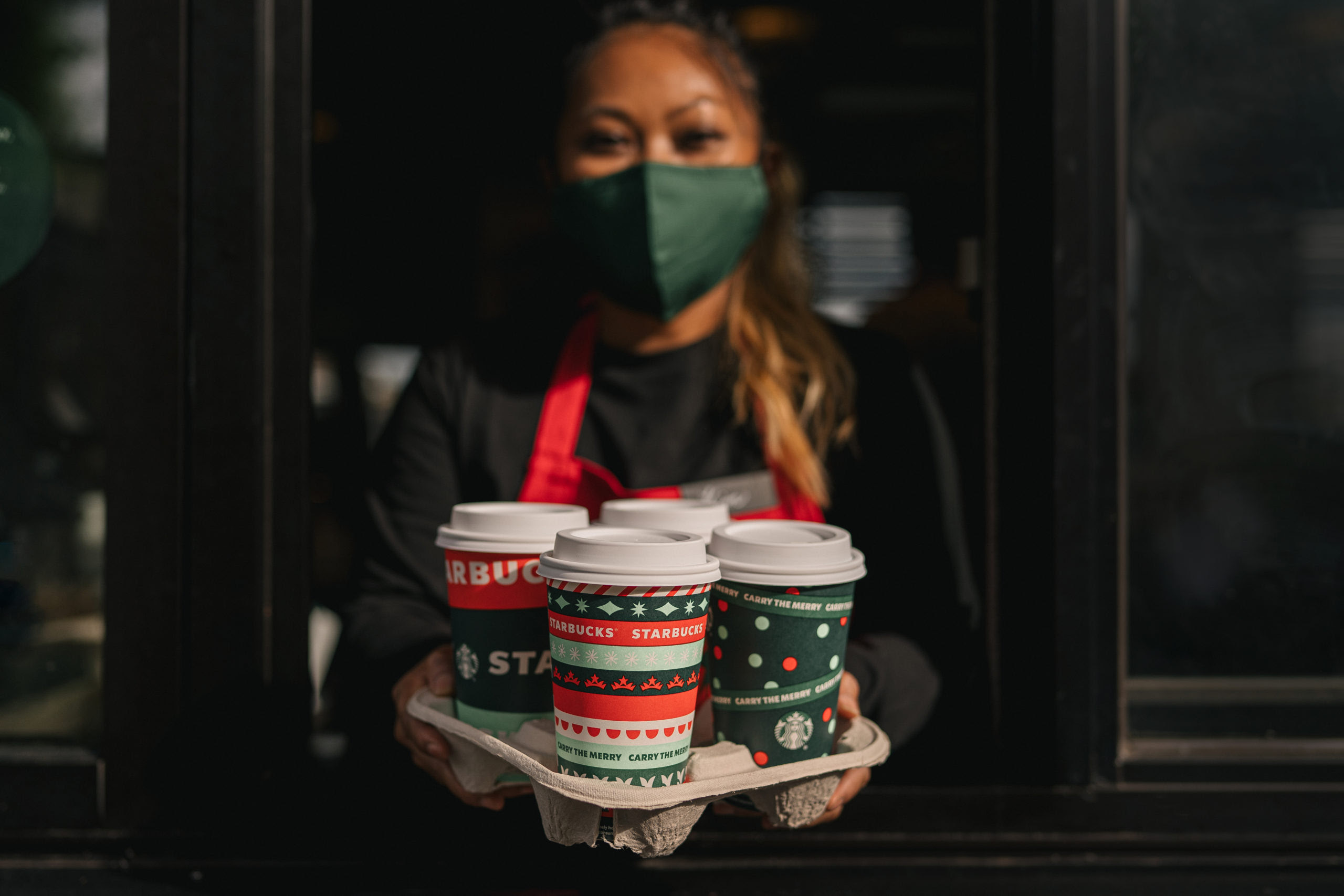 Front-line workers can get free coffee throughout December from Starbucks locations throughout the United States, including Starbucks locations in Marina del Rey.
Starbucks has locations in Marina del Rey:
4724 1/2 Admiralty Way Space A-22, Marina Del Rey
100 Washington Blvd, Marina Del Rey
4264 Lincoln Blvd, Marina Del Rey
4311 Lincoln Blvd, Marina Del Rey
Ralphs, 4700 Admiralty Way, Marina Del Rey
4365 Glencoe Ave, Marina Del Rey
In a statement, Starbucks said it will offer front-line workers a free tall brewed coffee, hot or iced, throughout the month as a way "to recognize the significant efforts of the front-line responder and health care community" during the COVID-19 pandemic.
"It has been an extraordinarily difficult year, especially for the front-line responders who are serving our communities," Starbucks Vice President Virginia Tenpenny said in a news release. "We want to show our deep gratitude for those who support and protect us every day with a small gesture of kindness and a cup of coffee."
Those eligible for the offer include doctors, nurses, public health workers, pharmacists, dispatchers, firefighters, paramedics, police officers, dentists and dental hygienists, mental health workers (therapists, psychologists, social workers, counselors, etc.), hospital staff such as janitors, housekeeping/security and active-duty military, according to Starbucks. Customers will need to identify themselves as one of those workers in order to receive the free coffee.
*PLAYA – PLATINUM APPROVED:
" BEST ELECTRICIAN IN THE AREA"
Best of Los Angeles Award – 2020 Best Electrician

Mike Packham Electric, a local family-run skilled electrician team, provides electrical and lighting needs for Playa Vista, Marina Del Rey, Culver City, Playa Del Rey, Westchester, Venice, West Los Angeles, Santa Monica.

T: 310-4304174
E-mail: MikePac6453@gmail.com
*PLAYA – YES OR NO INTERVIEW WITH TYSON:


Tyson has been living in Westchester since April, 2017
Loves the Rolling Stones: YES
Plans on being a millionaire someday: YES
Loves Shark Tank: YES
Supports the Police: YES
Loves Mexican food: YES
Plays Fantasy Football: NO
Loves Vinyl Records: YES
Loves to Dance: YES
Eats cereal for breakfast: NO
*PLAYA – KIDS: USPS OPERATION SANTA


The coronavirus pandemic could make the holidays particularly bleak for many U.S. kids and families. As parents struggle with unexpected medical bills, job loss and food shortages, their children could also wake up on Christmas morning to discover Santa missed their homes. It's a devastating scenario for any parent or child; however, the U.S. Postal Service is hoping to help make the holidays a little more merry and bright for kids whose families have been affected by the pandemic or other hardships this year.

For the first time, the Postal Service is taking its Operation Santa program nationwide. The program, which dates back to 1912, encourages kids from across the country to write letters to "Santa." Once the letters are received and posted online, others are encouraged to "adopt" and respond to one or more letters of their choosing. "Through the years, the program grew and took on a life of its own," the USPS wrote on its website. "Today, customers can go online to browse through the letters and, if one touches them, they can adopt it and help the child have a magical holiday."

Anyone in the United States is allowed to write a letter, regardless of religion or denomination, according to the Postal Service's website. Letters requesting clothes and shoes should include sizes and colors. Those requesting toys, games and books should be specific.

How To Mail A Letter
1) Any family with a child who wants to write to Santa should use this "official" post office address:
Santa Claus, 123 Elf Road, North Pole, 88888
2) Write your full name and return address in the upper left corner of the envelope. Then, apply a first-class stamp in the upper right.

3) Letters will be posted to the USPSOperationSanta.com website. Letter adoptions opened on Dec. 4.

4) Drop the letter off at your nearest Post Office.   5) All letters should be received by Dec. 15. Once letters are received, they will be uploaded and made available for adoption. The sooner your letter is received, the more likely it is to be answered.

According to the Postal Service's website, there will be no in-person letter adoptions this year due to the pandemic. Instead, participants are encouraged to share their personal experiences on social media using the hashtag #USPSOperationSanta.
More details on writing and adopting letters through the Operation Santa program can be found at USPSOperationSanta.com.


*PLAYA – SEE IT:


Winter beauty in Culver City


*PLAYA VISTA PEOPLE – Only Originals Allowed!:


PLAYA – NOW YOU KNOW: MEET GROVER:


Grover has been living and working in Playa Vista since April, 2016.

Now you know…
He nine (9) siblings
Was born in Mississippi
Went to Howard University
Was Class President in High School
Has been to 21 states in the U.S
Is vegan
Has a sailboat in Marina del Rey
Is a gourmet cook
Saved a million dollars before 40
*PLAYA–BULLETIN BOARD:

  1. ***Burnouts in Westchester? Anyone hear any crazy burnouts near Loyola? It's smokey on my street with burnt rubber. —- Thierry Guetta, Westchester

2. ***Create a tradition this year with the Westchester Mental Health Guild's Holiday Lights Tour.  22 houses are participating in this self-driving tour of outdoor decorations in Westchester and Playa del Rey. Register at https://www.eventbrite.com/e/holiday-lights-tour-voting-tickets-128251430481, for $10, which covers your carload and provides a list and map of the Tour plus the right to vote for your favorite decorated house.  

3. ***"Leanne at the CVS Pharmacy in Playa Vista is a nice and helpful pharmacist." – Chad L., Playa Vista

4. ***Just a note to say 'thank you' to the person who vandalized my property again this week, once again spray painting my Ring Security Light and Camera. (You're really a terrible painter, by the way, you got my fence and part of the house, too.) Regardless, I want to express my gratitude because thanks to you, I had an electrical contractor move the AC power supply and mount the light and the camera above the roofline. The camera angle is so much better and the light provides even wider coverage now. Man, if you hated this thing enough to vandalize my home twice before, you're REALLY going to be annoyed. Thanks also for the $500 bill it cost me in labor and materials; you're doing your part to keep the economy and small business moving in the pandemic, too. Do come back for a visit, check out the fine work done to keep this light out of your reach, but also to provide the block with a little more safety at night. I'd love to show you my appreciation in person in the form of a crowbar to your skull. —- Matt West.

5. ***Missing Cat! Our cat pushed out a screen and got out a window. He is an indoor-only cat. He is completely black, has a red collar with a black name tag, and is microchipped. His name is Onyx and he usually responds to his name. We live on 83rd Street between Billowista and Tuscany. Please contact us at 310-430-0520 —– Jill Grossbard, Playa Del Rey.

6. ***Home Burglary. We left our house for 20 minutes to pick up food and upon returning scared 2 people who fled our house after burglarizing it. They took only cash-all of our electronics, devices, and jewelry was left. They were accompanied by a tan Audi sedan as my husband saw them running down the street and the car pick them up at the end of the block. Be on the lookout. LAPD will be notified. Vehicle 1 Color: Tan Make: Audi —– Ingrid Flintoft, Culver City.

7. ***Drag racing on Manchester/ Lincoln corner again. I have no idea why. if the police know about this every Sunday evening how come it still goes on.? Please be careful. I have reported this information to the police. —– Jan Head, Westchester.

8. ***Last year at LMU, I was hoping my teacher would not actually listen to my presentation, because I knew it was absolute drivel, but the "F" on my transcript was proof that I had not fooled anyone. —- Garland T., Playa Vista

9. *** I have been told I am a ringer for Bono, but the similarities end the moment I pick up a microphone. —– Clarence T., Culver City.

10. ***The Marina del Rey Anglers is more than just a fishing club. They are active volunteers giving back to the environment. The club (MDRA) is responsible for the Two Fish Rearing Pens at Burton Chase Park. It takes a lot of man-hours to raise a batch of 3000 to 4000 fish each season, but they do it willingly. —-  Keith Lambert, Marina Del Rey

11. ***One filled with joy preaches without preaching. —— Jose R., Playa Del Rey.

12.***Brother, I would call you stupid but that would be an insult to stupid people. I've known sheep that could outwit you.  —– Zoey H., Culver City.

13. ***You know you're a mom when… …picking up another human to smell their butt is not only normal but totally necessary. —- Charlene I., Playa Vista

14. ***How can it be that in a country that landed men on the moon, antediluvian locomotives are pushing and pulling dirty, smelly, 50-year-old cars perforated by rust, past crumbling stations, over track that looks like spilled overcooked spaghetti? —— Dr. Harold F., Playa Vista.

15.***The beauty of the sky at night in Marina Del Rey is breathtaking. Wispy clouds that form high in the atmosphere and that the sun illuminates from below. I am in heaven. —– Carly S., Marina del Rey.
Great Part-Time Job (Flexible Hours)
Wanted: Prominent P.R./Branding Firm Seeks Part-Time (Flexible Hours) Entry Level Research Assistant:
Looking for an extremely reliable (6 month commitment) entry team member as a Research Assistant. (Recent college graduates are encouraged to apply). Approximately 10-15 hours of work a week, mostly from home but must be available for one weekly meeting in Playa Vista.
Must be smart, resourceful, tech-savvy, organized, and hungry to learn. A great opportunity to learn and grow within the world of media and entertainment.
E-mail resume (no attachment) and contact details including a phone number to Ms. Aurora DeRose: aurora411@timewire.net
Salary: $600.00 /month
Job Type: Part-time

Playa Vista People Disclaimer: 1.) Playa Vista People accepts no liability for the content of this email, or for the consequences of any actions taken on the basis of the information provided. Playa Vista People is not associated with any commercial or political organization and is transmitted via the web for the sole benefit of its subscribers. 2.) Unfortunately, computer viruses can be transmitted via email. The recipient should check this mail and any attachments for the presence of viruses.