*PLAYA PEOPLE – MEET SASHA: NOW YOU KNOW…
Sasha has been living in Playa Vista since August, 2017
Her dad has been married six times.
Can't believe Bob Dylan is still alive.
Will take the COVID vaccine on day one.
Doesn't understand why most young people constantly looked bored and constipated.
Thinks Insta is the work of the devil.
Feels college was a waste of time and money.
Wishes Superman would save America.
Think Congresswoman Maxine Waters look 230 years old and counting.
*PLAYA – NEWS: 'JEOPARDY!' PRODUCTION BEGINS IN CULVER CITY

Ken Jennings from "Jeopardy!",
– Culver City
Production on "Jeopardy!" is scheduled to resume Monday at Sony Pictures Studios in Culver City following the death of Alex Trebek, the game show's host since its syndicated revival began in 1984. Ken Jennings will be the first of what the show described as "a series of interim guest hosts from within the 'Jeopardy!' family." By bringing in familiar guest hosts for the foreseeable future, our goal is to create a sense of community and continuity for our viewers," executive producer Mike Richards said.
The first week of guest-hosted shows will air the week of Jan. 11. Trebek's last week of episodes will air the week of Jan. 4. Additional guest hosts will be announced in the weeks ahead. Jennings won the "Jeopardy! The Greatest of All Time" competition, which aired in January. He holds the show's records for most consecutive games won, 74, and highest winnings in regular-season play, $2,520,700. Jennings became a "`Jeopardy!" consulting producer this season, presenting his own special video categories, developing projects, assisting with contestant outreach and serving as a general ambassador for the show.


*PLAYA – NEWS: CEDAR-SINAI LAUNCHES COVID-19 TESTING AT 3 URGENT CARE CLINICS
Dr. Caroline Goldzweig,
Cedars-Sinai Medical Network's Chief Medical Officer

Cedars-Sinai announced Tuesday that it has launched COVID-19 testing at its three urgent care clinics located in Playa Vista, Culver City and Beverly Hills. The test uses a nasopharyngeal swab to collect a sample from the patient and has the ability to provide results within 48 to 72 hours. "We have expanded our testing options in an effort to support our patients and the community by giving them access to high-quality testing when they need it," said Dr. Caroline Goldzweig, Cedars-Sinai Medical Network's chief medical officer. "We wanted to expand access especially for frontline workers such as grocery store employees, first responders or any essential worker whose job puts them in close contact with others."
Those getting tested do not need to be a Cedars-Sinai patient prior to booking their testing appointment nor do they need a doctor's referral, according to Cedars-Sinai. The test is $150 for patients without insurance or if a patient does not have insurance accepted by Cedars-Sinai. Cedars-Sinai officials noted that the best time to take the test is four to seven days after exposure to someone suspected of having COVID-19 or someone who has tested positive. Testing is available to adults and children ages 2 years and older. Minors under 18 years of age must be accompanied by a parent or legal guardian.
*PLAYA – NEWS: TOMMY 'TINY' LISTER DIES AT 62 IN MARINA DEL REY:
Actor Tommy "Tiny" Lister was being remembered Friday by other actors a day after he died at 62 years old of apparent natural causes in his Marina Del Rey home. Deputies were dispatched shortly before 3 p.m. Thursday to Lister's home in the 4100 block of Via Marina, near Marina Beach and Basin D, according to Deputy Grace Medrano of the Los Angeles County Sheriff's Department. Lister's friends and business associates had reported that they were worried about his wellbeing because they hadn't heard from him since the night before, Medrano said.
*PLAYA – NEWS: CHRISTOPHER HELPS MARINA DEL REY PATIENTS TAKE THEIR LIVES BACK


Dr. Carlos Rodriguez of Prodigy Chiro Care & Spinal Rehab,
– Marina del Rey

Marina Del Rey, CA-based Prodigy Chiro Care & Spinal Rehab is pleased to report that they have found great success treating local patients since they opened their doors to the public. Any clinic requires the trust of their community to work efficiently, and the team at Prodigy Chiro Care & Spinal Rehab has fortunately been able to work alongside their patients to eliminate chronic pain and alleviate their discomfort. Many fail to understand the debilitating nature of chronic pain unless they have experienced it for themselves. The pervasive nature of this ailment means that they often cannot engage in activities that would otherwise bring them great joy (and in many cases, even allow them to pursue a fulfilling career). As such, it is in every patient's best interests to seek out a health care provider who can locate the source of their pain and treat it in order to ensure that such pain is either reduced to manageable levels or eliminated entirely.

Dr. Carlos Rodriguez of Prodigy Chiro Care & Spinal Rehab states, "Many issues find their root in the spine and its misalignment. This part of your body is fundamental to virtually every physical action you make since it ferries the signals from your brain to the rest of your body. As a result, an interruption of these signals can prove to be disastrous, manifesting in reduced movement or capability — often due to pain that does not go away no matter how much time you give yourself to rest and heal or how many medications you are on."

A chiropractor, however, can help with this precise situation, and spinal issues are by no means the only ailments that Prodigy Chiro Care & Spinal Rehab can treat. The clinic can help patients with everyday sprains and strains, lower back pain, scoliosis, whiplash and even headaches. Many of their patients come in after experiencing an accident at work or on the road, especially after exhausting other avenues of treatment, because they believe a chiropractor may be their last hope of getting rid of the chronic pain they feel. The clinic does not believe that injuries sustained in an accident (even those acquired during sports) should hold an individual's life back any more than absolutely necessary, which is why they make it their mission to bring patients as close to their normal selves as possible.

Prodigy Chiro Care & Spinal Rehab
4519 Admiralty Way, Suite 208
Marina Del Rey, California 90292

T: 310-574-3334
E-mail: prodigychirocaresm@gmail.com
*PLAYA – NEWS: APPLE SNAGS CULVER CITY OFFICES, WAREHOUSES IN $162 M DEAL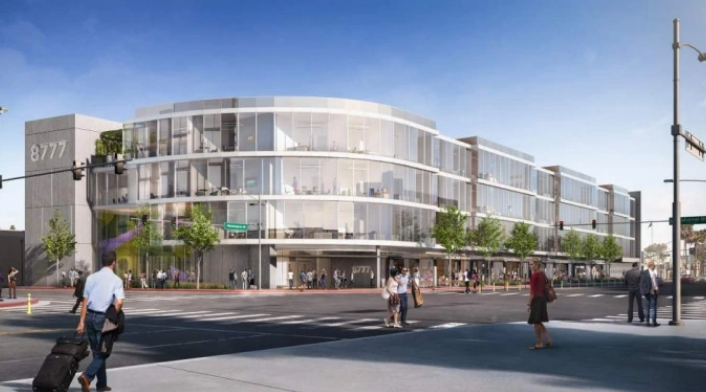 Rendering of Apple Offices,
– Culver City
Apple is biting off more of Culver City. The tech giant has snagged a square block of office and warehouse properties in a deal with Venice Pacific Investments that is valued at $162 million, sources confirmed. The property transaction closed Nov. 13. CoStar first reported the story and described the deal as a recapitalization. It involves five properties next to the office building Apple already leases. The deal opens the possibility for Apple to redevelop the large site.
The square block of properties include: flex office space at 8771 Washington Boulevard, storefront and office space at 8876-8888 Venice Boulevard, and warehouse and storage space at 8825 National Boulevard, sources close to the deal confirmed. Two other properties in the deal include 8829 and 8833 National Boulevard, according to CoStar. According to PropertyShark, each address traces back to Pacific Investment Associates, and lists its owner as William Feldman. He is also listed under Venice Pacific Investments with the same addresses.
Eastdil Secured brokered the deal. The company declined comment. The properties are next to the 128,000-square-foot office that Apple agreed to lease at 8777 Washington Boulevard in early 2018, from Clarion Partners and Lincoln Property. Like other tech giants that have launched streaming services, Apple has spent the past two years scrambling to find space in Los Angeles. Companies like Netflix, Amazon and Apple itself have leased much of that space.

*PLAYA – PEOPLE: MEET MIMI :

Mimi has been living and working in Culver City since August 2019.
*PLAYA – IN THE NEIGHBORHOOD:
KATE HUDSON AND OCTAVIA SPENCER SHOOTING IN MARINA DEL REY

Kate Hudson and Octavia Spencer were spotted filming a dinner scene at a Marina del Rey restaurant for Season 2 of Truth Be Told. The 41-year-old Hudson and 50-year-old Spencer were spotted on an outdoor patio, sitting at a table with two unidentified co-stars. Production started back in late October on the second season of the Apple TV Plus series, which returns in 2021.
*PLAYA – YES OR NO INTERVIEW WITH TAJ:



Taj has been living in Marina del Rey since January 2019
Thinks marriage is a path to misery – YES.
Sleeps without pillows – YES.
Has candles burning in her home at all times – YES.
Once dated 3 men at the same time – all named John – YES.
Hates emojis – NO.
Thinks Santa Monica is a homeless disaster – YES.
Does yoga at least three days a week – YES.
Thinks the Mayor of L.A. is a moron – YES.
Owns two electric bikes – YES
*PLAYA — SEE IT:
Jamie Dixon captured this lonely boat passing by in Marina del Rey, an ode to the year's past Christmas Boat Parade in the marina. The parade is on pause this year due to the pandemic but locals are still invited to decorate their boats with light displays.


*PLAYA – EATS: 


Z.E.N. Foods Featured Snack



Winner of Best of Los Angeles Award "The Best Personalized Food Delivery Service – 2020."


  "Thanks to Z.E.N. Foods I was able to pack on lean muscle for my role as a marine."
– Zac EfronActor – The Lucky One

"Z.E.N. Foods allows me to 'eat healthy' for every meal."
–  Jesse Tyler FergusonActor – Modern Family
Customizable meal plans to match your lifestyle.



We deliver right to your front door.


Save time and money. We do all the work for you!

Order @zenfoods.com#zenfoods or

310.205.9368
*PLAYA – LENS:

Despite the pandemic, Playa Vista's local bike store, Bike Attack, remains busy.


*PLAYA VISTA PEOPLE – Only Originals Allowed!:


*PLAYA IN THE NEIGHBORHOOD: RUNWAY SHOT


A beautiful sky shot sent to us from one of our amazing subscribers, Limor Zamir. 


*PLAYA PEOPLE – MEET HARU:
Haru has been working in Culver City since January 2019
*PLAYA–BULLETIN BOARD:
1. ***Many of you Senior Citizen's friends ask why did I take up Latin at this late age? I did so not only to fight off hebetude but also to avoid becoming my mother. —- Darla P., Playa Del Rey.

2. ***A good trick is to wear a rubber band around your hand while you are reading the news, and when you believe you are succumbing to doomscrolling, snap the rubber band against your wrist. —- Loretta H., Playa Vista.

3. ***If I had 10 thumbs they would be up for Gary's Pit Stop. Gary and his great crew are so dedicated to their care of your vehicles. They only say what you truly need and what you can wait to have done. Help your local neighborhood business and your car as well. You will not be disappointed. (310) 338-7260. 8131 Lincoln Blvd., Westchester. (Lincoln and 83rd). —- David Mitzman, Culver City.

4. ***One year the zaftig look was in among models, the next year the waif was all the rage. —- Eric P., Playa Del Rey.

5. ***Westchester park now a homeless campground. Has anyone noticed the number of tents and homeless in Westchester park it's scary to walk the park with your kids now, the other night one of the themes had no shirt with a knife chasing another guy wow we need some help with the homeless issue but this is Unacceptable? —- Johnny Aiad, Westchester.

6. ***Today, 12\1, I rode my bike down the bike path, starting at the McConnell entrance and stopping at Dockweiler Beach. At least half the people on bikes or walking down the bike path were not wearing masks. —– Christopher Dill, Culver City.

7. **My general misery surrounding 2020 was alleviated by what felt like a measure of Victorian beneficence: With my family gone, I had the run of the house's library. —- David S., Marina Del Rey.

8. ***Lost cat. Grey and white in playa vista. Has a blue-collar and pink tag. The name is Uma. Please call 714 308 3745 – Seda Bolulu, Playa Vista.

9.***Ron Howard is a conventional Hollywood commercial filmmaker and has made a conventional Hollywood commercial film. Howard's record for adapting literature into film is mixed: His adaptation of Sylvia Nasar's A Beautiful Mind is good, but his films based on Dan Brown's novels are dreck, as are the novels themselves. Howard often has been at his best when there is no underlying literature to agonize over (as in The Paper and Cinderella Man) or when adapting a play, as in Frost/Nixon. In Hillbilly Elegy, Howard has bitten off a big morsel, and, though he intelligently shapes the film as a family drama in which the social commentary is generally implicit, it may be more than he can chew. —- Daisy H., Playa Vista.

10. COVID-19 testing in Playa Vista Same Day Results. Hello All! Just wanted to share that there is now a COVID-19 drive-through testing spot in Playa Vista. They are offering same-day official PCR test results. Take the test and get the results by 11 pm on the same day. Book your test online. Www.covidtestlax.com —- Natalie Moore, Playa Vista.

11. ***The real index of civilization is when people are kinder than they need to be. —- Julia Q., Westchester.

12. ***I love Stephen Colbert's signature mix of acid critique and avuncular reassurance. —–Toby L., Culver City

13. ***Pet Obsession in Playa Vista is out-of-control! Pathetic. —– Dr. Henry B., Playa Vista.

14.***Deceased cat at 80th & Chase. I was walking my dog about 2 hours ago and noticed a deceased tabby cat on someone's lawn on the corner of 80th and Chase. Unfortunately, it looks like a coyote or another animal got ahold of it. Just wanted to make a post if someone in the area is missing a cat and can have some closure 🙁 —– Walter Yetman, Culver City.

15. ***"I don't want to do business with any company that has a "phone tree". – Gloria L., Playa Vista
Playa Vista People Disclaimer: 1.) Playa Vista People accepts no liability for the content of this email, or for the consequences of any actions taken on the basis of the information provided. Playa Vista People is not associated with any commercial or political organization and is transmitted via the web for the sole benefit of its subscribers. 2.) Unfortunately, computer viruses can be transmitted via email. The recipient should check this mail and any attachments for the presence of viruses.