*PLAYA VISTA PEOPLE – OUR FIRST READER POLL:

As a public service to our community Playa Vista, Marina del Rey, Culver City, Playa Del Rey, and Westchester we are conducting our first Playa Vista read a poll please participate to make our community even better we will share the results with our readers in a month.
Have you noticed an increase in crime in the last year?
Have you noticed an increase in homelessness in the last year
Have you noticed an increase in graffiti in the last year?
Do you feel less safe in the last year?
If you were a school teacher, what overall grade would you give Councilman Mike Bonin for meeting the community needs in the last year?
Please send your reply to: PlayaVistaPeople@TimeWire.net
*PLAYA PEOPLE – MEET CARRIE: NOW YOU KNOW…
Carrie has been living and working in Playa Vista since December 2017.

NOW YOU KNOW……
Has studied fine art painting since age 12.
Speaks French.
Exercises daily.
Lived in NYC for four years.
Had two affairs with married men at the same time.
Loves rap music.
Doesn't eat sugar.
Had breast enhancement surgery at age 18.
Wants to write a book.

*PLAYA – NEWS: THE (NEAR) FUTURE OF HOTEL TRAVEL IS HERE
Brian De Lowe, president and co-founder of Proper Hospitality
– Playa Vista
The new Hotel June, located in the beachside Playa Vista neighborhood of Los Angeles, was set to open last spring. With 250 guestrooms, two restaurants, a pool, and tons of outdoor communal space, it was poised to be a hip, lively, and relatively affordable option for guests visiting LA's west side. It was also the introduction of a completely new brand from Proper Hospitality, already known for its namesake upscale properties in cities like San Francisco and Austin. Of course, none of this happened as planned.
Like restaurants, the hotel industry has been hard hit by COVID-19. Large hotel chains have recently reported massive losses — Hyatt lost $703 million in 2020; Hilton said its losses totaled $720 million and triggered permanent cost-cutting measures. A November survey from the American Hotel & Lodging Association found that more than 60 percent of hotels were operating with less than half of their full staff. As of early November, the occupancy rate at hotels in large urban centers was 34 percent, down from nearly 80 percent a year prior. It's no wonder. A hotel stay these days — with all the plexiglass, masks, sanitizer, plastic-wrapped remotes, and lack of housekeeping ( though some hotels will provide sheets and towels for you to change yourself) — doesn't exactly scream "vacation." And the loss of business has led hotels to get creative with what they're offering beyond a bed, with a slate of perk packages that, at times, feel like a consolation prize for putting up with the realities of hotel stays in a pandemic. Hotel June ended up opening in June 2020 after LA lifted some initial COVID restrictions. "One nice thing about launching a hotel brand during COVID, as opposed to it already being open prior, is that we got to literally completely rethink and reassess every element of how we wanted the hotel to operate with the pandemic in mind," says Brian De Lowe, president and co-founder of Proper Hospitality. And, of course, figure out a way to operate that could withstand far less business than initially planned.

Instead of courting out-of-towners, who in normal times would make up three-quarters of hotel guests, Hotel June introduced partnerships to appeal to its neighbors: rooms for rent during the day, day-rate packages that included outdoor workouts and passes to the pool."We doubled down on the staycation and daycation packages, and made sure that even if people weren't coming to spend the night, they were able to benefit from an experience they want to have away from their home," says De Lowe. A year into pandemic living, just about any experience away from home is a welcome one, even if it comes at a cost. Plenty of hotels have brought back the day rate, repurposing overnight guest rooms into workspaces for daily use, often with quirky and attention-grabbing perks attached. At the Innside (stylized INNSiDE) by Meliá in New York, guests can bring their dog for the day, or even overnight, and get access to in-room perks like dog beds and pet-friendly throw blankets. The hotel's "day stay" was introduced late last year and updated recently to accommodate animals. Pets can join their humans for dinner outdoors on the heated patio and now even have access to their own menu. For $55, dogs can choose between salmon or grilled chicken with steamed veggies, lemon, and dessert. An extra $3 scores a chef-made peanut butter dog biscuit.

*PLAYA – NEWS: CULVER CITY PUSHING TO VACCINATE PEOPLE 65+ WITH UPCOMING CLINIC
– Culver City
There's still an urgent push to vaccinate the people in the Culver City community. A number of people who are 65+ are still in need of a COVID-19 vaccine and there's an upcoming clinic this month to help make sure people get their dose. Culver City Parks, Recreation and Community Services Department will host a one-time-only vaccination clinic for people 65 years old and older from 9 a.m. to 5 p.m. March 25 at Culver City Senior Center, 4095 Overland Ave., Culver City. The vaccination clinic is available by appointment only for anyone who lives or works in Los Angeles County age 65 and older.
The clinic is in partnership with the Los Angeles County Department of Health and Curative. Schedule an appointment by calling the PRCS Department at (310) 253-6700 or (310) 253-6650.
"You must speak to someone to make an appointment, please do not leave voicemails," city officials said in a statement. This vaccination clinic is for first doses only and second doses will be scheduled during the event. Organizers do not yet know if the vaccine will be Pfizer or Moderna. "Vaccines are limited so call to schedule an appointment as soon as possible," officials said. People can also learn more about the vaccination process in Los Angeles County and scheduling appointments via the county's website.
*PLAYA – NEWS: VANESSA BRYANT BEAMS OVER DAUGHTER NATALIA'S ACCEPTANCE INTO LMU

Vanessa Bryant with daughters Natalia, Bianka, & Capri
– Playa Vista
Vanessa Bryant is a proud mom. Bryant, 38, took to Instagram Stories on Thursday with a happy message touting the news of eldest daughter Natalia's acceptance into Loyola Marymount University, which is located in the Los Angeles neighborhood of Playa Vista. 'So glad you got accepted but … Too far j/k,' she wrote of the 18-year-old with a shot of the front of the educational institution.
In January, she shared a shot of Natalia donning a New York University top, noting that she was pulling for her to stay on the West Coast. Vanessa wrote: '@nataliabryant chose not to apply ED to her top 5 schools. I will do my best to keep her in Cali just like I kept her daddy here,' she wrote, adding the hashtag, #CaliGirlForever. After Natalia turned 18 this past January, Vanessa paid a special birthday tribute to her oldest daughter, nearly a year after her father Kobe Bryant, 41, and sister Gigi Bryant, 13, perished in a helicopter crash.
'You have displayed so much strength and grace throughout the most difficult year of our lives,' said Vanessa, who is also mother to daughters Bianka, four, and Capri, 20 months. 'Thank you for stepping in to help me with your little sisters.' Kobe and Gigi died with seven others in a helicopter crash in Calabasas, California on January 26, 2020. Also killed in the crash were pilot Ara Zobayan, 50, Payton Chester, 13, Sarah Chester, 46, Alyssa Altobelli, 14, Keri Altobelli, 46, John Altobelli, 56, and Christina Mauser, 38.
*PLAYA – NEWS: GRAY WHALE ASHES UP ON DOCKWEILER BEACH
A gray whale washed up on shore at Dockweiler Beach just south of Marina del Rey last week. It was alive — thin and malnourished — but then it later died. Lifeguards reported the beached whale about 4 p.m. Wednesday. Experts say the whale was about two years old and sick, Supervisor Janice Hahn said. It died around 6:30 p.m. Peter Wallerstein, president and founder of Marine Animal Rescue, said the whale likely washed up because it was sick.
"When they get sick, they beach themselves to prevent from drowning," Wallerstein said. "But they don't know that beaching themselves is even worse because it puts a lot of pressure on their bodies." Wallerstein said the whale's corpse will likely be left in place until Thursday morning, at which point investigators will perform a necropsy before it is towed away. A crowd gathered near the whale Wednesday, where lifeguards had created a barrier space between people and the whale as it struggled and the National Marine Fisheries determined what action to take.

*PLAYA – MEET SUZI: TAKE THE SUZI QUIZ



Suzi has been living and working in Culver City since April 2018.
Are you ready to take the Suzi quiz?

The Suzi quiz:
Does Suzi hate ice cream?
Does Suzi love balloons on her birthday?
Does Suzi carry mace with her?
Send your Suzi quiz answers to us at: PlayaVistaPeople@TimeWire.net
*PLAYA – HISTORY:
-Culver City
The Meralta Theatre opened in March 1924. It closed in the early-1980's and was demolished.
*PLAYA – PLATINUM APPROVED:
" BEST ELECTRICIAN IN THE AREA"
Best of Los Angeles Award – 2020 Best Electrician
Mike Packham Electric, a local family-run skilled electrician team, provides electrical and lighting needs for Playa Vista, Marina Del Rey, Culver City, Playa Del Rey, Westchester, Venice, West Los Angeles, Santa Monica.

T: (310) 430-4174
E-mail: MikePac6453@gmail.com
*PLAYA — RESTAURANTS: CALIFORNIA PIZZA KITCHEN IS THE DODGERS' OFFICIAL PIZZA
CPK president/ceo Jim Hyatt (left), Brian Sullivan, senior vice-president Culinary Innovation (2nd Right) are joined by former Los Angeles Dodgers Steve Garvey (2nd Left) and Eric Karros (R)
– Playa Vista
California Pizza Kitchen is extending its partnership with the Los Angeles Dodgers. The Playa Vista-based restaurant chain has signed a multi-year deal to be the official pizza of the 2020 World Series champions, according to a news release. CPK will have concessions at four places within Dodgers Stadium, according to the release. They are on the Field, Loge and Reserve levels and the Left Field Pavilion.
The Dodgers' first home game of the year will be at 1:10 p.m. April 9 against the Washington Nationals. The Dodgers will be allowed to admit a limited number of attendees to games at Dodgers Stadium beginning April under the state's current novel coronavirus guidelines. Founded in 1985, California Pizza Kitchen is known for its West Coast creations such as BBQ Chicken Pizza.


*PLAYA – PEOPLE: MEET ABNER:



Abner has been living in Culver City since January 1989

Would You Rather Questions…
1. Would you rather have the aliens make first contact be robotic or organic? – Robotic.

2. Would you rather lose the ability to read or lose the ability to speak? – Read, but if you strongly swing introvert or extrovert, this might be pretty easy for you.

3. Would you rather have a golden voice or a silver tongue? – Silver Tongue.

4. Would you rather be covered in fur or covered in scales? – Fur, baby, fur.

5. Would you rather be in jail for a year or lose a year off your life? A year off my life. The food in prison sounds dismal.

6. Would you rather always be 10 minutes late or always be 20 minutes early? – Early. I come from a military family.

7. Would you rather have one real get out of jail free card or a key that opens any door? – Get out of jail.

8. Would you rather know the history of every object you touched or be able to talk to animals? Talk to animals, which I already do.

9. Would you rather be married to a 10 with a bad personality or a 6 with an amazing personality? 6. The thought of spending an hour with a bad personality has my stomach sick.

10. Would you rather be able to talk to land animals, animals that fly, or animals that live under the water? – Animals that fly. I wish I could fly.


*PLAYA VISTA PEOPLE – MEET CARNI:

Carni has been living in Culver City since August 2018.
*PLAYA – SEE IT: POP'S BAGELS EXPANDING IN CULVER CITY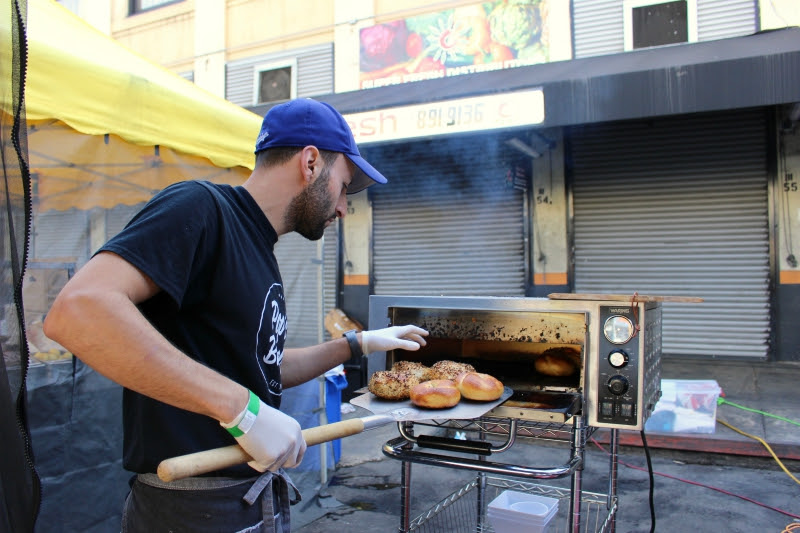 Zach Liporace, Owner of Pop's Bagels
– Culver City
When it comes to bagels, there's a rivalry between the East Coast classics and the new school, West Coast creations. As the Los Angeles bagel scene grows in the pandemic, one baker has become even more popular: Pop's Bagels in Culver City.Their mission is simple — make sure bagels don't suck in L.A.
Pop's pop-up is at the Platform at 8850 Washington Blvd., Culver City. The company now has plans to expand even more in 2021, taking over the former Alfred Tea Room in Brentwood at 11928 San Vicente Blvd. In August, the group plans to open a new location near the Culver Steps, owner Zach Liporace said. Expect even more menu items — more options and other pastries — and expanded outdoor seating. The group will also keep offering its homemade butter and cream cheese, with vegan cheese and gluten-free bagels coming soon, too. Until then, Pop's will still serve up its light and chewy signature bagels at its pop-up location on Washington Boulevard. Pop's even delivers to New York — or anywhere else with Goldbelly. Check out their plain, everything and cinnamon raisin bagels and visit their website.


*PLAYA PEOPLE – MEET VIVIANE (Nickname – Vivi):
Vivi has been living in Playa Del Rey since December 2019
*PLAYA – BULLETIN BOARD:
1. *** "Coming very soon, lots of cool candle making workshops at Banter & Bliss Candle Co. in the Runway Shopping Center in Playa Vista. Stay tuned." – Natalie T., Playa Vista 2. *** We need faster action on removing the DDT graveyard off the L.A. coast. —– Randi T., Marina Del Rey.

3. *** Suspicious Silver Ford pickup, 8000 blocks of Holy Cross. I observed a silver Ford Lobo pickup parked in the middle of the 8000 blocks of Holy Cross, the individual sat in the truck for over an hour and a half (I got home from work at 8:40 so they may have been there much earlier)with no lights on and leaned back in the driver seat so that they were blocked from view by the pillar there was also some trash they had dropped out of the passenger side door (chik-Fila bag) so they were parked there for some time. I drove around the block so that I could park behind them and take down their license plate. Please stay vigilant for this Silver Ford Lobo pick-up. They may have been casing the neighborhood either looking for empty houses or catalytic converters to steal. —– Christopher Dunham, Loyola Village

4. ***Lorraine Ali, Television Critic for the once important L.A. Times, wrong a review about the recent HBO Woody Allen biased "kill" job that had all the fairness of a Nazi tribunal. Evidently Ms. Ali has heard of the legal term "due process". No wonder the L.A. Times is such a disaster. It should change its name to the Woke Times! —- Jennifer Q., Playa Vista.

5. ***I was stressed and unhappy with my life, so I moved to Los Angeles. Now I have SoCal anxiety —– Dr. William H., Marina Del Rey.

6. ***We've been to Dan Modern Chinese in Playa Vista three times. And we will not come back. It boils down to the horrendous wait time to get food. With only one other table occupied on a Sunday morning, we should not have to wait 20 minutes for cold seaweed salad, followed by another ten minutes for scallion pancake (not tasty, lukewarm, tasted heated up); and then the dumplings, yes, tasty, but the wait for those….way too long. Every time we've walked in, there has never been a host to greet us. We stand and wait and hope someone will come out and seat us. You feel awkward and unattended to the minute you enter here. When we sit down, we hardly think a server knows we are there, and we know that no matter how few customers there are, that the food will take at least 20 or more minutes to arrive, and then you will not be looked after when you need to more, or to re-order, or to get your check. Someone who has restaurant experience, in both the kitchen and the front of the house, needs to step in here and get the game going. —- Andrew H., Los Angeles.

7. ***The new clothing store, Matte Argyle in the Runway shopping center in Playa Vista always looks closed. Is it out of business already? —– Wendi K., Playa Vista.

8. ***The audio-only Clubhouse app has risen quickly in popularity, but keeping toxicity out is the hard part. —– Fabian L., Playa Vista.

9. ***Did you know that this free Bulletin Board in Playa Vista People reaches 25,000 people all in the area each week. Sell. Barter. Hire. Comment. Promote. Send in your free Bulletin Board posting to: PlayaVistaPeople@TimeWire.net

10. ***Dog poop not being picked up. A couple of months ago I saw a gentleman with an English bulldog walking his dog and let his dog pooped but didn't pick it up after at the corner of Osage and 76th street. I looked from the window and came out to tell him to pick up the doodoo after his dog but he yelled out in an English accent that I should mind my own business. I saw him again recently walking the same routes, and this time I mind my own business and guess what. he must have not liked me or didn't like the fact that he got caught, because I now see a big fat amount of turd left in front of my house. I've lived for so many years and never got anything like that to happen to me. shame on this neighbor who lives in our neighborhood. 7700-7710 Osage Avenue, Los Angeles, CA —- Christine Phan, Westchester.
11. ***The two-story shack on Thatcher. Looks like the shack is about to add another addition. A guy is unloading a ton of planks as we speak. This feels a little insane to me. —– Kathleen Archer, Marina Del Rey.

12. ***Beware the stories you read or tell; subtly, at night, beneath the waters of consciousness, they are altering your world. —– Lola P., Westchester.

13. ***Stolen packages. I just noticed on my Nest camera that someone stole a package from me. This person is riding through the neighborhood on a bike with a backpack taking packages from doors. He seems to come just after delivery trucks and USPS. I live in La Villa Marina. —–Sheila Ruhfass, Del Rey

14. ***Honest to God, if Councilman Mike Bonin were paid a dollar a year, he would be grossly over-paid. —– Darlene M., Marina Del Rey.

15. ***Garbage, Rats, & Bedbugs, Trash, mattress, water heaters, and infested furniture. All this is on THE MOBILE STATION PRIVATE PROPERTY. Several attempts have been made to explore them to have at least the trash removed, if not the homeless persons in residence there responsible. Our surrounding area is now Rat & BEDBUG INFESTED AS A RESULT, not to mention how unsightly our community has become. BOYCOTT, BOYCOTT, BOYCOTT, their gas, and convenience store. BOYCOTT MOBIL @ 8600 Manchester & Emerson. —- Bob Finston, Westchester.
Playa Vista People Disclaimer: 1.) Playa Vista People accepts no liability for the content of this email, or for the consequences of any actions taken on the basis of the information provided. Playa Vista People is not associated with any commercial or political organization and is transmitted via the web for the sole benefit of its subscribers. 2.) Unfortunately, computer viruses can be transmitted via email. The recipient should check this mail and any attachments for the presence of viruses.