*PLAYA PEOPLE – BRAD KELLER:
USC Volleyball coach Brad Keller lives with his brother, Jarod, who an emergency medical doctor. They live in Playa Vista, right near Loyola Marymount University (where Brad played), and not far from the ocean.
*PLAYA – NEWS: TENDER GREENS OFFERING GROCERIES FOR DELIVERY IN CULVER CITY
For those looking to skip the line at the grocery store and support a local business, Tender Greens is offering their customers curated Grocery Boxes and individual grocery items in response to the new coronavirus. Tender Greens, a fast-casual restaurant chain that serves salads, bowls, sandwiches, and soups, is offering produce, dairy, bread, toilet paper, alcohol and more for pick-up and delivery through Postmates, Doordash, Caviar, and UberEats.  "Since launching two weekends ago, the boxes already make up 25 to 30% of Tender Greens' business in this current climate, speaking to the need for such services amid the pandemic," the Tender Greens news release said.
*PLAYA – POP UP: TEDDY BEAR HUNT
The coronavirus pandemic has provided a wholesome distraction for children across the world: Teddy Bear Hunts. Stuffed animals of all shapes and colors have appeared in windows and doors of neighborhood homes, offering kids an outdoor activity while social distancing. Children are keeping records of how many they find ! This Teddy Bear can be found at Via Pacific by the beach in Marina Del Rey.
*PLAYA – HEALTH: CULVER CITY
Founded in Santa Monica, Westside Family Health Center (WFHC) opened a new flagship facility in Culver City on Wednesday, April 1, taking over the former LA Weekly building on Sepulveda Boulevard on a 20-year lease. "We are deeply thrilled to have accomplished our longtime goal of a new site and look forward to welcoming the community to our beautiful new facility," Debra A. Farmer, president and CEO of WFHC, said in a statement, which thanked donors, staff and others who made the project happen.
With 12,000 square feet of clinic space, including 24 examination rooms and six consultation rooms, and an additional 12,000 square feet of administrative space, the new location will increase WFHC's space threefold. Celia Bernstein, director of development at WFHC, said the increase in space will allow the center to double the 13,000 patients it currently serves over the next five years and triple the number of patient visits. She said that 93% of the center's patients live "at or below 200%" of the poverty line, and nearly half are uninsured.
Address
1711 Ocean Park Blvd
Santa Monica, CA 90405
Phone: (310) 450-2191
*PLAYA PEOPLE – MEET PAUL WOOLMINGTON:
CEO of Canvas Worldwide
 Paul is a 'Renaissance' entrepreneur of the media, advertising, digital, marketing and communications industry. He has held leadership positions at the highest levels both globally and domestically in management, media, integrated business, brand, digital and communications strategy at holding companies including IPG, Y&R Inc, WPP and MDC Partners. He co-founded Naked Communications Americas, founded The Media Kitchen, and was named one of the ten most creative/innovative people in marketing and advertising by Fast Company. Paul is currently the CEO of Canvas Worldwide, a creatively driven media headquartered in Playa Vista, and communications agency that aims to reinvent its marketplace at scale. He also is a senior fellow at Columbia University, advising in the cross-discipline 'Committee for Global Thought' initiative as well as a member of 'The Digital Storytelling Lab.' Born in Africa, raised in the UK, and now a US citizen, Paul has traveled extensively around the world both professionally and personally.
*PLAYA – SEE IT: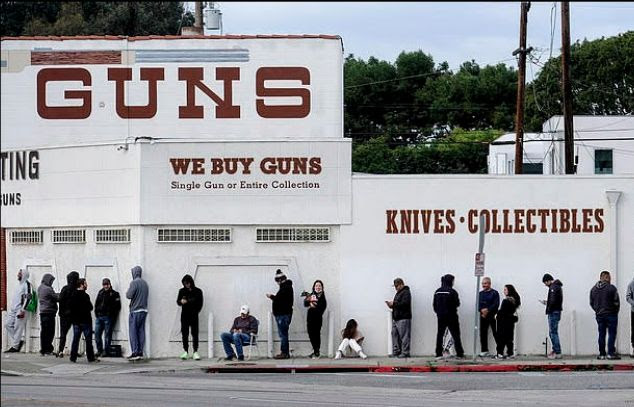 People waiting in a line to enter a gun store in Culver City. The FBI processed a record number of gun background checks in March as Americans worried about the coronavirus outbreak stocked up on weapons. 
URBAN PLATES – PLAYA VISTA
We love you and are here for you……..now and always!
Ingredient spotlight: beets! The health benefits like vitamin C, fiber, and protein are hard to beet! Give it a try as a side or in our $10 plant-based bowl.
All your favorites, to go! With free delivery on DoorDash and curbside pick up.
12746-3 Jefferson Blvd
Playa Vista, CA  90094
Phone: (424) 256-7274
*PLAYA VISTA PEOPLE AUDIENCE GROWING FAST!
In less than six months, the readership for Playa Vista People, a weekly digital magazine serving Playa Vista, Marina Del Rey, Culver City, Playa Del Rey, and Westchester, has grown significantly and is now reaching approximately 16,000 people in all five (5) of the communities. "Playa Vista People has really captured the feeling and spirit of one of the most dynamic, growing areas in Southern California," said Dr. Nancy Laurone, a loyal weekly reader.

*PLAYA – INTERVIEW:
Rittu Kumar | Attorney
KUMAR LAW
Q: Where were you born?—I was born here in Southern California.
Q: Where do you work, and where did you go for your job training? What drove you into the career field you are currently in?— I am the principal attorney at Kumar Law which I founded in 2017.  Although my office is located in Beverly Hills, I am also accessible in Playa Vista.  Prior to that, I was a partner at a mid-size law firm in Los Angeles.  My practice areas include estate planning, employment law, business litigation, and contract disputes, drafting, and negotiations.  I received my Bachelor of Science in Business Administration from USC and subsequently attended Loyola Law School, Los Angeles where I completed my Juris Doctorate.  I have tried cases in both state and federal court.  Let's just say I've been around the block and back when it comes to my professional experience and have loved every minute of it.
My Business Law professor at USC was instrumental in my decision to pursue law as a profession.  USC required me to take a Business Law class as part of my degree requirement.  It was taught by a female, practicing attorney who was simply amazing.  After my first class, I was sold.
Q: Where are your favorite places to go on weekends?— I love the beach – the Marina and the Venice Pier are my two favorites.
Q: Do you visit Playa Vista often?—I purchased my home in Playa Vista in 2007 and can't imagine myself living anywhere else.  When I first moved here, Phase 2 did not exist.  It has been so wonderful seeing the community grow and develop over the years.
Q: Any local traffic shortcuts that you would choose to share?—Unfortunately no.  With all the construction going on, it's a win just to get where I'm supposed to be on time.
Q: Do you have family in Playa Vista?—Yes. I have two daughters, along with a very nosy (but adorable) beagle.
Q: Are there any community events you go to in Play Vista?—I attend many community events throughout the year.  Some of my favorites include the summer concert series, Night Markets over by Whole Foods, and when Santa visits Concert Park prior to Christmas.  I've also sponsored fantastic events hosted by the Playa Vista Moms Group.
Q: There are so many great people and businesses' in the Playa Vista community. Is there any in particular interest you would like to share?—I'll have to give a special shout-out to Yummy.com.  The delivery service is so convenient when I can't make it to the grocery store with my busy schedule.
Q: What does the perfect day in Playa Vista look like to you?—That's easy.  The perfect day in Playa Vista is grabbing a chai latte from Coffee Bean before taking a nice long walk around the community with my kids and beagle.
8383 Wilshire Blvd., Suite 800
Beverly Hills, CA 90211
Phone: (323) 456-8657
*PLAYA – EATS: NUTRIFIT  WINNER "BEST OF LOS ANGELES AWARD – 2020" SERVING PLAYA VISTA, MARINA DEL REY, CULVER CITY, PLAYA EL REY, & WESTCHESTER
Your own personal Nutritionist & chef – Delivery to your door. Fresh, Deliciously Healthy, Premium Quality Meals. Over 2 million healthy meals delivered since 1987.
Our mission is to help others live longer and healthier lives. Beyond the fresh, delicious, nutrient-dense meals that we deliver, we pride ourselves on providing an exceptional level of service and specialize in offering optimal, convenient solutions to your specific needs. Our focus is on your health. We start by listening to you. Other services ask you to choose a plan, then fit yourself into it. We ask you to tell us about your needs and lifestyle, and jointly design a plan that's perfectly suited to your goals. Whether it's comprehensive diet meal delivery plans, wellness coaching, educational programs or extraordinary NutriFit® products, our entire team is committed to helping you succeed. With NutriFit®, you'll get the support you need and the attention you deserve.
Jackie Keller (pictured above) Executive Chef & Founder
Board Certified Professional Wellness Coach

Nutrition Educator

Le Cordon Bleu-trained culinary expert

Author of "Body After Baby" and "Cooking, Eating & Living Well"
www.NutrifitOnline.com

*PLAYA – IN THE NEIGHBORHOOD:
Photography by: Stephanie Tabor
LAX – With stay in place orders in effect, many airlines are struggling financially with the drastic decline in travel as more and more individuals work and stay at home.
*PLAYA VISTA PEOPLE – Only Originals Allowed!:
*PLAYA – SEE IT: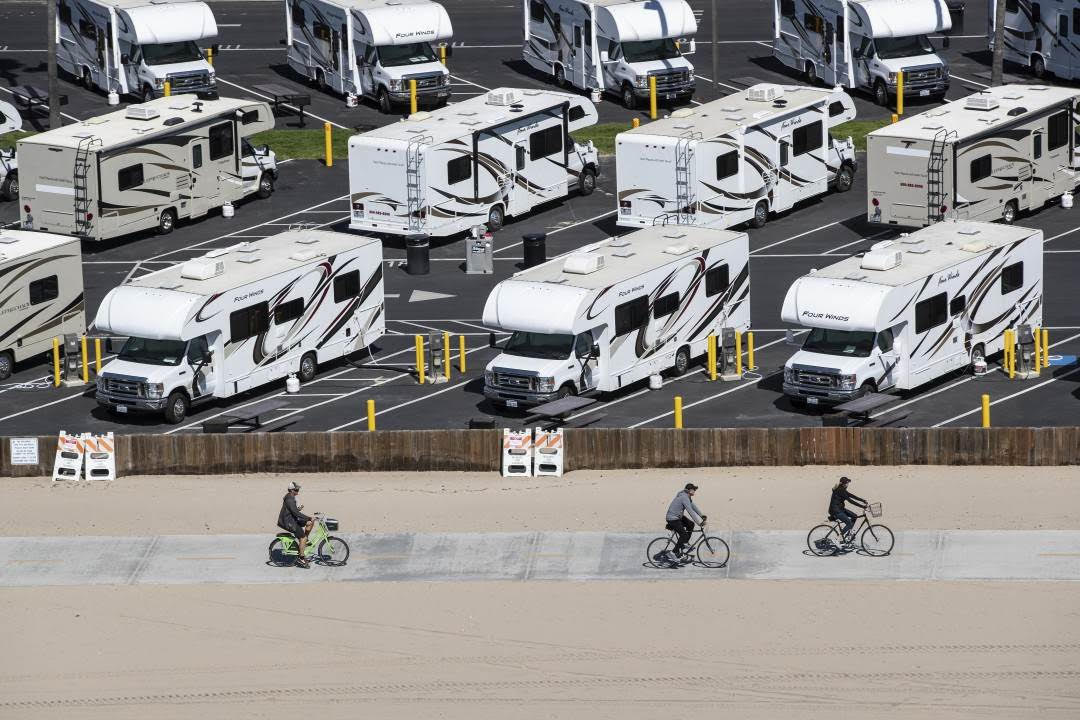 Cyclists ride past motor homes at Dockweiler Beach RV Park that are to be used to quarantine COVID-19 patients.
*PLAYA–BULLETIN BOARD:
1. ***On Saturday and Sunday the basketball court at Glencoe and Alla was in full play. Why? Let's not ignore that we all need to practice "safe distance" for the safety, health and well being of our community.  —– Jake DeSimon, Playa Vista.
2. ***The owners of Akasha are Playa Vista residents, and the restaurant is offering an At-Home Menu! They are happy to help deliver to the Playa Vista community. Day of orders must be placed by 11 am. Attached is a sample menu, but check their website for updated menus. Website: https://www.akasharestaurant.com/
3. *** "I don't know why it is but the Culver City Police sure seem to love Urban Plates in Playa Vista. They are always there enjoying the food. Perhaps it's because it's healthy." – Daren Harvey, Culver City.
4. *** "I cannot believe the length of the CVS receipts. I swear my last one must have been as long as a football field." -Darla Hoode, Marina Del Rey.
5. ***I am told that plans for the very long-delayed steakhouse in Runway in Playa Vista are still underway. It was supposed to open in the fall of 2019. —– Craig Nobel, Marina Del Rey
6. ***Congratulations! I love this weekly Playa Vista People digital magazine. Cool format. Definitely not my Dad's magazine! Very well done. —– Daisy Zubar, Culver City.
7. ***Want to write a column for Playa Vista People? Looking for a columnist for our new, dynamic growing weekly digital magazine now reaching approximately 16,000 per week in Playa Vista, Marina Del Rey, Culver City, Playa Del Rey, and Westchester. Send us an e-mail with your ideas and contact details to: PlayaVistaPeople@TimeWire.net . 
Playa Vista People Edited By: Aurora DeRose  
Playa Vista People Disclaimer: 1.) Playa Vista People accepts no liability for the content of this email, or for the consequences of any actions taken on the basis of the information provided. Playa Vista People is not associated with any commercial or political organization and is transmitted via the web for the sole benefit of its subscribers. 2.) Unfortunately, computer viruses can be transmitted via email. The recipient should check this mail and any attachments for the presence of viruses.