*PLAYA PEOPLE – NOW YOU KNOW THAT: MEET H. DAVIES: 
H. Davies
has lived in
Culver City
since 1988.
Now you know that H. Davies:
Has no pets
Walks 5 miles a day
Stopped smoking cigarettes in 1969
Loves Deli food
Hates pizza
Takes two baths a day
Went to Woodstock
Never wears a watch
Has a large collection of Playboy magazines.
If you would like to be featured, send us your contact info to  
PlayaVistaPeople@TimeWire.net
*PLAYA – NEWS: CULVER CITY, TOK OF THE TOWN
If there's one business that has enjoyed a substantial boost from the lockdown prompted by Covid-19, it's short-form video app TikTok. The Chinese-owned social media platform, which recently opened a 119,000-square-foot office in Culver City, was a rising star before the pandemic. But with housebound consumers suddenly craving addictive distractions, TikTok has exploded as a pop culture force. Celebrities, social media influencers and regular users alike have embraced the brief music, dance and comedy videos that populate the service. The TikTok mobile app, which is owned by Beijing-based ByteDance Ltd., in March saw downloads surge 190% in the United States and 109% worldwide, according to mobile data company Sensor Tower Inc.
As of March 31, TikTok had nearly 157 million downloads in the U.S. alone. And in 2019, TikTok topped all other social media platforms in the country with almost 45.7 million downloads. Instagram finished second with 40.8 million downloads last year with Snapchat, YouTube and WhatsApp even further back. Businesses, not surprisingly, have taken notice as the platform has scaled new heights. Chipotle Mexican Grill Inc. reportedly reached more than 95 million people on TikTok with a branded hashtag challenge during the 2020 Super Bowl. The company's "TikTok Timeout" urged people to create their own "February Free Delivery Sundays" ads set to Justin Bieber's song "Yummy."
*PLAYA – NEWS: RETIRED NBA PRO SHAUN LIVINGSTON POSTS PLAYA DEL REY PAD: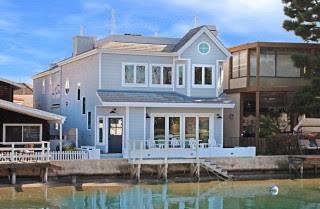 Former L.A. Clippers and Golden State Warriors guard Shaun Livingston has listed a home in Playa del Rey for sale at $1.957 million. Built in 1952, the two-story house has been updated to a contemporary style with white walls and modern fixtures. The roughly 3,400-square-foot home features a vaulted-ceiling living room with a fireplace, a dining area, and a loft/family room. The newer kitchen is equipped with an island and stone countertops. Three bedrooms and four bathrooms include a master suite with a dry sauna and a private deck.
*PLAY– NEWS: WANT TO TALK? THE CITY WILL CALL YOU
Do you want to chat with someone? Are you interested in having a weekly check-in with another Culver City local? Now, you can. Culver City is inviting residents to sign up for weekly check-in calls, city officials announced Friday. "We want you to know that we are here for you," Culver City officials announced in a news release. "If you or another Culver City resident would like a check-in call for a quick chat, let us know." The idea is to give anyone in Culver City who wants a weekly call the chance to sign up and stay connected. "Our friendly City staff are making weekly phone calls to any residents 18 and older just to say 'hi,' see how you are doing, or offer information and resources. You don't need a reason—we'll call you," the city announced.
To sign up for the weekly phone call program call:
(310) 253-6890
Monday through Friday: 7:30 a.m. – 5:30 p.m. PT.
*PLAYA NEWS: NOVEL RESEARCH SPEEDS UP THREAT DETECTION, PREVENTION FOR ARMY MISSIONS IN PLAYA:
Threat detection and prevention are essential to ensuring the safety and security of warfighters. Researchers have developed a way to speed up the processing of extremely large graphs and data, making the most efficient use of modern Army computational resources before and during Soldier deployment. Graphs have become a preferred choice of data representation for modeling many real-world systems containing entities and relationships. Such systems and graphs are widely used in several public as well as military domains such as Facebook with millions of users connected via friendship relations, the World Wide Web, bioinformatics and even DOD security applications.
The DOD uses graph analytics that include terrorist-tracking and threat-detection.In today's data-intensive environment, these graphs grow ever larger in size, and even high-powered, high-performance computing systems, such as those possessed by the Army, cannot process them efficiently, researchers say. There is a need to develop efficient parallel and distributed systems that can scale modern computer hardware to process such graphs, said Rajgopal Kannan, a researcher for the U.S. Army Combat Capabilities Development Command's Army Research Laboratory's Context Aware Processing Branch working at CCDC ARL-West in Playa Vista, California.

*PLAYA VISTA PEOPLE READERSHIP CONTINUES TO EXPLODE – NOW 17,000 PER WEEK:
The weekly readership of Playa Vista People continues to explode now reaching 17,000 readers per week in all five of the communities that it serves: Playa Vista, Marina del Rey, Culver City, Playa del Rey, and Westchester.
The new weekly digital magazine is proving extremely popular serving a 10 square mile area of these five communities. "The dynamic community needs a digital magazine that was equally dynamic," said long-time Marina Del Rey resident Lauren Wallenstein.
*PLAYA – COMMUNITY SERVICE:
Hollyway Cleaners in Playa Vista should be saluted for their gift and partnership in supporting the community and those on the front lines. The local dry-cleaning family business, owned by Sarina and Amin Amersi, generously helped a group of local volunteers who are making masks for essential workers. The team at Hollyway thoroughly washed and pressed the fabric needed for the masks, leaving them fresh, crisp, and ready for volunteers to start the mask-making process. Their generosity has enabled the volunteers to go from making hundreds to making thousands of masks for essential workers at hospitals, assisted living and medical centers, LAPD, and more. Hollyway Cleaners' services include professional dry cleaning for shirts, household items, and luxurious garments, as well as fluff and fold, alterations, and more.
Learn more about how you can support this local Playa Vista business by visiting: http://www.hollywaycleaners.com/
13020 Pacific Promenade
Playa Vista, CA 90094
(310) 862-5790
*PLAYA— RESTAURANTS:
Need a break from the kitchen? We'll take care of it! With the HIGHEST SAFETY STANDARDS anywhere!
Hot & Ready meals for your family are now even easier with delivery or curbside pick-up.
Order online or give us a call to get your grub on DoorDash
Address:
12746-3 W Jefferson Blvd
Playa Vista, CA 90094
Closes 8PM
Menu: urbanplates.com
Order: urbanplates.com
Phone: (424) 256 -7274

*PLAYA – MEET: JORDAN ALCANTAR
LMU Sports Performance Coordinator of almost five years, Jordan Alcantar and his wife Stephanie are both born and raised in LA and just purchased their first home together in Westchester. They moved in just a few weeks before the "safer at home" mandate, but are grateful for the true sense of togetherness they have felt with their neighbors and community from lawn to lawn chats and neighborhood walks.
To learn more, Click Here
*PLAYA – HEROES: HELP RECOGNIZE THOSE MAKING A DIFFERENCE
The adage 'not all heroes wear capes' is one that's apparent in society now, more than ever. Countless people are putting themselves in danger by simply showing up to work in essential roles for our communities, risking possible infection from the new coronavirus. Doctors, nurses, police, and grocery store workers alike are just some of the professions with a high potential for exposure to the virus. Some of these everyday heroes we spot around town might not even be working at a job, like this California woman who organized a group of volunteers to make thousands of face masks. Or those who help with California programs delivering food to those in need. We know you've encountered or seen them around our community (Playa Vista, Marina Del Rey, Culver City, Playa Del Rey, Westchester), and we want to help recognize as many of these heroes as possible.
Let us know about those making a difference in this difficult time by writing us at : PlayaVistaPeople@TimeWire.net

*PLAYA – INTERVIEW:
Q: Why did you choose to start AG Designs in the Silicon Beach area?— AG Designs interior design studio was established in 2008 as a home based business dedicated to bringing a cohesive design vision for clients on the Westside.
Q: Would you have to say studying at UCLA further honed in your craft for design? What is your process like and how did you find it?— Studying at the UCLA school of Architecture & Interior Design was a phenomenal experience. Classes were taught by working professionals whose expertise was and continues to be relevant to the issues of design today. To this day I reflect on the ideals presented in those classes which emphasized the responsibility a designer has to the health and safety of what we design and how our clients will experience it. Presenting a beautiful design vision is half of the story, while the other half is adhering to a level of professionalism that comes from an in depth understanding of the tools designers work with, such as floor plans & renderings, budgeting, building codes, working with manufacturers, and translating that into the-on site work with contractors and their trades.
That all sounds very business like, and it is, but it is the personal interaction I bring to each project that I feel stands the test of time. My process begins with an on site consultation to establish the goals for the project. Each project is unique and after an initial meeting a proposal is tailored to address the client's wish list and bring together the necessary elements to move forward. I strive to be a good listener so that I really understand where the client is coming from and what problems they are looking to solve. I get very excited about the possibilities and want to bring that enthusiasm to each project.
Q: Do you see yourself expanding your business back to the East Coast, where you are from?— My heart is always grounded in my love for my city of origin in New York. East coast living is quite different than the out-doorsy coastal environment in California and if I were to accept an east coast project I know that my experience growing up in a 6 story brick building and having lived in a bustling city would inform a project in ways that are exciting and different from the west coast.
Q:  In what ways have you seen the area change since you've been here?— I came to California in 1978 and since then I've seen more traffic and congestion in the beach areas but also more innovation such as improved bike paths and street beautification with native plants. Street lighting has become more attractive and energy efficient in many areas. Luxury residential buildings have increased and there is certainly a market for that, but the need for more affordable housing must be addressed.   
Q: What was your first impression of the Silicon Beach, was it love at first sight or did it take time to adjust?— I was 12 when I came to CA from NY. I did not like it at first – it was hot and dry and so spread out. But California is a beautiful state with mountains and miles and miles of ocean and while I still do miss the four seasons I was used to growing up, it's easy to love the beautiful blue skies and drives up and down the coast.
Q: What area would you like to see the improved the most?— We really need to get a handle on the homeless problem. It's always been true that the homeless tend to gravitate toward the beaches but it's obviously on the rise and our cities need to work together to find solutions.
Q: Are there any scenic routes you like to take when going out for the evening or for a regular trip to work?— I love to visit the marina in Marina del Rey and also the Venice Canals and Lake Shrine in Pacific Palisades. I never get tired of the gorgeous view when driving on Pacific Coast Highway.
Q: How would you best describe the atmosphere of the Silicon Beach, is there anything that stands out to you?— The relaxed beach geography disguises the sophistication of the substantial number of world renowned innovative businesses that reside in Silicon Beach. If you take a stroll in shopping areas or on the beach or beautiful walking paths (pre and post stay-at-home orders of course!) you're bound to see lots of folks casually dressed walking around in flip flops who just might be an innovator of tomorrow. The juxtaposition is very California.
Q: What are your favorite restaurants in the area?— Roc Playa Vista is one of my recent favorites in the area!
p: 310.702.9507
w: www.agdesigns.biz

 *PLAYA – EATS:

Our mission is to help others live longer and healthier lives.
Beyond the fresh, delicious, nutrient-dense meals that we deliver, we pride ourselves on providing an exceptional level of service and specialize in offering optimal, convenient solutions to your specific needs.
Our focus is on your health. We start by listening to you. Other services ask you to choose a plan, then fit yourself into it. We ask you to tell us about your needs and lifestyle, and jointly design a plan that's perfectly suited to your goals.
Whether it's comprehensive diet meal delivery plans, wellness coaching, educational programs or extraordinary NutriFit® products, our entire team is committed to helping you succeed. With NutriFit®, you'll get the support you need and the attention you deserve.
Jackie Keller
Executive Chef & Founder
Board Certified Professional Wellness Coach
Nutrition Educator
Le Cordon Bleu-trained culinary expert
Author of "Body After Baby" and "Cooking, Eating & Living Well"
Over 2 million healthy meals delivered since 1987
PHONE: (310) 473-1989
www.NutrifitOnline.com

*PLAYA – SPORTS: IT ALL BEGAN IN CULVER CITY JESSICA PAPADOPOLOUS IS MAKING HER MARK IN THE NFL:
Jessica Papadopolous has translated her life-long love affair with football into a job at NFL Headquarters in New York City. The summer before her senior year she landed an internship with the NFL as an analyst at their digital media lab in Culver City. "The team was focused on exploring new and emerging technologies that could potentially change and influence the way fans view football and the fan experience," said Jessica. "They thought my value came in my knowledge of the sport and my knowledge of fans of the sport." They found her so valuable they kept her through the fall semester.
*PLAYA – CHARITY:
Culver City Police Department helped to deliver food in part of Feed Culver, a new initiative in Culver City to help restaurants and people struggling during the coronavirus pandemic.
To learn more about ways you can help, click Here


*PLAYA VISTA PEOPLE – Only Originals Allowed!:
*PLAYA–BULLETIN BOARD:
1. *** "I read your story in last week's Playa Vista People about tech wiz, Sean Story, and I can attest that he is outstanding at his work. I hired him to help with an installation and he was terrific. Strongly recommended." -Verne Livatory, Marina Del Rey.
2. ***"When Panini Kabob Grill" reopens, I wonder if they will let employees who are sick work there like they used to before the coronavirus." – Nancy Osborne, Playa Vista.
3. ***Starbucks at Runway is now open for pick up only between 6:00 am-2:00 pm. ⁠Let's hope it is a lot cleaner than it was when it temporarily closed. I had stopped going. —– Renee P., Playa Del Rel
4. *** Tell your friends in Playa Vista, Marina Del Rey, Culver City, Playa Del Rey, and Westchester to sign to receive this free weekly Playa Vista People digital magazine. Go to: www.PlayaVistaPeople.co
5. ***Wanted: Freelance Graphic Artist: Prominent P.R. / Branding firm looking for a freelance graphic artist. Must be creative, experience, extremely reliable, and a good collaborator. Please send complete contact details including phone number and your website to: Aurora411@TimeWire.net

Playa Vista People Edited By: Aurora DeRose  
Playa Vista People Disclaimer: 1.) Playa Vista People accepts no liability for the content of this email, or for the consequences of any actions taken on the basis of the information provided. Playa Vista People is not associated with any commercial or political organization and is transmitted via the web for the sole benefit of its subscribers. 2.) Unfortunately, computer viruses can be transmitted via email. The recipient should check this mail and any attachments for the presence of viruses.