*PLAYA PEOPLE – MEET NATALIE:
Singer, Natalie Clark performing in Playa Vista.

*PLAYA VISTA PEOPLE READERS SLAM BONIN PROPOSAL, "INSANE AT BEST!"
Our area City Councilmember Mike Bonin is proposing sanctioned safe campsites for the homeless in Marina Del Rey harbor, Playa Del Rey.

Good or bad idea?

We asked our Playa Vista People readers and respond they did loud and proud. 91% of the nearly 2,000 votes were against the idea and many were outraged by the mere proposal. "this is insane at best even for Councilman Bonin!" said longtime Marina del Rey home and business owner Carla King.

*PLAYA – NEWS: PLAYA RESIDENTS BLAST PROPOSED HOMELESS CAMPSITES AT BEACHES, PARKS: 
A proposal to tackle homelessness in the Playa area with temporary homeless encampments at government-owned parks and beachfront lots is prompting fierce blowback from residents — who fear it'll turn public spaces into hotbeds for crime without addressing the underlining issues causing homelessness. The plan put forth by area City Councilman Mike Bonin seeks to allow homeless people to pitch tents and receive social services at family-friendly outdoor spaces across the Westside — including Westchester Park, Mar Vista Park, Dockweiler Beach in Playa del Rey, and Will Rogers State Beach in Pacific Palisades.

The proposal, slated for a City Council vote later this month, also calls for a temporary site for single-occupancy "tiny homes" or safe camping areas at a county-owned parking lot in Marina del Rey, as well as property at Los Angeles International Airport. But the plan has sparked a massive recall effort by residents who claim that their local parks and beaches are already inundated by tents.
*PLAYA PEOPLE – MEET: ALI & CLARK
Everybody was "kung fu" fighting in Westchester.
*PLAYA – NEWS: CAR PARADE TO CELEBRATE CULVER CITY HIGH SCHOOL SENIOR ATHLETES
Culver City senior athletes, fans and neighbors are invited to join the first-ever Culver City Senior Athlete Car Parade Sunday afternoon. It starts at 3 p.m. and gives seniors a special shout-out and celebration for their dedication during this challenging year. It all started as an idea from local mom Jodie Fratantuno. This is the first time we are doing this parade," Fratantuno said. "It was my brainchild, after seeing other high schools around the country do something similar last year. I thought it was such a nice way to honor these athletes who often sacrifice a lot for the sport and who had certainly lost their season last year."
Jodie's son Joe is a senior and has been on the Boys Varsity Lacrosse team for four years. "They have an outstanding record this year, despite the cancellation of their entire season last year. We are putting this together with a group of athlete moms and this is not put on by our High Schoo. We are doing this all on our own." The athletes will meet at 3 p.m. in front of Culver City High School with their cars decorated. The caravan and parade will begin at 3:30 p.m. and plans to feature some classic cars, too.
Check out the parade route:
Culver City High School
Farragut Boulevard to Overland Boulevard
Overland Boulevard to Lindberg Park
Lidberg Park to Jefferson Boulevard
Jefferson Park, past the Culver City Skate Park
Down Duquese Avenue to Braddock Drive
Braddock Drive past Carlson Park
Right on Motor Avenue to Culver Boulevard
Culver Boulevard past Veterans Memorial Park
Culver City High School
The route both starts and ends at Culver City High School. Culver City Rotary, Culver City Lions and the Culver City Exchange clubs are sponsors for the event. "We are asking for the community to help by coming out along the route, or at the start of the parade at the High School or at one of the parks to support their favorite athlete or just support all of the Culver City High School athletes," Fratantuno said.
Athletes and anyone who wants to join the car parade can RSVP to Jodie Fratantuno at jodiefratantuno@me.com. Organizers are hoping to get a headcount so they can continue the celebration with food after. "Later that evening, Culver City High School will be hosting the annual Athlete of the Year award, so it's a perfect start to a great day," Fratantuno said.
*PLAYA PEOPLE – MEET: PENELOPE & DEVIN
Sharin' some love in Playa Vista.
*PLAYA – BUSINESS: PETALS 'N' WAX
Great dishes for positive affirmations and smiles!

Remember Petals n Wax also features many items that make people smile!

Coming up on June 19th a book signing and photograph taking with purchase of book from 2-4 by celebrity photographer Jimmy Steinfeldt! Please come meet and enjoy🕺🏽
🕺

Petals N Wax Villa Marina Marketplace Mall 13432 Maxella Ave
Marina Del Rey, CA 90292

Hours: Mon-Sun 10am- 6pm T: (310) 305-8883
 *PLAYA – MOVIES: ZACK SNYDER'S JUSTICE LEAGUE GREEN LANTERN HAS FINALLY BEEN REVEALED
An image of the Green Lantern originally planned to be part of Zack Snyder'sJustice League has surfaced on Twitter, showing actor Wayne T. Carr in full costume. As part of a recent Q&A held by Cinemark Playa Vista, Zack Snyder showed a picture of Wayne T. Carr dressed as the famous Green Lantern, John Stewart, on his phone. Twitter user Ishaan Sangha has shared a screenshot of Snyder showing off the photograph. The image-within-an-image nature means the quality is not great, but you can see Carr in the iconic green-and-black costume, holding up his Green Lantern power ring.

We're likely not going to get to see an official version of this image, as John Stewart was cut from Zack Snyder's Justice League on Warner Bros. request. As reported by Screen Rant, the studio has intentions for future Green Lantern projects, and so requested that Stewart was removed from Justice League as to save that side of the DC universe for other movies.
*PLAYA PEOPLE: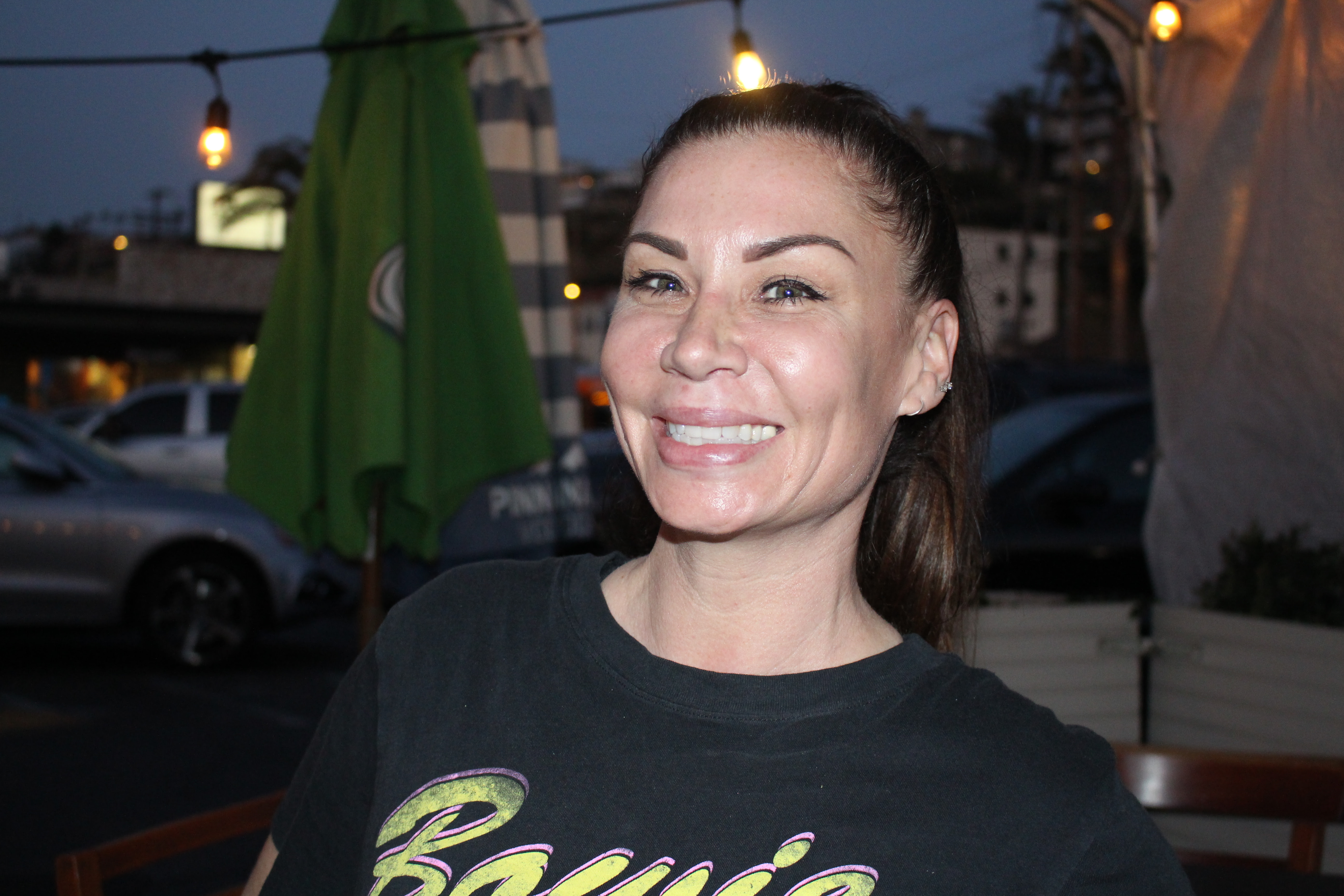 Happy team member at Mo's Place on the beach, Playa Del Rey


*PLAYA – VIDEO:
Newly opened Free Market Playa Vista in West L.A. offers unique dining, shopping, art experience WATCH HERE


*PLAYA – EATS: CINNABON, BBQ & POUTINE TRUCKS COMING TO MARINA DEL REY THIS WEEK


Expect cinnamon buns, bacon-wrapped hotdogs, empanadas, brisket, poutine and pastrami sandwiches this week at Beach Eats TO GO. Gourmet food trucks are coming to Marina del Rey each Thursday for Beach Eats TO GO, an outdoor food truck event. It's hosted by the Department of Beaches and Harbors and happens every Thursday from 5 to 9 p.m. at Lot 11 – 14101 Panay Way, Marina del Rey. The grab-and-go weekly event will be held through Sept. 30.
Check out the lineup of food trucks for this week:
Tokyo Style Food Truck And Catering
Cinnabon
Maravilla Latin Cuisine
Wise Barbeque Truck
Poutine Brothers
Deli Doctor
People can schedule and purchase orders up to five days before each event.
The event has adjusted some requirements to follow COVID-19 health and safety guidelines from Los Angeles County Department of Health. Everyone at the event is required to wear a mask and distance six feet from others outside of their group.
"Masks must be worn at all times," organizers said. "Therefore, eating is prohibited in the Beach Eats TO GO area and food must be taken offsite to enjoy."
People can park at Lot #11. It's $0.25 for each 10 minutes and there is a $2 minimum for credit card payments.
For more information and to see the list of upcoming food trucks, visit bestfoodtrucks.com/beacheatstogo. You can also keep track of the food trucks using the Best Food Trucks app.


*PLAYA PEOPLE – HISTORY :
Marina del Rey aerial photo. Circa 2008


*PLAYA PEOPLE – MEET: MOLLY
LA City Councilman Candidate, Molly Basler, having lunch at J Nichols in Marina Del Rey.
*PLAYA – BULLETIN BOARD:
1. ***Street Watch LA in our park! Please take a moment and Google search Street Watch LA. They are an extremely radical group that Hannah (Mike Bonin Westchester/PDR/PV field deputy) has brought to our park. They are the same group who protested Echo park renovations and having to clean up. So when we want to get out park back please remember she will prob also bring her Street Watch LA ppl to protest. The picture below is their containers – this one is by the pool. Yes, it's a great idea to put supplies in for ppl, but do not bring your radical ideas and protests here! https://dsa-la.org/campaigns-and-projects/street-watch/ —– Julie Zaller, Westchester.

2. ***It is truly hard to imagine that people voted for this pro-crime maniac George Gascon for District Attorney. What fools! —– Elin Q., Playa Del Rey.

3. ***We are monsters to sea creatures. We come in on big machines, take them and eat them, and most of them will never see one of us unless it's too late. —– Everly L., Culver City.

4. ***Since bitcoin consumes a lot of electricity, if you pay your electric bill with it, you are paying for electricity with electricity, using electricity (internet) to do it. —- Ash G., Westchester.

5. ***How about we all call Councilman Mike Bonin's office at 213-444-3508 and share our thoughts about how he's handling the homeless crisis in our area. Don't you think he deserves the candid feedback? —-Cecilia Clark, Playa Vista.

6. ***Ted Lieu is another ultra-liberal hack politician working day and night on endless series of schemes to separate you from your money. —- Jose G., Culver City.

7. ***Though the burgers are adequate, the overall experience at Hopdoddy in Playa Vista is a lifeless drama barely tolerable with slow service and staff that seems unhappy and resentfully to be working. —– Jelina K., Playa Vista.

8. *** Don't you hate people who don't remove their Christmas decorations until spring? —– Melanie King, Marina Del Rey.

9. ***There is a generation of children who will discover all the terrible things their parents wrote online someday
Be careful out there. I heard a commotion and walked outside to find a woman screaming frantically that something was in her eyes. Turns out she was pepper-sprayed I could see
it inside of her vehicle on the driver's side door, the attacker was in a white boxy car, he also threw her to the ground and pulled up her top. She had abrasions on her arm. Police and an RA responded. I don't know any other details, just a reminder to be careful and keep your doors locked while driving. —– Julie Schaeffer, Del Rey.

10 ***Baby Born in Venice Beach Encampment. Bonin needs to go!!! Stabbings and fires in Venice over the weekend, and now this??? A homeless woman delivers her baby at a Venice beach encampment, leaving placenta and fluids on the sand, according to Venice residents. We cannot let this go on. Bonin is allowing this problem to grow out of hand and infiltrate our neighborhoods.  —– Brandi Dicker, Westchester
Playa Vista People Disclaimer: 1.) Playa Vista People accepts no liability for the content of this email, or for the consequences of any actions taken on the basis of the information provided. Playa Vista People is not associated with any commercial or political organization and is transmitted via the web for the sole benefit of its subscribers. 2.) Unfortunately, computer viruses can be transmitted via email. The recipient should check this mail and any attachments for the presence of viruses.