*PLAYA – READER POLL RESULTS:
DO YOU APPROVE OF THE RECALL OF COUNCILMAN MIKE BONIN?

– 88% OF THE VOTES WERE IN FAVOR OF A RECALL
*PLAYA – NEWS: 'WE'RE LOSING OUR FREEDOM BECAUSE THEY WANT THEIR FREEDOM'" BUSINESS OWNERS DEFLATED BY RETURN OF INDOOR MASKS:
Put away your lipstick and mustache wax, at least if you have to run errands or plan to grab a bite out in Los Angeles County. Masks are back, indoors at least. The rising number of COVID-19 cases, hospitalizations, and deaths — chiefly among the unvaccinated — has moved the Department of Public Health to require everyone to wear masks indoors, even if you're fully vaccinated. The change goes into effect just before midnight Saturday. The previous rule, asking unvaccinated people to mask up in public, has so far been self-enforced. Now, health officials aren't taking any chances. More than 1,900 new coronavirus cases in the county were announced Friday. That number has gone up every day for the past week. And a month after the state's June 15 reopening, which included the phasing out of face coverings, officials say the case positivity rate is reaching "substantial" transmission levels again.Edward Ackah-Miezah owns Cafe Ruisseau with locations in Santa Monica and Playa Vista. He said he'll follow whatever public health officials recommend, but that he feels deflated. "We just recently got back to being able to see each other's faces and feel a little bit of a connection in that way, but I think people have only really been comfortable doing that in the last couple of weeks," Ackah-Miezah said. "Now we're going to go back to wearing masks, which is discouraging as staff, but also discouraging for customers as well. It just feels like we're going backwards."
Gym owner Gina Baski said while public safety is paramount, the financial stakes are pretty high for the fitness industry. She owns TriFit Club & Studios in Santa Monica and said that some customers have already mentioned they'll go work out in Orange County instead, where they don't have to wear masks while exercising indoors.

*PLAYA – NEWS: LA COFFEE SHOP GO GET EM TIGER SERVES THE FAMOUS BISCUITS FROM TED LASSO THIS WEEK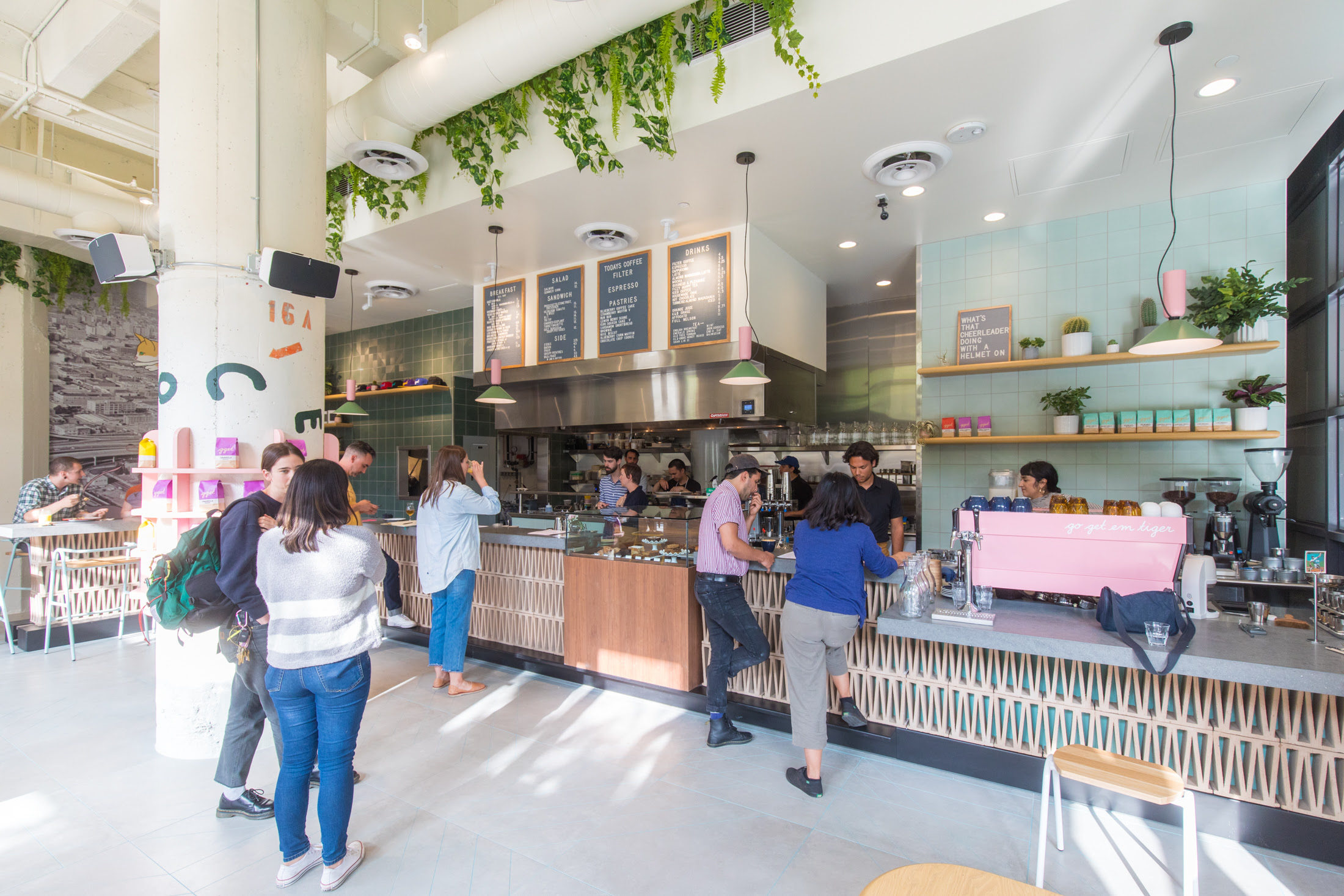 – Culver City
Ted Lasso's second season comes out on July 23, and local cafe Go Get Em Tiger has officially collaborated with Apple TV+ to give away cookies, also known as biscuits, this week, plus free coffee only beginning at 10 a.m. From today until Friday, customers at GGET's Santa Monica, Larchmont, Los Feliz, and Culver City locations will get a pink box of three free biscuits with their order, and if using Apple Pay, all coffee and tea drinks are $1 (sorry Android users).
The shortbread cookies were developed by GGET's culinary team and will be placed in the same pink box as it appears on the show. Those that didn't watch Ted Lasso will have to catch up on one of the funniest and most endearing television shows of the past year, and understand what the big deal about those biscuits, er, cookies, are all about. Ted Lasso stars Jason Sudekis as the namesake soccer, er, football coach, and Hannah Waddington as the team owner Rebecca.
*PLAYA – NEWS: CULVER CITY NONPROFIT STRUGGLES WITH CHALLENGES OF RISING FOOD INSECURITY
– Culver City
After serving the community for over a decade, a local nonprofit is at risk of no longer being able to offer meals to the food insecure in Culver City. Nearly 200 food-insecure locals are served free hot meals and fresh produce every weekday courtesy of Grace Diner, a nonprofit run out of Grace Lutheran Church. "Our demographics changed dramatically during COVID," said Program Director Lisa Skelley. She noted that the diner saw an increase in recently unemployed millennials, families with young children, seniors and the unhoused. "Many unhoused people who saw their lives change very drastically and that they couldn't go to fast-food restaurants or the deli section at Ralphs to get hor food to eat," Skelly said.
Because of the pandemic, Grace Diner had to adapt from indoor dining style to outdoor service. With demand for meals increasing, Grace Diner partnered with Feed Culver, a nonprofit organization formed in the advent of COVID-19 to support restaurant employees. Feed Culver sources 160 meals from Culver City restaurants and donates them to Grace Diner two days a week to be distributed to those in need. For the other three days, Skelley and her team are on their own. But, thanks to community partnerships, Grace Diner has stayed operational for the last 14 months, serving hot meals every day of the week — take-out style. "People would just line up six feet apart wearing masks and they would get their hot meal," Skelly said.
"Everyone here in line has their own story and part of volunteering here is getting to know everyone and getting to know their story," Brownlow said. "It helps us get to know the extent of the problem in Culver City and how we can solve it more." Culver City Mayor Alex Fisch commended Grace Diner for serving the unhoused and food insecure — something he says the city has taken too long to do. "Grace Diner is literally saving lives and I couldn't be more grateful for them and other small organizations," Fisch said. "It is a very difficult task because the resources at the local level are limited." Skelly says this is the only place that provides free quality food every weekday in Culver City, but without more funding, they're at risk of shutting down.
To support Grace Diner and other organizations, visit feedculver.org
*PLAYA – NEWS: HIHO CHEESEBURGER OPENS IN MARINA DEL REY
– Culver City
HiHo Cheeseburger is now open in Marina del Rey, bringing its signature wagyu burgers to the new harbor location. The chain offers classics and expanded to three locations in Southern California, including Santa Monica and Mid-Wilshire—Crescent Heights. "We're excited to open the doors of our new waterfront location," co-founder Matt Levin said in a statement. "We're grateful for the support we've received from our guests on the Westside since opening HiHo in Santa Monica and we look forward to serving the Marina community at Pier 44."
 *PLAYA – INTERVIEW: MEET LENNY



Writer / Dancer / Performer / Model 
Q: Why did you choose to conduct your business affairs in the Silicon Beach area? How did you get there?
– I love that it's peaceful and coastal and filled with sunshine. It's basically a writer's dream! I'm big on beaching and being surrounded by babely people while I get some writing done at the shore.

Q: Would you have to say has been the forefront of your success in your career? How did you develop your process in your work?
– It's always been about the people I meet. Within a week of arriving in Playa Vista, I met Lori Hoeft. We immediately started a community-based free writer's support group, and now we are debuting our first duo show in a theater in August.

Q: Do you see yourself going beyond the Silicon Beach area. Where are you from?
– I foresee our show to be a huge success and travel will be in store to bring our show to future festivals around the globe! We'll be performing in a theater in Hollywood but each show will also be broadcast on livestream for a global audience –all because of Youtube, which is based here. We've got our sights set on festivals like Sundance in Utah, Fringe in Edinburgh, and OffBroadway in New York City, which is where I'm originally from. But who knows what else might be in store if the right person in the right place views our show online!

Q: In what ways have you seen the area change since you've been here?
– I was very happy to see all the shops and theaters open up from the covid lockdown and to see everything come back to life.

Q: Where are your favorite places in the Silicon Beach that aren't well known?
– The sneaky entry to the beach behind Mo's is one of my favorite spots!

Q: What was your first impression of the Silicon Beach, was it love at first sight or did it take time to adjust?
– Love at first sight.

Q: What area would you like to see improved the most?
– I would love a karaoke bar anywhere nearby! I have so many songs I need to sing for all of you….

Q: Are there any scenic routes you like to take when going out for the evening or for a regular trip to work?
– I love driving down Jefferson to the edge of the ccean.

Q: How would you best describe the atmosphere of the Silicon Beach, is there anything that stands out to you?
– It reminds me of Cheers, where everybody knows your name. There's a familiarity and neighborliness here that's really nice when coming from one big city to another.

Q: What are your favorite restaurants in the area?
– I'm almost exclusively found eating at Mo's, Maxwell's, Cafe Collage, The Cow's End, Flake The Butcher's Daughter, Sweetgreen, Rainbow Acres, Erewhon
*PLAYA — RESTAURANTS: 
Enjoy this delicious, exquisite sea food dish! A beautifully baked, Fresh Sea Bass Fillet topped with a savory moscato sauce and figs. Served with steamed asparagus and mashed potatoes. Ritrovo
6020 Seabluff Dr
Playa Vista, CA, 90094
(424) 289-9326


PLAYA – COMMENTARY by Mercedes Gonzalez, Palms


An incident last night. At about 11 pm or a little before I heard some noises outside it was a girl crying and begging for someone to stop. At first, it sounded like she was drunk crying or something and I got worried so I started to pay close attention. She wouldn't stop crying and I heard she was talking to men and I gathered my kids (teenagers actually) and we went outside to check it out. 3 or 4 men were beating up a guy badly so we yelled for them to stop. I called the police the guys and the girl ended up leaving this poor guy all beat up before any help arrived. He was badly bleeding all over and they also pulled his hair out and took his wallet :(.This makes me so sad!! But the fact that no one came out to help make me wonder, what if it was me or my kids or any one of our family members out there getting mugged? No one else came out to help !! No one!! I truly hope this guy is okay just wanted to share my thoughts.- 3620-3630 Motor Avenue, Los Angeles, CA


*PLAYA – LENS:



A family enjoying themselves at Dockweiler Beach in Playa del Rey.

*PLAYA – SPORTS: LAKERS' KENTAVIOUS CALDWELL-POPE SHOOTING FOR SALE OF $5M PLAYA VISTA HOME:
The Los Angeles Lakers guard Kentavious Caldwell-Pope has tossed his modern mansion in Playa Vista, CA, onto the market. The property is now available for $4.95 million. He picked up the brand-new build in 2019 for $4 million, and is now likely to be looking for a home with more security. In June, TMZ reported that the Lakers star and some friends were robbed at gunpoint in the driveway of his home. Although the TMZ article doesn't mention the address, this Playa Vista residence is the only place in California currently owned by Caldwell-Pope. The thieves reportedly got away with $150,000 of stolen goods, including a Rolex watch, jewelry, and an iPhone, but Caldwell-Pope wasn't harmed.
A month after the incident, this gorgeous home is now on the market. The boxy build in what's known as Silicon Beach is within walking distance of both YouTube and Google campuses. With five bedrooms and seven bathrooms on 4,544 square feet, the listing describes the residence as the "premier modern home" in Playa Vista.
*PLAYA – IN THE NEIGHBORHOOD: DON'T MISS THIS SATURDAY!
2 pm – 4 pm.
SATURDAY, JULY 24
Outdoor Book Signing

LIVE AND IN-PERSON:
Meet Michael Levine, the author of the best-selling business book "Broken Windows, Broken Business"

Celebrating the new, revived edition. 25% new material.
"One of the most influential business books of the last decade"

Taught in all 25 of the best business schools in America.

Petals N Wax
13432 Maxella Ave
Marina Del Rey, CA 90292
*PLAYA – PEOPLE: MEET GREGORY:

Gregory has been living and working in Marina Del Rey since October 2015

YES OR NOT INTERVIEW:
Have you ever gotten scared about flying on a plane?  NO

·  Have you ever gotten called out at school because you were wearing something embarrassing? NO 

·  Have you ever done something so bad at school that you got suspended for it?  NO

·  Have you ever been involved in a car accident that was your fault? NO

·  Have you ever tried to pole dance at a club before? NO

·  Have you ever been so upset about something that happened that day that you cried yourself to sleep that night? YES   
*PLAYA – BULLETIN BOARD:
1. ***The staff at N'ice Cream sure look unhappy. I've now been three times and each time it seems worse. —– Lenny F., Playa Vista

2. ***I love the Marina Shell Station on Lincoln Blvd. They are honest and helpful consistently. —– Nate W., Marina Del Rey.

3. ***How more many miserable months till we get rid of disaster City Councilman, Mike Bonin? —– Jennifer P., Playa Vista.

4. ***The P.R. Revolution is underway. Witness here: www.PRPrime.net .

5. ***"I went to Beach Pizza on Sunday at 6pm to order a meatball sandwich. The owner told me it would be a 30-minute wait without any apology. I walked out and won't be back." – Laura N., Westchester

6. *** "I noticed that the Runway Shopping Center in Playa Vista, there were no patriotic celebration on the 4th of July. You have to ask yourself, 'What are they thinking?' – Former Sergeant First Class, Reynold G. (disabled veteran), Culver City

7. ***Car break-in on Centinela. Condos on Centinela/Ballona Creek/90-Freeway. On 7/8/21 around 5 AM, two men came and broke into my car. They checked other cars in the area. They stole a handful of items Description of the person involved – Hair: Bald, Top: Black shirt with graphic, Bottom: Black pants, Age: 35-45, Build: Big and tall, Race: unknown, Sex: male, Other details: Smoker, places cigarette on the left ear. —– Wendy Liu, Del Rey.

8. ***Can you imagine the nerve of Los Angeles City Councilmember Mike Bonin is criticizing Los Angeles County Sheriff Alex Villanueva's move this week to begin clearing homeless encampments in Venice? "The presence of LASD in Venice is disruptive & counter-productive," Bonin said in a Twitter thread Thursday. "Villanueva should leave outreach & housing to the professionals. It's harmful to strut in & interfere with the work of service providers who are trying to house people, quietly, diligently, and in good faith." What an arrogant, delusional idiot! Bonin and his "professionals" have completely and totally ruined the area and now he wants to lecture us on how to improve it. Bonin must go NOW! Look at Venice. Do you need any more evidence? —- Arthur P., Marina Del Rey.

9. ***EURO SOCCER USA WEEKEND SOCCER Professional Soccer Training -For 18 months to 14 years
PLUS: Camps for ages 2-14 Learning Pods Birthdays & Events Private Training & More! ENROLL ONLINE OR AT (424) 228-5305
PLAYA VISTA SOCCER – Year-round for ages 18 months – 14 years. REGISTER ONLINE OR BY PHONE (424) 228-5305
eurosoccerusa.com.

10. ***New. Church in the Marina! – Reimagine Church's first in-person gathering is happening this Sunday at Mother's Beach! Would love to have you join us and meet some folks as we continue to ramp to our fall weekly launch! See 1-minute video invite here: https://vimeo.com/566145884. Email me at David@ReimagineChurch.church if you'd like to join in for an informal breakfast with some neighbors. —– David Cobia, Marina Del Rey.

11. ***Mike Bonin's homeless musical chairs: A bus that was parked on Rose Avenue in front of Whole Foods in Venice has relocated to Ocean Park Beach in Santa Monica. —— Rick S., Santa Monica.
12. **I despise the people who are looking at their phones and walk into people. I let them get within 3 feet and yell "heads up" real loud. —– Mike Y., Playa Vista.

13. ***Approx. 5:50 pm today July 18, a 25 to 33 yo, male Hispanic, 6' tall, black/brown long curly hair (shoulder length), White, maybe Honda, CA plates w about 7 digits looked like 8NB??…. This lame saw my neighbor unpacking car on 83rd St. Made a U-turn on Emerson – jumped out & grabbed a large black box of work equipment & turned North on Dunbarton – any other footage appreciated- neighbors please be mindful- these intentional crimes in broad daylight are troubling —– Rebecca Raymond, Westchester.

14. ***Have you ever considered that if you call for a bookstore not to stock your enemy's book or rejoice when a problematic classic is taken out of print, your enemy will do the same. —– Oliva R., Culver City.

15. ***America's elite class assumes that its social and cultural capital are valued and coveted by all. They're not. —- Dr. Harvey Z., Playa Vista.

Playa Vista People Disclaimer: 1.) Playa Vista People accepts no liability for the content of this email, or for the consequences of any actions taken on the basis of the information provided. Playa Vista People is not associated with any commercial or political organization and is transmitted via the web for the sole benefit of its subscribers. 2.) Unfortunately, computer viruses can be transmitted via email. The recipient should check this mail and any attachments for the presence of viruses.