*PLAYA PEOPLE – MEET DESTINY: NOW YOU KNOW…
Destiny has lived in Westchester, since November 2017
Now you know…
She was born three months premature and stayed in the hospital for almost four months.
Loves The Beatles.
Eats peanut butter and jelly every morning.
Has never thrown up.
Is allergic to strawberries.
Loves wearing dresses.
Tells people here nickname is "Sparky"
Loves shopping at Whole Foods in Playa Vista.
Loves the burgers at Hop Doddy in Playa Vista.
*PLAYA – NEWS: CULVER CITY SCHOOLS TO REMAIN REMOTE FOR FALL
CCUSD Superintendent Leslie Lockhart
Culver City
Culver City Unified School District's board voted Thursday night in a special meeting to begin the school year with only distance learning. The district had spent months of evaluating options, exploring hybrid plans that would include both distance and in-person learning models, and monitoring outbreak numbers from the Department of Public Health.
The board agreed with Superintendent Leslie Lockhart's recommendation to keep students off-campus to open the school year. "I know this is a disappointment to some parents and students, but our goal continues to focus on bringing our students and staff safely back to school campuses, and we don't believe that is possible given the recent and continuing spike in COVID-19 cases," Lockhart said. "But I want to assure parents and students that distance learning in the fall will not be the same as distance learning at the outset of the pandemic in March."
The district will adhere to following recently passed bill AB77, which provides that all California school districts must:
Provide 180 days of instruction (the same as a traditional school year).
Confirm that all students have access to a computer and internet in order to participate in distance learning.
Provide daily live interaction with teachers and classmates "for the purposes of instruction, progress monitoring and maintaining school connectedness."
Provide standards-aligned content that is substantially equivalent to in-person instruction.
Document daily student participation and communicate with parents for students not participating a minimum of three days per week.
Establish procedures to re-engage students who are absent for more than 60% of instruction per week.
Maintain regular communication with parents on student progress.
Provide professional development for parents to support their children in distance learning.
Provide additional academic support for English learners, students with disabilities, foster youth, homeless students and students who have fallen behind in their academic progress.
Continue special education services.
Provide professional development for staff to support distance learning.
With consultation from all stakeholders, develop a Learning Continuity and Attendance plan describing how they will respond to the impact of the coronavirus on in-school and distance learning, learning loss and students' mental health.
"We are committed to providing the best learning environment possible given these unprecedented times. We are looking especially at providing targeted intervention services for our most vulnerable students and families who need extra help and additional services during this time. We want to make sure all of Culver City's children continue to learn to the best of their ability even though we will be starting the year online and not in the classroom."
Lockhart and the district team are working with teachers and staff to stay safe so students can return to classrooms in the future.
"This 'return-to-school process' changes daily," she said. "Truly, agility and our ability to be nimble in the face of constantly changing circumstances will be the key as we move forward. I want to thank everyone – our CCUSD teachers, staff, parents, students, and the community – for your patience and care. We know these are difficult times, but together, we will get through them."
*PLAYA – NEWS: SUSPECT ARRESTED IN BRUTAL BEATING OF FLOWER VENDOR IN MARINA DEL REY: 
A flower vendor was brutally beaten and went through surgery recently as he struggles to recover. Oswaldo Sanchez's face was swollen and badly bruised after the violent attack. It happened July 12 around 5 p.m. at Maxella Avenue and Lincoln Boulevard in Marina Del Rey. Police say a man with a metal object beat Sanchez until he was unconscious. The father of three may lose all of his teeth. Good Samaritans and witnesses detained the suspect. He's been identified as Jamaal Hershel Jenkins, 32, of Pennsylvania.
*PLAYA – NEWS: HOSPITAL STAFF SHOW SUPPORT FOR RACIAL JUSTICE
As the U.S. confronts its history of racism and grapples with ongoing racial disparities, Cedars-Sinai Marina del Rey Hospital staff members gathered to show solidarity with minority communities and support for health equity. One recent afternoon, more than 80 employees were kneeling or standing while observing a moment of silence together. They also listened to remarks from hospital leaders about the impact of racism on the community and what actions they can take.
"If there's any question if systemic racism exists in America, the answer is yes," said Robert Watkins, MD, chief of staff at Marina del Rey Hospital. He linked the recent protests over the murder of George Floyd to a long history of racism in the country that has created economic and health disparities for people of color. Watkins hoped that the hospital's show of solidarity would increase awareness of these issues and help determine a path forward. "We're such a family here at the Marina and everyone coming out and supporting each other is really what makes working at this hospital so beautiful," he said.
Racial discrimination and inequity in areas such as housing, employment, criminal justice and education remain a fact of life throughout America. Inequities in healthcare also are widespread, and addressing that imbalance is a focus at Cedars-Sinai, where leaders have been developing and directing programs aimed at achieving racial equity and erasing health care disparities. For example, Cedars-Sinai is holding open dialogue sessions for staff to learn from each other about experiences of discrimination. The health system also has enacted a number of employee training programs to raise staff members' awareness about "implicit bias," the unconscious actions that can result in unfair treatment.
Implicit bias can have serious ramifications in healthcare. According to the Centers for Disease Control and Prevention:
African Americans ages 18 to 49 are two times as likely to die from heart disease as whites.
African Americans ages 35 to 64 are 50% more likely to have high blood pressure than whites.
Ronald Hurst, MD, chair of Surgery at Marina del Rey Hospital, said that he had prayed about the most effective remarks he could share with the group of staff members as a Black man and a Black surgeon. He said that those who are affected by racism understand it well, but they cannot bring about change alone. "It's about the unaffected who choose not to be involved," Hurst said. "What we're seeing as the tipping point now is that the unaffected are getting involved. They see, they feel, they care."
The gathering concluded with Joanne Laguna-Kennedy, MSN, RN, vice president of Hospital Operations and Chief Nursing Officer of Marina del Rey Hospital, praising staff for showing their support. "Thank you for participating," Laguna-Kennedy told the group. "This tells me you want action, too."
*PLAYA PEOPLE – MEET LANDOW:

Landow has lived and work in Westchester since August 2001
 *PLAYA – BUSINESS:
Culver City
fitness studio,
Pure Barre
, has moved outdoors to stay open amid pandemic
.
Watch full interview with owner Alison, 
HERE
 *PLAYA – INTERVIEW:
Jim Nichols | Managing Director
J. Nichols Kitchen Marina del Rey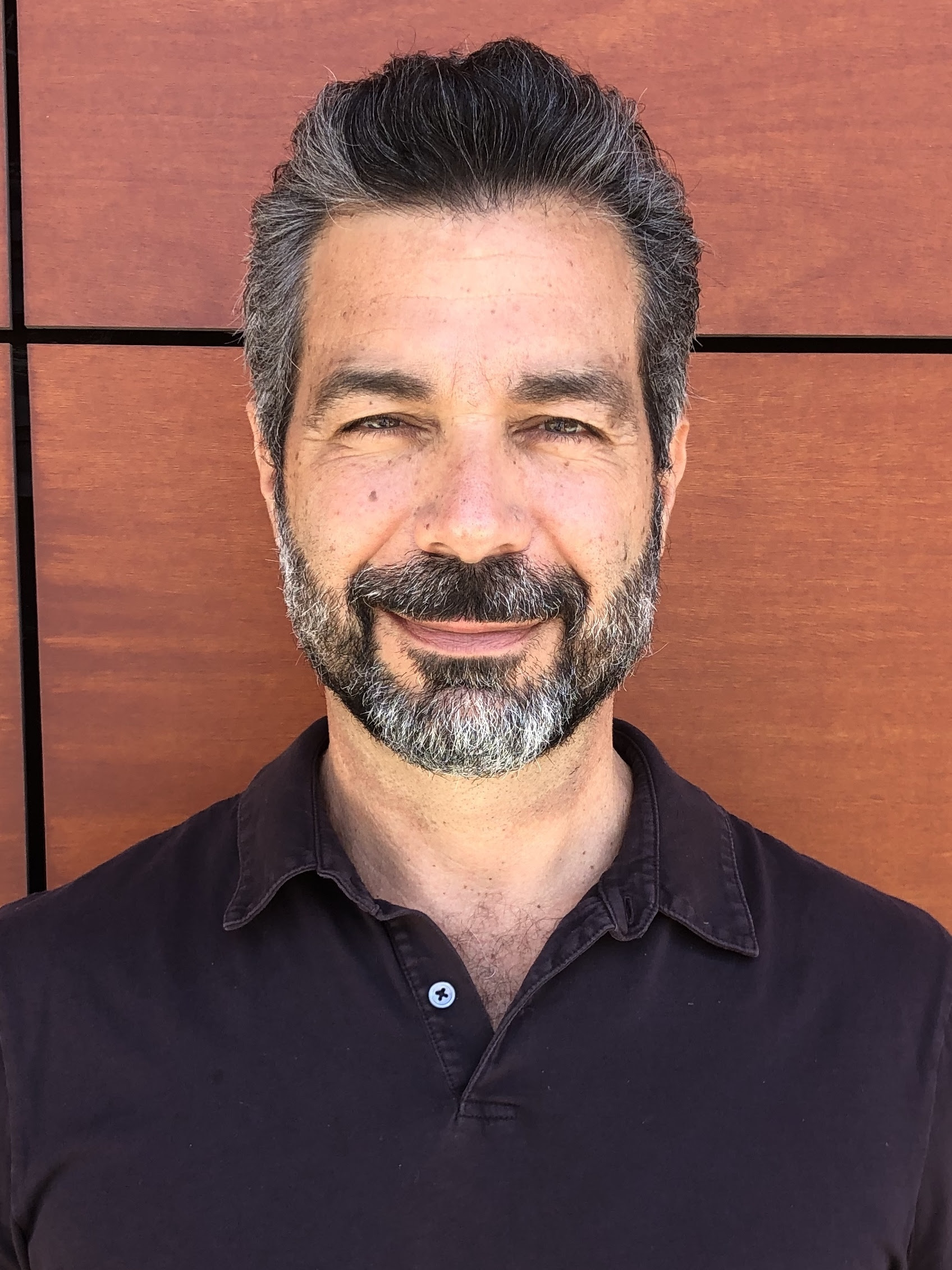 Q: Why did you choose to conduct your business affairs in the Silicon Beach area?— My Father actually opened a restaurant here in 1974. he saw the vision for this area a long time ago and like many things he said, he turned out to be right.
Q: Would you have to say has been the forefront of your success in your career? How did you develop your process in your work?— Always aspiring to excellence and working as hard as I have to, to get there.
Q: Do you see yourself going beyond the Silicon Beach area. Where are you from?— I was born and raised in Santa Monica. I love the west side of LA, it's my home. I am always on the look for opportunity, but only if its the right situation.
Q: In what ways have you seen the area change since you've been here?—The personality, as well as the density of the area, has changed so much. So many more people and different types of people have moved in. Venice, the Marina, Playa Vista, these were sleepy or non existent areas when my dad opened up his place here, now they are thriving diverse hubs to global companies and thought leaders.
Q: Where are your favorite places in Silicon Beach that aren't well known?— It seems like everyone has found out our secret and the good stuff is known to be good to everyone. Thanks, Instagram.
Q: What was your first impression of the Silicon Beach, was it love at first sight or did it take time to adjust?— I was here way before it was Silicon Beach, so I feel like I have grown up with this baby and I love how it transformed into something special.
Q: What area would you like to see the improved the most?— I really hope we can figure out a way to drastically improve the homelessness issue. For everyone's sake.
Q: Are there any scenic routes you like to take when going out for the evening or for a regular trip to work?— Driving along the ocean is the best and Abbott Kinney has so much action. It's a great area to cruise.
Q: How would you best describe the atmosphere of Silicon Beach, is there anything that stands out to you?— Rapid growth and change. Like technology, the area is evolving at an extraordinary pace. You snap your fingers and wow!
Q: What are your favorite restaurants in the area?— Charcoal and the Gjelina people both do food the right way!
J. Nichols Kitchen
4375 Glencoe Ave
Marina Del Rey, CA 90292
(310) 823-2283
*PLAYA — TECH:
 Sean Story, based in Playa del Rey, premier cybersecurity/IT consultant, and his podcast The Sean Story Show have just won the Best of Los Angeles Award – "Best Refurbished Electronics Supplier – 2020". IT and Cybersecurity Expert, Sean Story, has created a much needed weekly podcast in a category of its own that Story calls "Personal Technology" to provide easy to understand answers to the challenging questions about technology and specifically how we use it in our everyday lives. On each weekly episode of The Sean Story Show, Sean answers three technology questions from his listeners, discusses an article on the topic of personal or family technology use, recommends a technology tip of the week, and puts it all in context with a tidbit of tech history in the segment "This Week In Tech History".
He holds his Bachelor's and Masters of Science degrees from Loyola Marymount University in Los Angeles in addition to receiving numerous professional certifications in his field. Sean Story is an active member of the Playa Venice Sunrise Rotary club. While Story serves clients throughout the United States, he is based in Playa del Rey, California. He has extensive experience working with clients in the financial services, legal, higher education, technology, and healthcare industries.
To find the show on your preferred podcast listening platform and to ask your question on the show, visit the official show website at www.TheSeanStoryShow.com
Contact – book@seanstory.com
Office: (310) 871-2587
*PLAYA – SEE IT:
Andrew Nowacki from Blue Serge Photography captured this gorgeous aerial view of the boats and waves above Marina del Rey.
If you have an awesome photo of nature, breathtaking scenery, kids caught being kids, a pet doing something funny or something unusual you happen to catch with your camera, we'd love to feature it on Playa Vista People.
Send to: playavistapeople@timewire.net
*PLAYA VISTA PEOPLE – Only Originals Allowed!:

*PLAYA – VIDEO:
Trader Joe's says it is taking action after a Change.org petition called for it to change "racist" packaging. The Trader Joe's located in Marina del Rey has already appeared to phase out some of the branding the petition pointed to.
According to the petition, which has been signed by more than 1,800 people at last check, "the grocery chain labels some of its ethnic foods with modifications of 'Joe' that belies a narrative of exoticism that perpetuates harmful stereotypes."
Watch Full News Story HERE 
*PLAYA – PEOPLE: MEET AMITA:
Amita has been living in Playa Vista since April, 2009

*PLAYA–BULLETIN BOARD:
1. ***Did you know? Did you know that the one year anniversary of Playa Vista People is coming up soon! Stay tuned.
2. ***Of late it occurred to me, as I ate boring home-cooked meals, that this lassitude, the trouble focusing, the sleep difficulties, my exhaustion: Oh yes, I thought, this is life right now, living in a pandemic, where our souls are grieving. —- Daisy P., Culver City.
3. ***Driving past the marsh area in Playa Vista, I couldn't help think that climate change is a tragedy, but also a crime—a thing that bad people knowingly made worse, for their personal gain. That, I suspect, is one of the many aspects to the climate change battle that posterity will find it hard to believe, and impossible to forgive. —- Warren G., Playa Del Rey.
4.*** "Since the ice cream shop, N'ice Cream, in Playa Vista stopped charging by the wait and started charging a higher flat fee, business is massively down." – Coco Hopps, Culver City.
5. *** "I continue to be impressed by the outstanding medical care I receive from the Playa Vista Medical Center unit in Playa Vista. They are a top team." – Bradford Ross, Playa Vista
6. ***I strongly recommend the Marina Shell Service station on Lincoln in Marina Del Rey. Honest, smart, family-owned team. —– Lance W., Marina Del Rey.
7. ***I still can't believe the classic restaurant Café Del Rey is gone forever! Sad. It was one of my favorites. —- Lani Victors, Marina Del Rey.
8. ***T o rescue Main Street in Santa Monica, they are trying an experiment with outdoor dining in the street. Nothing can save that filthy, Homeless shelter disguised as a once-great street. —– Nancy T., Marina Del Rey.
9.*** "I am looking forward to spiritual healer, Tracee Dunblazier's new book 'Conquer Your Karmic Relationships: Heal Spiritual Trauma to Open Your Heart and Restore Your Soul' (https://www.amazon.com/Conquer-Your-Karmic-Relationships-Spiritual-ebook/dp/B08BR7J3PN/ref=sr_1_1?keywords=tracee+dunblazier&qid=1594573417&sr=8-1)." – Barbra Caplan, Playa Del Rey.
10. *** "Johnny, the Manager at Whole Foods in Playa Vista, is a champ. Bravo!" – Courtney Kidd, Playa Vista.
Playa Vista People Edited By: Aurora DeRose  
Playa Vista People Disclaimer: 1.) Playa Vista People accepts no liability for the content of this email, or for the consequences of any actions taken on the basis of the information provided. Playa Vista People is not associated with any commercial or political organization and is transmitted via the web for the sole benefit of its subscribers. 2.) Unfortunately, computer viruses can be transmitted via email. The recipient should check this mail and any attachments for the presence of viruses.