*PLAYA PEOPLE – MEET BRETT: NOW YOU KNOW…
Brett
has been living and working in
Culver City
since December 2018
Now you know Brett…
Went to law school and then quit to become a pastry chef.
Doesn't eat sugar.
Was in a coma for 3 days after a car accident at age 12.
Loves ballroom dancing.
Hates baseball, football, and basketball.
Thinks the pandemic will continue for at least two years.
Thinks Trump will be re-elected in a landslide.
Painted his car purple last year.
Loves watching Shark-Tank
*PLAYA – NEWS: VISTA STUDIOS GROWS ITS FOOTPRINT IN PLAYA VISTA
Randall Heer and the property
Vista Studios grows its footprint in Playa Vista. The company signed a lease for 20,900 square feet at Effkay Enterprises' 5415 Jandy Place, according to Commercial Observer. The industrial property sits next to Vista's existing studio and office space at the corner of Jandy Place and Beatrice Street.
Both buildings are part of a maze of industrial, studio and office spaces north of W. Jefferson Boulevard. Neighbors include shoemaker Toms, advertising agency Integer Group and architect Frank Gehry's Gehry Partners.
Vista Studios is an independent outfit that rents its studio space to content creators, according to Commercial Observer. The company operates four sound stages out of their existing building on Beatrice Street. Being in Playa Vista also puts Vista Studios near the large, campus-style offices of tech giants, including Google's Spruce Goose campus, Facebook's recently expanded offices and a large YouTube production facility. NAI Capital represented Vista Studios, while Cushman & Wakefield represented Effkay Enterprises. [Commercial Observer] — Dennis Lynch
*PLAYA – NEWS: MARINA DEL REY ACCOUNTANT PLEADS GUILTY TO FEDERAL PONZI SCHEME CHARGES
On September 3, the Justice Department announced an accountant has agreed to plead guilty to a federal charge that he ran a $3.3 million Ponzi scheme that falsely promised generous returns for foreign exchange currency investors, and he facilitated the scheme in part with money he embezzled from his former employer. Steven F. Brown, 52, of Marina del Rey, agreed to plead guilty to a one-count criminal information charging him with wire fraud. The criminal information and a related plea agreement were filed on August 28in United States District Court in downtown Los Angeles, where Brown is scheduled to make his initial court appearance on September 15.
According to his plea agreement, Brown controlled and operated Alpha Trade Analytics, Inc., a financial consulting and investment company he largely ran out of his home. Neither Brown nor Alpha Trade was a registered broker or dealer in securities. Brown also served as the accountant for a non-profit organization providing dance and theater arts education to children and young adults in Los Angeles, and had access to its bank accounts. From April 2014 to May 2018, Brown solicited investments in Alpha Trade, including from people he encountered through his position with his employer, and through his relationship with its executives and employees, which afforded him access to high-net-worth individuals.
To encourage those individuals to invest with Alpha Trade, Brown falsely promised that their investments would only be used for foreign exchange (Forex) currency trading and that they would receive guaranteed monthly payouts of around 10%. He also falsely represented that he had extensive experience in Forex investing, regularly made profitable trades, and achieved substantial and growing rates of return that exceeded the industry average. Contrary to his representations to investors, Brown only used a small portion of the total amount invested in Alpha Trade for Forex trading, mostly in 2015. Instead, he routinely used investor funds for other purposes, including his rent, car payments, restaurant and retail expenses, and lulling payments to other investors, the plea agreement states.
In order to induce investors to maintain or supplement their investments with Alpha Trade and to conceal his scheme, Brown periodically provided investors with account statements that reflected fabricated investment returns that often showed steady, significant gains. Brown admitted he made some of the promised recurring payouts and provided demanded refunds, not based on any Forex investment returns, but instead from money stolen from new investors and through funds he embezzled from the dance academy through unauthorized wire transfers, credit card advances, and cash withdrawals he was able to make by virtue of his position as the dance academy's accountant. In total, Brown caused losses of approximately $3,313,346 to more than 10 victims, including nearly $700,000 in losses to his former employer based on the money he embezzled from it, according to the plea agreement. When Brown enters his guilty plea, he will face a statutory maximum sentence of 20 years in federal prison.

*PLAYA – NEWS: CULVER CITY PARKING ENFORCEMENT RELAXED THROUGH OCTOBER
Culver City Mayor, Goran Eriksson 
Culver City will continue to relax parking enforcement through Oct. 5 to continue encouraging people to stay home and slow the spread of the coronavirus. "To make every effort to help people stay home and slow the spread of COVID-19, the City of Culver City will continue relaxed parking enforcement until October 5, 2020 and will be subject to extensions as warranted by Public Health orders.," the city announced. Parking enforcement has been temporarily suspended on street sweeping days throughout the pandemic, city officials said. Street sweeping continues, but parked cars can block the roads and makes it harder to clean the streets.
"Understanding that the street sweeper must maneuver around parked cars, many residents have inquired about the relaxed enforcement, and on their own have moved their vehicles off of the street on posted street sweeping days," officials said in a statement. Officials are asking residents to try and move their cars on street sweeping days. "The City kindly requests motorists to move their cars when possible on street sweeping days during this relaxed enforcement period," officials said. "If there are any leaves or trash in the curb area that the sweeper cannot reach because of parked cars, the City asks residents to sweep such material out into the street beyond the parked cars an hour or so before the scheduled sweeping time. Or, residents can sweep up the materials and place in their green bins for collection."
The city does not plan to enforce:
Street sweeping restrictions in residential areas
Parking enforcement around closed schools
Moratorium on ticketing and towing for abandoned vehicles and oversized vehicle overnight parking fines
Freeze on parking fine increases for the next 60 days
Extended grace period for people dropping off or picking up groceries and goods
The city does plan to enforce:
Residential permit parking
Parking violations of peak-hour restrictions
Parking violations in a colored curb zone, ex. red and blue parking zones
Parking meter violations
Officials could extend the date depending on upcoming health guidelines. Residents can continue to purchase residential permit parking on the city's website.
*PLAYA – NEWS: ELDERLY MAN'S IPHONE STOLEN IN CULVER CITY STRONG ARM ROBBERY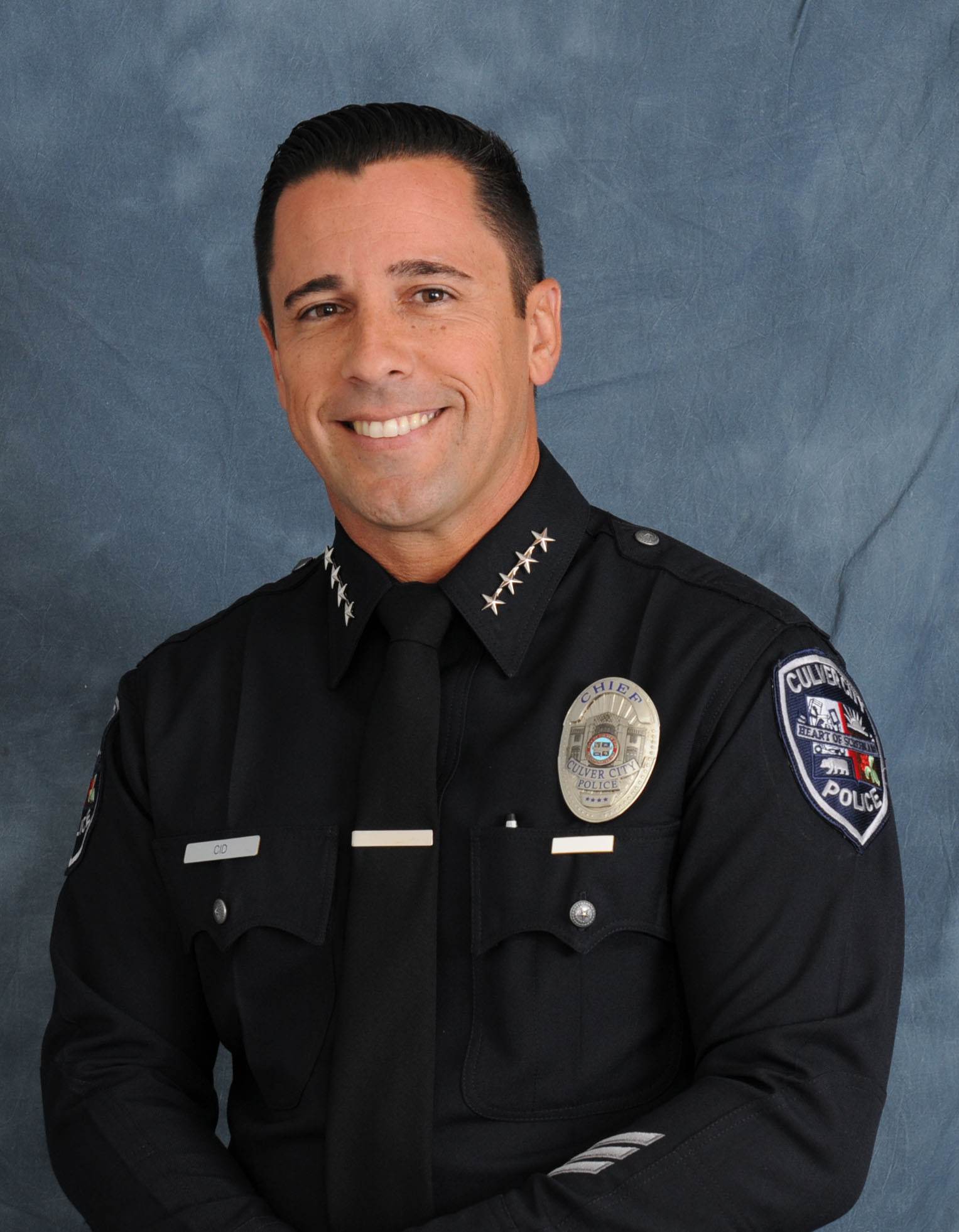 Culver City Police Department,
Chief Manny Cid
Culver City police are searching for a suspect who stole an iPhone from an elderly man in broad daylight. According to the Culver City Police Department (CCPD), on September 7 at 5:55 p.m., officers responded to a strong-arm robbery in the area of Slauson Avenue and Segrell Way. "Officers met with the elderly victim who stated he was walking on the sidewalk when the suspect pulled her vehicle along side of him and began to curse at him for unknown reasons. The suspect then exited her vehicle, approached the victim and forcibly grabbed the victim's cell phone. The victim attempted to maintain possession of his phone while backing away, a struggle ensued, and the suspect was able to pull the phone away from the victim," CCPD said in a Tuesday press release.
The victim's phone was an Apple iPhone 11 in a green case, the press release states. The suspect then entered a black four-door vehicle and drove off in an unknown direction, according to CCPD. CCPD says the suspect is a Black female, approximately 5'5" to 5'7", 50-55 years old, short dark hair, thin build, dark complexion, wearing a black shirt and black pants. Anyone with any information related to this crime is asked to call the Detective Bureau at (310) 253-6300
*PLAYA PEOPLE – MEET OLIVIA:
Olivia has been living in Culver City since August 2018

*PLAYA – IN THE NEIGHBORHOOD:


Musical Artist RAINNE
The Westchester Arts & Music Block Party (WAM) won't be in person this year, it will be just as fun!  WAM weekend will include amazing music, art, food and wine — virtually!
Westchester Arts & Music Block Party is raiseing money to benefit the Emerson Avenue Community Garden. Join us Friday, Sept. 11 – Sunday, Sept. 13 with activities taking place each day!
Activities include the following:
FRIDAY NIGHT LIVE MUSIC
Friday, Sept. 11 at 6 pm
~ Friday Night Live will feature the husband and wife duo called Pilgrim Life performing their unique mix of Folk/Americana music as part of our ongoing weekly concert series, streamed live on Instagram @wamblockparty.
SWEETZER CELLARS VIRTUAL WINE TASTING
Friday, Sept. 11 at 7 pm
~ A local husband and wife duo started making wine in their West Hollywood apartment on Sweetzer Ave. Now, they will share their stories and provide tasting notes on Viognier, Rosé and Pinot Noir during a virtual wine tasting on Zoom.  The three-bottle tasting kit will cost $70 and will be hand-delivered at no cost. A portion of the sales will go to the Emerson Avenue Community Garden.  Sign-up by Wednesday, 9/9 at www.wamblockparty/wine-tasting to participate or by emailing lisa@sweetzercellars.com.
WAM REMIXED
Saturday, Sept. 12 4 – 8 pm, on YouTube
~ We are hosting a watch party on the WAM Block Party Facebook page to premiere a video of eight popular Friday Night Live acts performing a special set for WAM.
v  RAINNE
v  Abby Posner
v  Nico Frank
v  Leeann Skoda
v  Skylar Funk
v  Jessie Payo
v  Lucy Clearwater
v  Colton Avery
Virtual Cooking Demo
Sunday, Sept. 13 at 4:30 – 6 pm
~ Hosted by the chefs of the newest addition to the Westchester Triangle, Café Tomat will host a cooking demonstration featuring the freshest of ingredients including those grown at the Emerson Avenue Community Garden.  Learn how to make a healthy, nutritional, yeast-based dressing perfect for a bowl of crunchy veggies. Tired of avocado toast, a soft-boiled egg toast is just as delicious!  Great on a hot summer day, chilled Persian Yogurt Soup with its perfect combination of herbs and spices will hit the spot.  And the sweet ending to this meal will be grilled peaches with homemade whipped cream.  All of this for only a $15 contribution to the Garden!  Sign-up at www.wamblockparty.org/cooking-class.
I Spy Art Treasure Hunt Neighborhood Contest
Wednesday, Sept. 9 at noon – Sunday, Sept. 13 at 5 pm
~ Grab your bike or your sneakers and travel around Westchester to find art on yard signs around the neighborhood!   Download the pdf of clues on www.wamblockparty.org/treasure-hunt (which will be revealed 9/9/20 at noon) to find the art, snap selfies with the booty, then post them on Facebook and/or Instagram tagging @WAMBlockParty and use hashtag #WAM2020art.  Or email pictures to wamblockparty@gmail.com.  If you find all 20 art pieces and post your pics by the deadline, you will be entered into a drawing for a $500 cash prize! Complete rules at www.wamblockparty.org/treasure-hunt.
Arts & Crafts Silent Auction
Bidding starts Wednesday, Sept. 9 at noon
Bidding ends Sunday, Sept. 13 at 5 pm
~ Help support local artisans and the Emerson Avenue Community Garden by bidding on some beautiful pieces of one-of-kind art.  From jewelry to sweaters to paintings and custom furniture, there is something for everyone! A portion of the sales will go Emerson Avenue Community Garden.  Details at www.wamblockparty.org/silent-auction.
*PLAYA – VIDEO:
Incredible drone tour of the LMU Campus
Click HERE to take the trip:
*PLAYA – INTERVIEW:

John Sharpe | Producer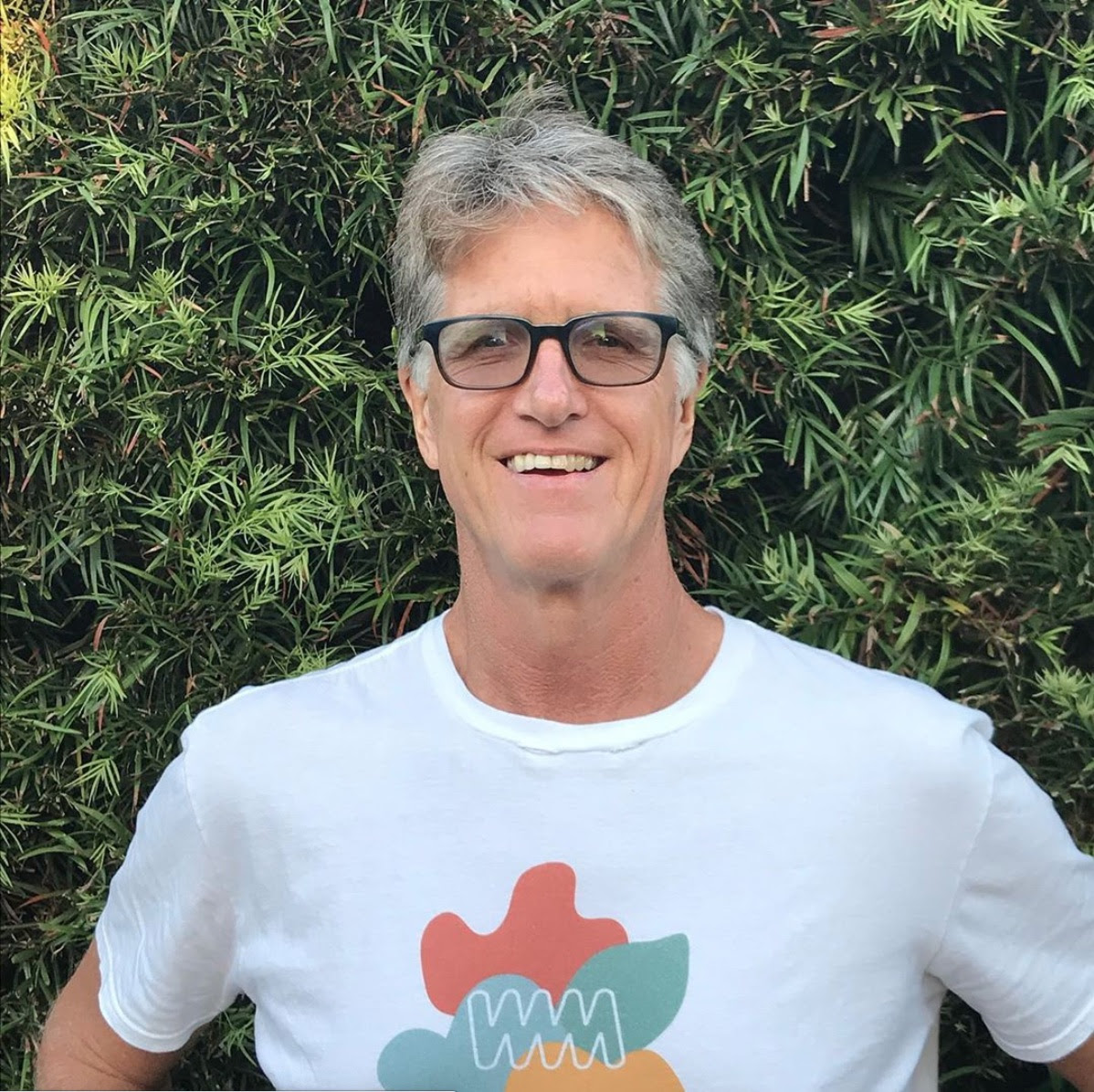 Q: Why did you choose to start your communications business in the Silicon Beach area? How did you get there?
— I brought my business to Westchester from my first home in the Inglewood area 28 years ago, and have run it since from a home based office. I discovered the Emerson Avenue Community Garden (EACGC) 7 years ago and decided to get involved.  We developed the WAM Block Party to bring people together for an amazing day of music, art, food and activities for the benefit of the EACGC.
Q: Would you have to say has been the forefront of your success in your career? How did you develop your process in your work?
— My career success has been the result of hard work, a few fortuitous decisions I made along the way, constant innovation, a strong sense of fairness and honesty when dealing with my artists and clients, and in general, treating people like I want to be treated. Our processes came to be overtime through trial and error, and a natural evolution towards what seemed to work.  The same holds true for the WAM Block Party – it taps into something we all need – connection – and has evolved over the years to accommodate the larger crowds it has begun to attract.  For example, we added a beer & wine garden the second year, and last year, a second performance stage, etc..
Q: Do you see yourself going beyond the Silicon Beach area. Where are you from?
— Nope.  I love my community and will be here for a long time.  Likewise, the WAM Block Party is already becoming woven into the fabric of the community as an annual event that adds value to the neighborhood, and it will likely live beyond the volunteers who are making it happen now.
Q: In what ways have you seen the area change since you've been here?  
— More young professionals moving in with their families, which has brought more energy, better retail (ie: more dining options).
Q: Where are your favorite places in the Silicon Beach that aren't well known?
— All of my faves ARE well known.
Q: What was your first impression of Silicon Beach, was it love at first sight or did it take time to adjust?
— My family and I lived there for 9 months in the early days of the community, while our home in Westchester was remodeled.  We loved it.
Q: What area would you like to see improved the most?
— Traffic has become more of an issue on Lincoln and Sepulveda as a result of the increased density.  Would be nice to figure out solutions to that.
Q: Are there any scenic routes you like to take when going out for the evening or for a regular trip to work?
— Nope
Q: How would you best describe the atmosphere of  Silicon Beach, is there anything that stands out to you?
— Young, vibrant and upscale
Q: What are your favorite restaurants in the area?
— Truxton's, Alejo's, Kanpai, Cafe Solar
https://wamblockparty.org/
*PLAYA — SHOPPING: PETALS 'N' WAX
A great store to get a gift for your nurse or your friends to put a smile on their face!
Remember, every in-store purchase comes with free gift wrapping! Yea!
Villa Marina Marketplace Mall
13432 Maxella Ave
T: (310) 305-8883
*NOMINATE PLAYA'S MOST INTRIGUING PEOPLE:
Playa Vista People is in the process of creating a top
"100 Most Intriguing People" in the community including:
Playa Vista
Marina Del Rel
Culver City
Playa Del Rey
Westchester
Send us your nomination for intriguing people in the area (including yourself), with complete contact information including phone number.
Email: PlayaVistaPeople@TimeWire.net
*PLAYA – LENS:
Dylan enjoys eating apples from Whole Foods in Playa Vista on summer days.
*PLAYA VISTA PEOPLE – Only Originals Allowed!:
*PLAYA – TECH: VENN FOUNDERS ARE PLAYING TO WIN WITH GAMING LIFESTYLE STREAMING CHANNEL:
Co-founders and Co-CEOs of VENN, Ariel Horn and Ben Kusin
— Playa Vista
Ariel Horn and Ben Kusin are the co-founders and co-CEOs of VENN, the fledgling ad-supported streaming service that hopes to be a live entertainment destination for video game enthusiasts, casual and otherwise. Horn and Kusin detail the vision and planning for VENN on the latest episode of Variety's weekly podcast "Strictly Business." The pair cites the familiar statistics about the explosive growth of gaming as an entertainment pursuit that has blossomed into a $150 billion industry, with plenty of expansion on the horizon.
Although a linear live feed of programming with commercials embedded would seem out of step with the way younger consumers are consuming content, Horn and Kusin see an opening for a lifestyle-oriented programs that are available wherever the target audience is. For VENN (which stands for Video Game Entertainment and News Network), the flexibility of being ad-supported means that programming can air wherever the co-CEOs can work out a rev-share or ad inventory split deal. That means everything from Twitch, YouTube and Facebook to smart TV manufacturers.
"What has become unbelievably clear is that this is a white space that advertisers are looking to put their money into," Kusin says. Horn and Kusin were brought together by video game industry bigwigs — including Marc Merrill, co-founder of Riot Games; Mike Morhaime, co-founder of Blizzard Entertainment; and Twitch co-founder Kevin Lin — when it became clear that both were in the marketplace trying to drum up support for the same idea. Kusin is a digital entrepreneur and former executive at Vivendi Universal Games. Horn worked in production at NBC Sports and other TV outlets before shifting to steering esports production at Riot Games. As Kusin puts it, asking about the scope of the market for gaming-focused programming aimed at millennials and Gen Z is akin to asking, "Are you a dinner eater?" 
*PLAYA PEOPLE – MEET RANDY:
Randy has been living in Playa Vista since October 2018
*PLAYA–BULLETIN BOARD:
1. *** In celebration of the 1 year anniversary of Playa Vista People, we are offering all P.V.P readers a FREE 50-word Bulletin Board posting. Comment. Question. Sell. Buy. Rent. Hire. Anything you like. And it FREE. Reach all 24,000 weekly Playa Vista People readers in *Playa Vista *Marina Del Rey *Culver City *Playa Del Ray *Westchester. Send your FREE Bulletin Board posting (maximum 50 words) to: PlayaVistaPeople@TimeWire.net
2. ***For nearly 10 years the Venice Chamber of Commerce has dutifully and silently forwarded to elected offices and city officials' comments and feedback received from visitors, residents and businesses about the appalling conditions in Venice. We believe that for every one person that actually takes the time and effort to express thoughts on their experience, there are 100 more that are equally disgusted and are feeling helpless at the enormity of the continuing degraded conditions in Venice. The homeless encampments in Venice are a source of frustration for our leadership, agony for the victims trapped within them and fertile ground for the criminal element propagating them and profiting from the continued toleration of their existence. The threat to public safety and health is real and immediate, and our attempts to advocate for reasonable and practical solutions have been collectively ignored time and time again. —- Donna Lasman, CEO – Venice Chamber of Commerce
3. ***The P.R. Revolution is underway. Witness here: www.PRPrime.net .
4. *** Playa Vista People are looking for new contributors: writers, videographers, photographers, who want their voice heard to our 24,000 weekly readers in our community Playa Vista, Marina Del Rey, Culver City, Playa Del Rey, and Westchester.
Email PlayaVistaPeople@TimeWire.net
5.  ***I walked by the Google office in Playa Vista the other day and honest to go it is the size of a large football stadium. —– Rory G., Culver City.
6. ***Farm fresh favorites to go: www.UrbanPlates.com .
7. ***The Runway Shopping Center in Playa Vista has been a disaster for far, far too long. If we inundate the manager's office with letters of protest, we are certain to get their attention. —– Mr. and Mrs. Frank and Grace T., Playa Vista.
8. ***The photos in Playa Vista People are extraordinary! Congratulations to your outstanding team. I look forward to seeing Playa Vista People each Thursday. —– Dr. Blake C., Marina Del Rey.
9. ***As a life-long Los Angelino, I never thought I would see my City of Angeles shimmer with a Ballardian imagery of disaster and melt-down. —– Dr. Reginald Zeiss, Playa Vista.
10. ***A long summer walk last night showed me what a beautifully planned community Playa Vista really is. Proud to live here. —— Laci L., Playa Vista.
Help Wanted:  House Hold Assistant needed for a busy executive in Playa Vista.
Help with the house including laundry, minor shopping (Whole Foods), minor errands. Three (3) half days a week – Mon, Wed, Fri. Flexible hours. Lovely, professional home in the center of Playa Vista. Must be extremely reliable, speak English, have a car, and a positive attitude. A great opportunity for the right person seeking flexible hours. Payment in cash. Send a note with full contact information including a phone number to: Aurora411@TimeWire.net

Playa Vista People Edited By: Aurora DeRose  
Playa Vista People Disclaimer: 1.) Playa Vista People accepts no liability for the content of this email, or for the consequences of any actions taken on the basis of the information provided. Playa Vista People is not associated with any commercial or political organization and is transmitted via the web for the sole benefit of its subscribers. 2.) Unfortunately, computer viruses can be transmitted via email. The recipient should check this mail and any attachments for the presence of viruses.