*PLAYA PEOPLE – MEET BOOMER: NOW YOU KNOW…
Now You Know…
Boomer loves to be carried
Brooklyn native but moved to Playa Vista last year
Always must lead the pack when hiking
Performed a taste test of many foods and watermelon is his favorite
Likes to dance for Tik Tok videos
Goes between athletic and clumsy, there is no in between
His favorite place in the world is the beach
Has many nicknames, first and foremost is crackpot
He gives out hugs whenever he is happy or misses you
*PLAYA – NEWS: THRIVE MARKET GOES ALL IN ON WHOLE30
Nick Green, CEO of Marina Del Rey,
California-based Thrive Market.
The new dressings offered by Thrive Market are made with ingredients that go beyond the Whole30 standard, with no added sugar, gluten, soy, dairy, gums, fillers or natural flavors.
One of the most innovative grocery retailers is teaming up with one of the hottest diet brands on a new range of products. Thrive Market has revealed that it will become the exclusive retailer of Whole30's first ever product range: a collection of dressings and sauces.
"Whole30 and Thrive Market share the mission to make healthy living easy by providing access to foods that are better for you and better for the planet," said Nick Green, CEO of Marina Del Rey, California-based Thrive Market. "We're excited to join with Melissa and Whole30 like-minded partners to offer our members Whole30-friendly, high-quality products that are conveniently delivered to your door.".  The Whole30 diet focuses on eating whole, nutrient-dense food. Today's health-conscious consumer is increasingly reaching for nutrient-dense foods, according to the International Food Information Council Foundation. The Washington, D.C.-based organization's recent survey looked at what consumers know about the term "nutrient density," and how it affects their food and beverage choices, as well as overall health goals, yielding the following results:
More than half said that other purchasing factors are more important than, or are equally important to, foods being nutrient-dense. These factors include whether a food is processed (61% more important than, or same level of importance as, being nutrient-dense), whether it's made with GMO/bioengineered ingredients (60%), and if it's produced locally (56%), organic (54%) or packaged (54%). More than half seek out nutrient-dense foods at least some of the time. Fifty-five percent of survey takers said that they look for nutrient-dense options when choosing foods or beverages, with 17% doing this all the time and 38% doing so at least some of the time. Nearly one in six (16%) said that they never look for nutrient-dense foods. People under the age of 45, those with a college degree and those trying to maintain their weight were more likely to say that they always seek out nutrient-dense options, while those over 45 and people who don't think about their weight status were more likely to say that they never do so.
The new Whole30 products at Thrive Market are an interesting example of how new CPG brands are born outside of the traditional development approach. The dressings are made with ingredients that go beyond the Whole30 standard, with no added sugar, gluten, soy, dairy, gums, fillers or natural flavors, and use Certified Humane eggs in accordance with established animal welfare and Thrive Market standards. "Dressings and sauces add flavor and variety to your Whole30, but not everyone has 20 minutes to make a homemade ranch, and finding store-bought without added sugar, soy or dairy can be challenging," said Whole30 founder Melissa Urban. "We love making the Whole30 easier and more convenient, and our community says, 'When I see the Whole30 logo, I know I can trust the ingredients.' Creating our own line of dressings, featuring my favorite kitchen flavors, is an obvious and exciting next step." Thrive Market, founded in 2014, carries more than 5,000 organic and non-GMO products.
*PLAYA – NEWS: TWEEN WANTED IN ARMED CARJACKING IN CULVER CITY

Two teenagers and a boy estimated to be about 12 years-old carjacked an SUV from a Culver City dealership at knifepoint, and police are asking for help locating the trio. According to police, the attack happened at Mike Miller Toyota at 9077 Washington Blvd., Thursday night at 7 p.m. The teens got into a blue, two-door 2020 Toyota CHR with Culver City Toyota paper plates and attempted to steal the vehicle from the parking lot, the Culver City Police Department reported.
An employee confronted the three and was nearly stabbed.
When confronted by the employee, one of the suspects — a male approximately 18 years old — pulled out a knife and began to "violently slash at him several times, nearly striking him," according to a police statement. The employee was able to back away, and the suspects drove away in the vehicle westbound on Washington Boulevard and out of sight, according to police. One suspect was described as a Latino male approximately 18 years old who was last seen wearing a baseball hat, a white T-shirt, blue shorts and a tattoo of three dots under his eye.
The other suspect was described as a male approximately 18 years old who was last seen wearing a blue sweatshirt and black pants. The boy, approximately 12 years old, was last seen wearing a black T-shirt and black shorts. Culver City police asked anyone with information regarding the carjacking to call them at 310-253-6300.
*PLAYA – NEWS: CULVER CITY POLICE OFFERS NON-EMERGENCY ONLINE REPORTING
Culver City Police Department
Community Relations Officer Marissa Yabko
With the pandemic shuttering many public locations, including the Culver City Police Department's lobby, department officials are now offering a way to file incidents online. The move has been in the works for several months and a solution to a closed police department lobby during the coronavirus outbreak, said Culver City Police Department Officer Marissa Yabko.
Anyone with emergencies should still call 911, but now police are now offering online reporting. These are some of the non-emergency incidents that officials are asking the public to report:
Custody order violation
harassing phone call
hit-and-run
identity theft
lost property
minor vehicle accident
traffic complaint
vandalism
vehicle tampering
*PLAYA – BUSINESS:
The grand opening of The Book Jewel. Visit them 7-days a week from 10 am to 8 pm in the Westchester Triangle. 
*PLAYA PEOPLE – MEET KIKI:
Kiki has been working in Westchester since August 2018
*PLAYA — RESTAURANTS:
No secrets here…
Our kitchens are open and we have nothing to hide. Watch as fresh, organic ingredients go straight from mother nature to your plate!
12746-3 W. Jefferson Blvd Playa Vista, California 90094
(424) 256-7274
urbanplates.com
*PLAYA – PEOPLE: MEET MARTI
Marti has been living in Westchester since August 2019
*PLAYA — EATS: CULVER CITY RESTAURANTS VIE FOR MICHELIN STARS
Chef Niki Nakayama of n/ naka, Culver City
The prestigious California Michelin Guide–which included two Culver City-area restaurants in its previous edition–will still continue in 2020 despite the COVID-19 pandemic. Before the pandemic began, inspectors had already put together the information they needed. Michelin reps told the San Francisco Chronicle that despite the fact inspectors are currently visiting New York restaurants, they will not be making a return to California. This means many of the rated restaurants will be given acclaim based on indoor dining services that for the majority of eateries have not been offered since March.
The guide functions off a rating system of one, two or three stars, with only the most prestigious of restaurants achieving the coveted three-star rating. The Michelin guide was first published in 1900 by the tire company as a way to get European travelers to drive and visit their local restaurants. It has turned into a well-known guide book with even a one-star rating being considered a huge accomplishment. "restaurants may receive zero to 3 stars for the quality of their food based on five criteria: quality of the ingredients used, mastery of flavor and cooking techniques, the personality of the chef in his cuisine, value for money and consistency between visits," Michelin said.  Even though LA restaurants didn't make the coveted and rare 3- star ranking, 6 new restaurants were awarded 2- star rankings and 18 more were awarded 1-star rankings.
Here's a look at the Culver City-area restaurants who made the cut in 2019.
n/ naka
3455 Overland Avenue
Los Angeles, CA 90034
Chef Niki Nakayama's upscale kaiseki restaurant, which first opened its doors in 2011, is one of the most prominent of its kind in Southern California. Los Angeles Times critic, the late Jonathan Gold wrote that "the sheer level of cooking in this modest bungalow eclipses what you find in grand dining rooms whose chefs appear in national magazines." Kaiseki is a more than just a cuisine; it's an experience and the pinnacle of Japanese dining. In addition to Michelin's 2- star rating, n/ naka also earned Zagat's number one spot in Los Angeles. n/ naka is open for dinner Wednesday through Saturday, reservations only.
Vespertine
3599 Hayden Avenue
Culvery City, CA 90232
Chef Jordan Kahn's Verspertine is a 22- seat tasting menu restaurant that is a self- described "gastronomical experience seeking to disrupt the course of modern restaurant" according to its website. Located in Culver City's Hayden Tract, the reservations only dining experience will set you back at least $250 per person for a (rumored) 18- course meal. Shrouded in mystery, the 2- star restaurant is one of those you- have- to- see- it- to- believe- it establishments complete with an original score and unique menu you won't see anywhere else.
*PLAYA – SEE IT: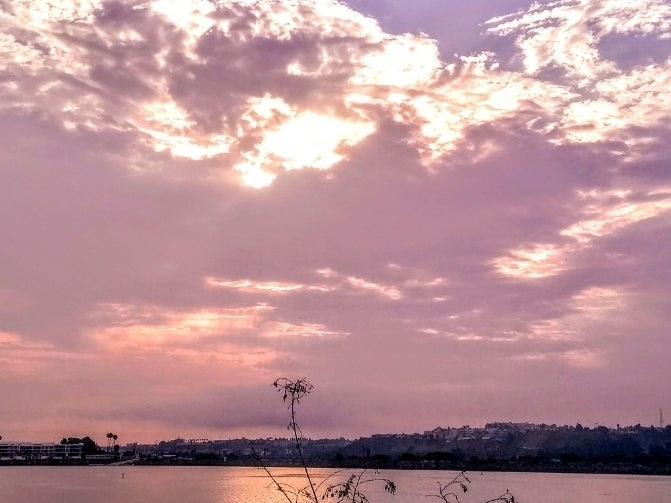 Malcolm Mclean captured this stunning pink sunrise above Marina del Rey.
If you have an awesome photo of nature, breathtaking scenery, kids caught being kids, a pet doing something funny or something unusual you happen to catch with your camera, we'd love to feature it on Playa Vista People.
Send to: playavistapeople@timewire.net
*PLAYA VISTA PEOPLE – Only Originals Allowed!:
*PLAYA – IN THE  NEIGHBORHOOD VIDEO:
Playa Vista Neighborhood Vibe Video
Watch Here
*PLAYA PEOPLE – MEET WALTER:
Walter has been living in Culver City since July 1993
*PLAYA–BULLETIN BOARD:
1. ***Can anyone think of one thing Congresswoman Maxine Waters has ever accomplished on behalf of our area. I can't! —– Rosanna H., Westchester.
2. ***When I think of the looters and thugs, ruining our American cities I can help but conclude that there are moments in life when true invective is called for, when there comes an absolute necessity, out of a deep sense of justice, to denounce, mock, vituperate, lash out, rail at in the strongest possible language. Sadly, this is one of those moments —– Candy R., Culver City.
3. ***"Why in God' name do people need to take their dog grocery shopping with them at Whole Foods in the middle of a pandemic?" – Paulie C., Playa Vista
4. ***Let's be honest, most Chambers of Commerce are organizations run by failed party planners doing little for their members except organizing mixers for their members that they charge them with small amounts of awful food filled with people struggling to survive. —- Dr. Randall Cooper, Marina Del Rey.
5. ***The P.R. Revolution is underway —– www.PRPrime.net.
6. ***Welcome back, Robin to HopDoddy. You have been missed. — Warren L., Playa Vista.
7.*** "I am sorry to report that if you get a COVID test in Los Angeles currently, you can expect to wait 7 or 10 business days for results. Disgraceful." – Dr. Andrew Pieser, Marina Del Rey.
8. ***Playa Vista People give a 5 star review to: New technology podcast: www.SeanStory.com created by Playa Del Rey resident Sean Story.
9. ***Walking around Playa Vista in the middle of the quarantine has exposed me to how glum most young people look walking around. Not a smile and a warmth that found make Frigidaire proud. They look patsy and a bit constipated without a spark of life. —– Dr. Stephen Zacks, Playa Vista.
Help Wanted: Part-time (Flexible hours) Entry Level Special Projects – Social Media Coordinator For Prominent Entertainment P.R. / Branding Firm:
Prominent Entertainment P.R. / Branding firm since 1983 seeks a part-time (flexible hours) entry-level special projects – social media coordinator in L.A. Must be very reliable, smart, tech-savvy, detail-oriented and hungry to learn. Great opportunity to learn and grow in the world of media and entertainment. Send resume (no attachment) and complete contact details including a phone number to: Aurora411@TimeWire.net

Playa Vista People Edited By: Aurora DeRose  
Playa Vista People Disclaimer: 1.) Playa Vista People accepts no liability for the content of this email, or for the consequences of any actions taken on the basis of the information provided. Playa Vista People is not associated with any commercial or political organization and is transmitted via the web for the sole benefit of its subscribers. 2.) Unfortunately, computer viruses can be transmitted via email. The recipient should check this mail and any attachments for the presence of viruses.