*PLAYA PEOPLE – MEET VERONICA: NOW YOU KNOW
Veronica has been working in
Playa Vista
since June of 2019
Now you know that Veronica:
Started playing piano at age 6
Flirts with being a vegan every other month
Posed nude for art drawings in college for extra money
Hates bowling
Rides a bike to work
Stop drinking last year after a cop in Culver City strongly suggested it
Got off Tinder after three consecutive bad dates
Loves classic rock
Can write with both left and right hands.
*PLAYA – NEWS: VILLANUEVA TO CLOSE MARINA DEL REY SHERIFF STATIONS TO BALANCE BUDGET
In an effort to save money, LA County Sheriff Alex Villanueva announced plans to close sheriff stations in Marina del Rey. Law enforcement duties of the station will be picked up by the sheriff's Crescenta Valley Station and South Los Angeles Station, respectively. Villanueva told the Los Angeles Times that deputies will still patrol those communities. However, a captain, field training officer and administrative positions will be eliminated. Los Angeles County Supervisor Kathryn Barger, one who frequently supports the often controversial sheriff, said that Villanueva had other ways to balance his budget. "The chief executive office has provided the Sheriff's Department with guidance and suggestions for appropriate budget cuts that would not impact public safety or community service, such as limited overtime and scaling back academy classes," Barger said.  The Marina Del Rey station will be closed July 1, the first day of the next fiscal year.
*PLAYA – NEWS: THE LOS ANGELES DESIGN GROUP BRINGS LIKE ANEW TO THE AULD FELLA IN CULVER CITY
The overarching design sensibility foregrounds Auld Fella's cultural underpinnings; inspired by the pubs of Dublin and Belfast, The Los Angeles Design Group (LADG) revived and refined age-old design precedents found in neighborhood watering holes across Ireland.  Part of what makes an Irish bar authentic is the repetition of design tropes borrowed from famous, ancient precedents. Almost more important, though, is the way in which design makes the pub a third place between home and work where customers feel immediately welcome. To underscore the restaurant's approachable nature, the clients, who are a group of three restaurateurs with prior experience managing Irish pubs, affectionately call the space an "Irish Joint."
The LADG's design was driven by two primary factors, to make the Auld Fella feel authentically Irish, and to provide a welcoming "third place" to the Culver City community. In keeping with Irish pub vernacular and period furniture, the bar itself uses spindles to support the cantilevered countertop, acting like a miniature building with columns set in front of a wall surface and providing footrests for customers. Countertops and edges are treated with thick projecting moldings that combine curves, counter-curves, and 90° angles. A material palette of brass fittings, dark wood surfaces, and tartan wallcoverings reference warm, glowing Irish pubs, while accents of glossy blue-green paint and gleaming black quartz with white veins brighten and modernize ancient antecedents.
*PLAYA – NEWS: A DOG TRAINING BOOM FOR ZOOM ROOM IN CULVER CITY
Children are not the only family members in need of homeschooling during the Covid-19 crisis. In response to the pandemic, Culver-City based Zoom Room Inc., a chain of indoor dog-training gyms, has gone virtual to provide live remote training sessions for canines stuck at home. The numbers of pet adoptions and animals leaving shelters for foster care have risen sharply since safer-at-home restrictions took effect in mid-March. The American Society for the Prevention of Cruelty to Animals in Los Angeles reports a 70% increase in animals going into foster care. And Illinois-based PetPoint, a software program shared by about 1,200 shelters nationwide, has revealed data that indicates pet fostering and adoptions are up 700% over last year. Unscientific observation suggests self-sufficient cats are most likely OK with the socially distant new normal. A dog's routine, however, may be disrupted by missed visits to doggie day care, groomers, and dog parks — as well as that mainstay of the puppy generation, group training sessions. That's where Zoom Room remote comes in.
*PLAYA PEOPLE – MEET SUKI:  
Suki passing her time in quarantine by dressing up in Playa Vista.
*PLAYA – BUSINESS:

TikTok is going all in on London. While the company moved into new headquarters in Los Angeles in January — a five-floor, 120,000-square-foot space in Culver City, housing 400 employees and a content studio — the company has made its London offices its central hub in Europe, per a CNBC report, and its second-biggest office globally. To this end, TikTok is recruiting AI engineers and software developers in London — the only city on the continent where it's recruiting engineers to build new app features. And CNBC notes that TikTok is going on a hiring spree in London, with salaries that are competitive with tech leaders like Google and Facebook. In addition to Europe, previous reports have suggested that TikTok is looking to build a presence in Africa — namely across three key markets: Kenya, Nigeria, and South Africa.
 *PLAYA – EATS:

Our mission is to help others live longer and healthier lives.
Beyond the fresh, delicious, nutrient-dense meals that we deliver, we pride ourselves on providing an exceptional level of service and specialize in offering optimal, convenient solutions to your specific needs.
Our focus is on your health. We start by listening to you. Other services ask you to choose a plan, then fit yourself into it. We ask you to tell us about your needs and lifestyle, and jointly design a plan that's perfectly suited to your goals.
Whether it's comprehensive diet meal delivery plans, wellness coaching, educational programs or extraordinary NutriFit® products, our entire team is committed to helping you succeed. With NutriFit®, you'll get the support you need and the attention you deserve.
Jackie Keller
Executive Chef & Founder
Board Certified Professional Wellness Coach
Nutrition Educator
Le Cordon Bleu-trained culinary expert
Author of "Body After Baby" and "Cooking, Eating & Living Well"
Over 2 million healthy meals delivered since 1987
jackie@nutrifitonline.com
(310) 473-1989
*PLAYA – HEROES: HELP RECOGNIZE THOSE MAKING A DIFFERENCE
The adage 'not all heroes wear capes' is one that's apparent in society now, more than ever. Countless people are putting themselves in danger by simply showing up to work in essential roles for our communities, risking possible infection from the new coronavirus. Doctors, nurses, police, and grocery store workers alike are just some of the professions with a high potential for exposure to the virus. Some of these everyday heroes we spot around town might not even be working at a job, like this California woman who organized a group of volunteers to make thousands of face masks. Or those who help with California programs delivering food to those in need. We know you've encountered or seen them around our community (Playa Vista, Marina Del Rey, Culver City, Playa Del Rey, Westchester), and we want to help recognize as many of these heroes as possible.
Let us know about those making a difference in this difficult time by writing us at : PlayaVistaPeople@TimeWire.net
*PLAYA — RESTAURANTS:
Need a break from the kitchen? We'll take care of it! With the HIGHEST SAFETY STANDARDS anywhere!
Hot & Ready meals for your family are now even easier with delivery or curbside pick-up.
Order online or give us a call to get your grub on DoorDash
Address:
12746-3 W Jefferson Blvd
Playa Vista, CA 90094
Closes 8 PM
Menu: urbanplates.com
Order: urbanplates.com
Phone: (424) 256 -7274
*PLAYA VISTA PEOPLE – Only Originals Allowed!:
*PLAYA – YES OR NO WITH: 
Dr. Kent Shoji
President & CEO | Playa Vista Urgent Care
Hearing young women say OMG over and over and over and over and over again, makes me want to puke
— NO, I'm starting to hear it from my 4-year-old granddaughter.
Rap music sounds like music to slaughter cattle by
— NO, there are some smoother rap music that I enjoy.
Thinking about Janis Joplin as an old woman is a disturbing image.
— YES, I saw her in San Francisco in the '60s and she was not a glamorous image then.
Richard Nixon was a sexy President.
— NO.
I hate when people bring their dog, dress in funny clothes to Home Depot.
— NO, I tolerate many people wearing funny clothes, I don't have any problem with their dogs.
Baked beans give me gas.
— NO, because I take Beano when I eat legumes.
I would rather starve for a night than eat at the Olive Garden.
— NO, I actually enjoy most of their food when I absolutely have to eat.
The homeless problem in Los Angeles is starting to remind me of a Twilight Zone episode—
— YES.
I have smoked at least one cigarette in the last year—
— NO.
Boob jobs are safe
— YES if performed by a competent board-certified surgeon.
*PLAYA – PETS: CULVER CITY DOG PARK OPENS
The City of Culver City has reopened its dog park with social distancing rules in place for both humans and four-legged friends. On Friday, the City of Culver City announced that their Boneyard Dog Park has reopened for Culver City residents and their four-legged friends to enjoy.
Patrons must adhere to the following rules:
Maintain six-foot social distancing with others Benches & Hydration Stations only sanitized once per day – use at your own risk
Limit the number of people inside the dog park: 25 for the large dog area 15 for the small dog area. If space does not permit please wait outside (maintain six-foot distance)
Limit your time in the park if there is a line
Bring your own bags and hand sanitizer
Stay with your family or household members
Face coverings are required at all times.
The City noted that the Boneyard Dog Park will be closed Tuesday, May 12 and Wednesday, May 13 for annually scheduled rehabilitation, but will reopen on Thursday, May 14.
*PLAYA – IN THE NEIGHBORHOOD: CULVER CITY LAUNCHES EMERGENCY FOOD DRIVE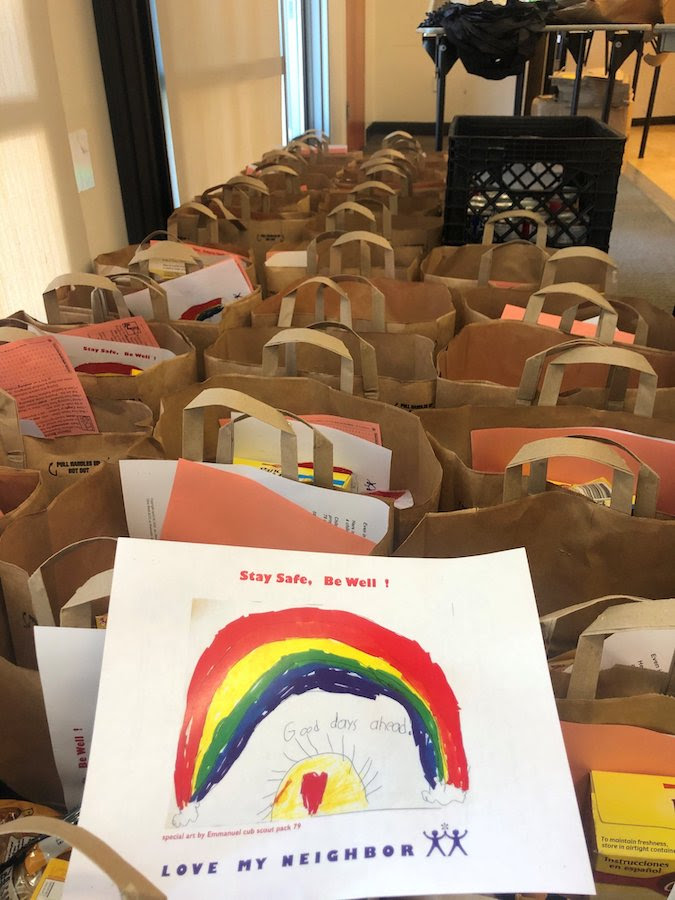 Culver City has launched an emergency relief food drive and is asking the public for help, citing seniors and people with medical conditions. "With many neighbors in our community over the age of 65 and/or with underlying medical conditions who don't have the means to purchase and pickup groceries during the pandemic, we welcome your help! Let's bridge that gap by being a neighbor that helps neighbors and donate non-perishable food items to those in need," the culver city wrote in a news release.
Requested Non-Perishable Items: 
Rice, dried beans (pinto, black, lentil), canned beans, pasta, pasta sauce, canned meat, canned vegetables, canned fruit, nuts, nut butters, jellies and jams, pancake mix, rolled oats, canned goods, low-sodium soup, dried eggs, freeze dried fruit and vegetables, freeze dried meats, granola and power bars, vegetable oil, flour, barley, quinoa, cornmeal, dried peas, split peas, salsa, popcorn, honey, canned fruit juice, water.
*Items that are most needed are canned vegetables, canned fruit and toilet paper.
You can drop off your non-perishable food items at any of the following locations or call the CERT Assistance Call Center at (310) 253-5545 to arrange a donation pick up from your home by Bike Culver City. The city thanks Westfield Culver City for its donation of reusable bags.
— Culver City Presbyterian Church, 11269 Washington Blvd.
Hours: Monday, Wednesday, Friday 1:00 PM to 4:00 PM (enter through the courtyard)
— Larsen Automotive, 10707 Jefferson Blvd.
Hours: Monday-Friday 7:30 AM to 5:00 PM Saturday and Sunday 8:00 AM to 4:00 PM
— Petco, 5347 Sepulveda Blvd.
Hours: 10:00 AM to 6:00 PM Every day
— Sorrento Italian Market, 5518 Sepulveda Blvd.
Hours: Monday – Saturday 7:00 AM to 7:00 PM (Closed Tuesday) Sunday – 7:00 AM to 4:00 PM
If you or one of your neighbors are in need of food, please call the culver city CERT Assistance Call Center at (310) 253-5545. For more information, call Ira Diamond, Organizer at (213) 309-4084 or Christine Parra, Culver City Emergency Coordinator, at (310) 253-5909. 
 PLAYA – EATS: SANGRIA AND HAND SANITIZER VIA SHARKY'S WOODFIRED MEXICAN GRILL
 This Mexican food favorite is offering not only their classic burritos and tacos, but they now offer wine and sangria for delivery. Owner Tony Sher is also offering to personally deliver orders to the elderly as well. Sharky's convenience store (located next to the restaurant) is currently offering supplies like hand sanitizers, paper towels, and toilet paper, so stop by if you're running low!
Delivery is available via DoorDash and Postmates
(Call to add wine to your order)
Place Your Order Here
Sharky's
4731 Glencoe Ave., Marina del Rey
(310) 301-4441
Sharkys.com
*PLAYA–BULLETIN BOARD:
1. ***Reliable Handyman: 30 years' experience on Westside. All home repairs and upgrades. No job too small. Free Estimates. Call Bill —- 310-487-8201
2. *** "Talk about bad luck. A computer snafu on Cinco De Mayo caused big problem for customers at Sol Restaurant at the Playa Vista Runway Shopping Center. What a screwup. – Archie Lebov, Playa Vista.
3. ***I must say, even in these difficult times, the food at Urban Plates in Playa Vista is always excellent! Highly recommend. And the takeout packing looks ultra-safe. —– Dr. Kent S., Playa Vista
4. ***Wanted: Freelance Graphic Artist: Prominent P.R. / Branding firm looking for a freelance graphic artist. Must be creative, experience, extremely reliable, and a good collaborator. Please send complete contact details including phone number and your website to: Aurora411@TimeWire.net
5. *** Tell your friends in Playa Vista, Marina Del Rey, Culver City, Playa Del Rey, and Westchester to sign to receive this free weekly Playa Vista People digital magazine. Go to: www.PlayaVistaPeople.com

Playa Vista People Edited By: Aurora DeRose  
Playa Vista People Disclaimer: 1.) Playa Vista People accepts no liability for the content of this email, or for the consequences of any actions taken on the basis of the information provided. Playa Vista People is not associated with any commercial or political organization and is transmitted via the web for the sole benefit of its subscribers. 2.) Unfortunately, computer viruses can be transmitted via email. The recipient should check this mail and any attachments for the presence of viruses.